A Euro 2020 preview: North Macedonia
The Eastern European minnows, while being the tournament's biggest underdogs, are daring to dream.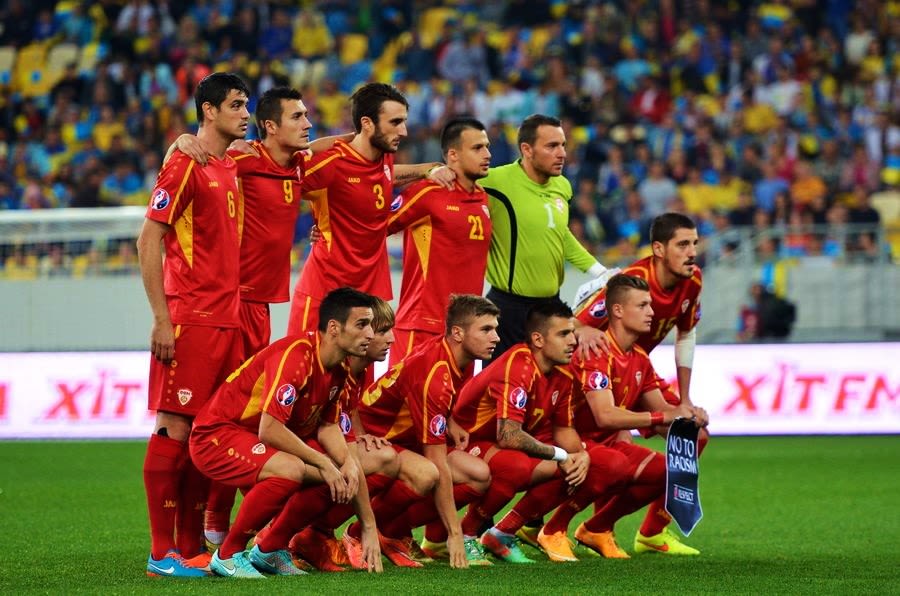 Image: Wikimedia Commons / Богдан Зпяц
Image: Wikimedia Commons / Богдан Зпяц
Standing at 62nd in the FIFA men's rankings, North Macedonia enter into Euro 2020 as the 'longshot' of the whole tournament. However, despite their underdog status, the country with less than 22% the population of London comes into the tournament daring to dream.
A successor state of the former Yugoslavia, North Macedonia gained national independence in 1991 but only became a recognised member of FIFA in 1994. After 27 years of many ups and downs, and a low of 162nd in the FIFA rankings just half a decade ago, this marks the Macedonian's first major tournament they have ever attended. 
Whilst Yugoslavia is remembered as a strong footballing nation in the post World War II period, North Macedonia has lacked the same prowess. One name remembered fondly by the Macedonian supporters is Darko Pancěv, the Macedonian who won the European golden boot and scored the winning penalty in the 1991 European cup final for Red Star Belgrade. This was the Serbian club's only major European accolade in their 76-year history, but even Pancěv never really made his mark on the independent Macedonian national team. 
No Macedonian has come near Pancěv's ability since, meaning it is now down to manager Igor Angelovski to nurture the new breed of North Macedonian talent.
Angelovski's managerial reign has been brief. The 45-year-old began his journey into management in just 2013, managing Rabotnički, staple of the Macedonian First League since 1998. He ended his stint with the club, situated in the capital Skopje, with a league and cup double which promptly resulted in Angelovski adding the manager of North Macedonia to his CV, in the latter part of 2015. 
That makes him the 5th longest serving manager at the European championship this summer, though still dwarfed by the 15 years of Joachim Löw. Results have improved throughout his 6-year tenure so far, but no achievement may be greater than his role in convincing a Macedonian legend out of national retirement, Goran Pandev.
The number 10, who has spent almost all his career in Italy, now finds himself leading his country at a major tournament for the first time in his 21-year playing career. Part of the treble winning Inter Milan team of 2009/10, Pandev's then manager José Mourinho described him as a "impeccable football master" who "plays for the team and always brings positive vibes to the locker room". 
Known for his spotless finishing, ending this Serie A season 1st in his goals per shot ratio, Pandev is more likely to be deployed in a second striker role in a 4-2-3-1 or 3-5-2, depending on what players Angelovski will have at his disposal. His skill-set also means he excels in creating, whilst also being able to be a target man and receive progressive passes. Having played with greats in his time, such as Diego Milito and Edinson Cavani, Pandev will be hoping to share the past international achievements of the legendary Argentine and Uruguayan.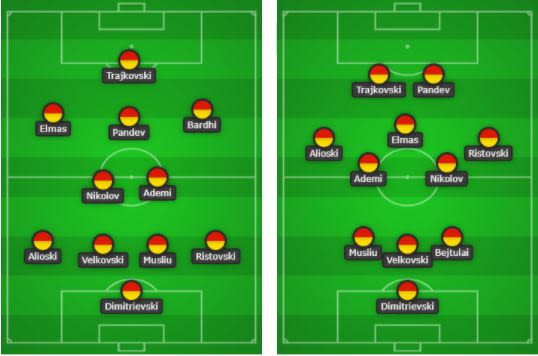 However, every sorcerer has their apprentice and one of the emphasises of Angelovski's reign has been on bringing through the youngsters. 10 of their 26-man squad participated in the 2017 under-21 European championship. That squad included La Liga set piece specialist Enis Bardhi, who plays for mid-table outlet Levante, and a certain 17-year-old named Eljif Elmas.
Now 21, the attacking midfielder, born into a family of Turkish descent, has followed in his fellow countryman Pandev's footsteps and currently plays his football in the city of Naples. The 6-foot-tall creative midfielder will either play on the left in the Macedonian 4-2-3-1 setup or be behind Pandev in a 3-5-2. 
Linked with a move to the likes of Leeds and Benfica this summer, Elmas is flexible enough to play anywhere in the midfield for Gennaro Gattuso, but will have more pressure on his shoulders for his country. 
Despite his tender age, he already has 26 caps, and Elmas' strengths lie with progressing the ball with his dribbling, while he also displays incredible intelligence in his off-the-ball escapades, able to find space anywhere in the final third. Macedonians will look towards him to progress their team up the pitch.
North Macedonia start their campaign in Bucharest against Austria, on the 13th of June, and Hungary before travelling to Amsterdam for a tie against the Netherlands. They will look towards a 'home-like' support in Romania. Boban Nikolov, the Macedonian central midfielder, who perfected his craft at, the Romanian great, Gheorghe Hagi's academy at 15, believed, "we have all the sincere football fans from Romania on our side".
This summer, North Macedonia have nothing to lose, but their stunning 2-1 win against Germany earlier this year, a win which ended Löw's 35-game unbeaten run in World Cup qualifying, may just classify them as unpredictable underdogs.