An ode to the King
The life and legacy of Pele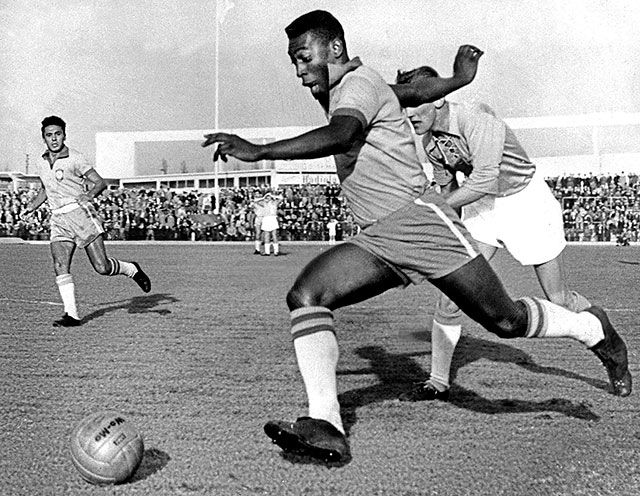 Image: Wikimedia Commons/AFP/SCANPIX
Image: Wikimedia Commons/AFP/SCANPIX
"I told myself before the game, 'He's made of skin and bones just like everyone else'. But I was wrong."
No player has arguably had a bigger legacy in the beautiful game than Edson Arantes do Nascimento – widely known as Pele. The modern game that we know and love wouldn't be the same without the singular brilliance of the 'king'. In a footballing career which lasted two decades on the pitch and a lifetime off it, Pele not only changed the sport, but also the people who watched it.
There are few players that have ascended past the confines of their generation or media. Those who take up pages in papers daily seem to glide in and out like ghosts of a forgotten time with very few becoming crystalised in the canon of human history. Pele was not like the rest. Andy Warhol noted that 15 minutes of fame was too short for Pele. Instead, "he will have 15 centuries".
Not born into godhood, the ball that Pele went on to master was originally a sock filled with newspaper tied to a grapefruit. Kicking the ball around the streets, he was nicknamed Pele after his mispronunciation of local keeper Bilé. Arguably as dedicated to football as he was to faith, it was perhaps coincidental that this nickname could be translated from Bilé to miracle.
By age 16, he had already become the top scorer in his home country. Far too good for the confines of the Brazilian league, he went on to take on the world. Arriving in Stockholm on the back of impressive form meant nothing to the global audience, but they would learn his name. At just 17 years old, Pele would score his first goal of the tournament with an impressive solo goal in the quarter finals against a resolute Wales side, before facing one of the strongest French sides of all time. Led by Just Fontaine, one of the greatest goal scorers to ever grace the game, France seemed to prove the test that could determine Pele's quality. On the biggest stages, Pele thrived, and in one of the most defining clashes of the '50s, Pele emerged victorious with a second half hattrick. Fontaine had scored 13 goals in just the 1958 World Cup, but reflected that upon facing Pele, he felt that he should retire.
Riots filled the streets as Brazilians clamoured for their treasure to remain
While the final took place against Sweden in their native Stockholm, Pele had converted the masses. Though masses often are preached to with tales of a moral compass, Pele spoke with poetry. One of the decade's most significant players, Ferenc Puskas, stated that he refuses "to classify Pele as a player. He was above that". On the 55th minute, Pele juxtaposed grace and power with one of the most iconic goals in football history – an elegant flick and finish to all but assure his hero status and Brazil's first ever World Cup victory. Exorcising the demons of Brazil's past and finally getting their hands on the trophy filled Brazil with elation – a sensation only amplified when Pele headed in a fifth to cement the victory.
The king had been crowned. As he cried into the shoulders of Gilmar, Pele had become the best player in the world and a national treasure. This meant that while giants such as Manchester United and Inter Milan clamoured for his signature, Pele could not leave. Riots filled the streets as Brazilians clamoured for their treasure to remain and the government obliged. People would flock to the streets of Sāo Paulo from around the world to witness his feats on the pitch the same way they flock to Cristo Redentor.
As we entered the '60s, Pele had entered stardom that hadn't been seen outside of royalties and maybe the Beatles. The greatest teams of the era would face Pele in fear, Benfica led by Eusebio would falter with their keeper reflecting that he had "I arrived hoping to stop a great man, but I went away convinced I had been undone by someone who was not born on the same planet as the rest of us." Pele would conquer the European continent and prove that while he may have been constrained to his native land, he was truly a global superstar.
Robbed of chances to demonstrate his elite capabilities in front of an adoring Chile fanbase due to being hacked and slashed, Pele would only net once during Brazil's second World Cup victory in 1962, but he would continue his dominance of club and international football for the majority of the '60s. France Football claim that the '58, '59, '60, '61, '63, '64 and '70 Ballons d'Or would have ended up in the hands of the Brazilian had the awards been adjudicated fairly, and Pele entered the 1966 World Cup as one of the greatest footballers who had ever played.
Although Pele would again be bested, he would still manage to score and demonstrate his influence on the generation. Although part of the victorious side, Bobby Charlton said that "I sometimes feel as though football was invented for this magical player." With teammates recalling the status and power he held: "In some countries they wanted to touch him, in some they wanted to kiss him. In others they even kissed the ground he walked on." Pele had become a global phenom that has only been seen a handful of times since.
The squads that had dominated the previous decade had been dismantled... nonetheless, Pele stepped up
An almost unstoppable goal machine succeeding in almost every attacking scenario possible, Pele continued to rack up accolade after accolade as the decade neared its end. By the time the 1970 World Cup rolled around, he had transformed into a deity. Brazil failed to ever lose a game with Pele and his iconic teammate Garrincha both playing, and both men had become icons of a struggling nation. When Pele visited Nigeria in 1969, the two sides of the Nigerian Civil War agreed a ceasefire for 48 hours to watch him play, and he netted his 1000th goal later that year.
Entering the 1970 World Cup in Mexico, many doubted that Pele would play – he had been hacked consistently throughout his career as people had tried desperately to dethrone the King, and the squads that had dominated the previous decade had been dismantled. Garrincha, Gilmar, Nilton Santos and Valdir Pereira all failed to make an appearance at the tournament, but nonetheless, Pele stepped up.
It wasn't only the Brazil team that had changed; the sport had too. The tactics of the early '50s had long since vanished by 1970, leading to football becoming far more defensive and results based. Players such as Gerd Muller and Johan Cruyff were a far cry from the era of Puskas and Fontaine, but Pele would prove a timeless threat. Pele would be targeted, pressured and fouled by swathes of opposing players every time he touched the ball, but his genius adapted and he would remain an unstoppable dynamic threat.
Pele's manager Zagallo reflected that "A kid in Sweden [1958 World Cup] gave signs of genius, and in Mexico he fulfilled all that promise and closed the book with a golden key.". Pele would be joined by elite talents such as Rivelino, Jairzinho, Gérson and Carlos Alberto Torres, but while he was surrounded by elite talents, there was only one Pele. Pele played a role in 14 of Brazil's 19 goals across the tournament, and gave Brazil a 2-1 lead in their first group game. Almost scoring from the halfway line and being denied by the 'save of the century' in the groups, Pele would also net a brace against Romania as Brazil ran riot.
"Even the sky was crying"
Brazil would face Uruguay in the semi-finals, and Pele would again have a chance to avenge the Brazilian heartbreak of 1950, as Brazil won 3-1 with Pele's fake-out of 'keeper Ladislao Mazurkiewicz being one of the most iconic moments of the tournament. In the final, Pele would have his defining moment, a towering header to assure an iconic third title for his beloved nation. Giacinto Facchetti remarked "We went up for a header together. I was much taller. When I came back down, I looked up in astonishment. Pele was still there, hanging in the air, heading that ball. It was like he could stay suspended for as long as he wanted to."
Describing the game, Eric Cantona said, "an artist, in my eyes, is someone who can lighten up a dark room. I have never and will never find the difference between the pass from Pele to Carlos Alberto in the final of the World Cup in 1970 and the poetry of the young Rimbaud. There is in each of these human manifestations an expression of beauty which touches us and gives us a feeling of eternity." Pele's assist would cap off a 4-1 victory over the Italians and mean that the Brazillians would not only add a third star to their now iconic yellow and blue, but also means they would keep the Jules Rimet Trophy permanently.
Pele would finish his World Cup career as the first player to capture the trophy three times and end his Santos career with 643 goals for the club. His final game would occur on October 1, 1977. Prior to the game Pele declared "Love is more important than what we can take in life." Brazilian headlines the next day read that "even the sky was crying".
Those who watch Pele know his brilliance, an almost untouchable icon in the history of the sport whose influence was almost unmatched. The great Ronaldo Nazario said, "For Brazilians, speaking about Pele is speaking about an entity, speaking about something far superior to everyone." With Dunga adding that "Pele is a myth to me. A myth you can't discuss. He managed to stop a war. Pele did things that are not human." Those who went on to dominate the world such as Johan Cruyff said that "Pele was the only footballer who surpassed the boundaries of logic." Whilst French Legend Michel Platini would say "There's Pele the man, and then Pele the player. And to play like Pele is to play like God."
Pele embodied the beautiful game on and off the pitch
There are few humans that have had an impact on their country and the world as great as Pele had. The three stars that he added to the crest of Brazil have become interwoven with not only the identity of his compatriots and his nation, but the history of the sport. His actions on and off the pitch can prove a standard to be set for future generations, and emulating his on pitch success is a task nigh on impossible. After his career, he became a UN Ambassador for ecology and the environment, and helped tackle corruption in Brazilian football. He would receive an honorary knighthood from the Queen and be named FIFA's best footballer of the century. He finished his career with a plethora of domestic and international trophies and accolades but became so much more than them.
A true ambassador for the sport and for humanity, Pele embodied the beautiful game on and off the pitch. Italian poet Pier Paolo Pasolini said, "The moment the ball arrived at Pele's feet, football transformed into poetry." And the verses he wove will undoubtedly never be forgotten.