Coventry Blaze Round-Up: how will Swindlehurst's injury impact Stewart's roster?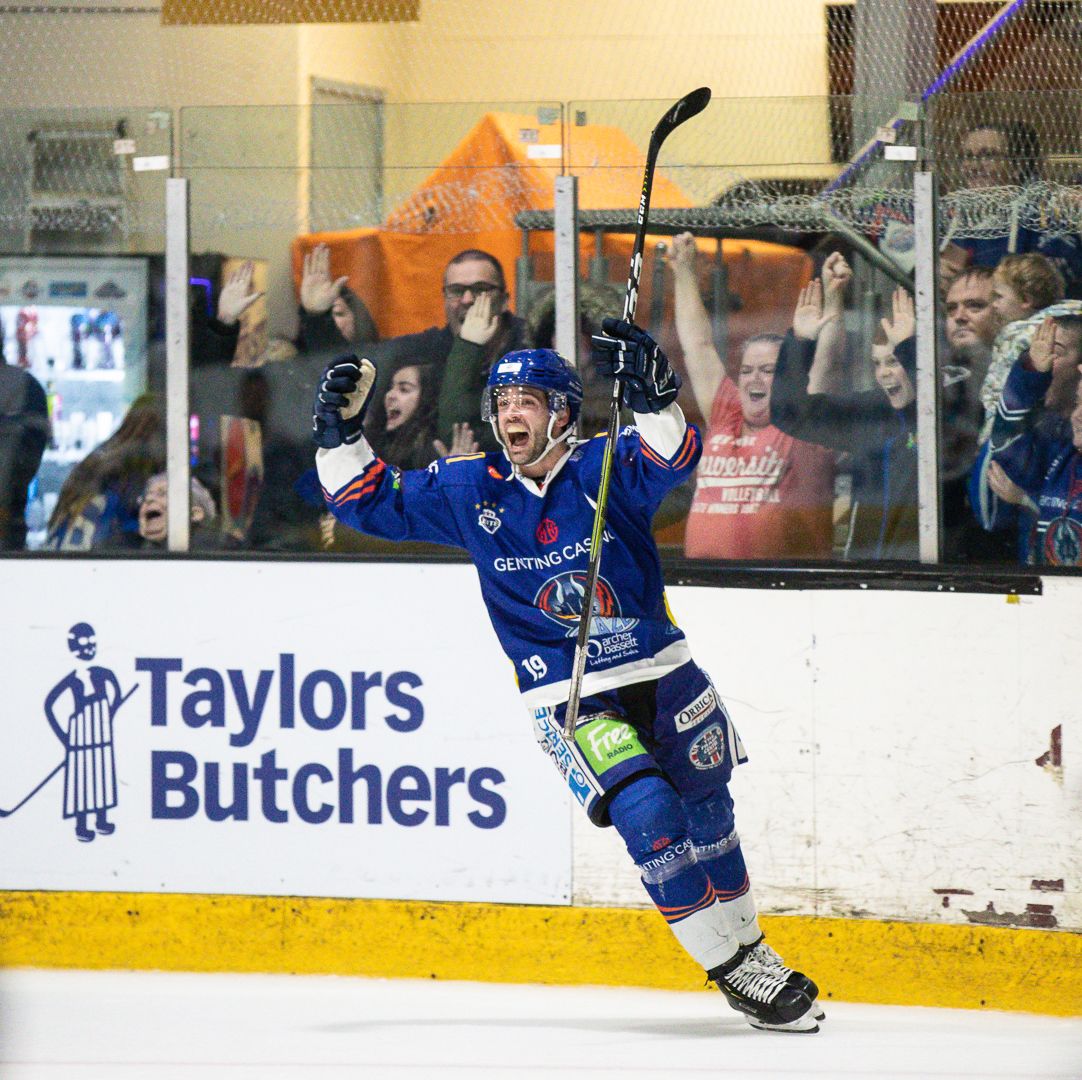 By the time Danny Stewart's Coventry Blaze step onto the ice on Saturday, 391 days would have passed since the team's previous Elite League fixture.
Coventry's last match was won in the final seconds by Team GB forward Luke Ferrara. The Skydome Arena erupted as the EIHL's top-scorer fired the puck home with six seconds remaining against the Dundee Stars.
The months since have been punctuated by vague hopes of a return to play - plans that were subsequently shattered by the spread of the coronavirus.
Now, though, the Blaze really are back. Stewart's players will take to the ice on Saturday to face the Manchester Storm in the opening fixture of the Elite Series.
The five-week mini-series features two other teams - the Sheffield Steelers and Nottingham Panthers - and will involve 24 regular-season fixtures in total.
Once Coventry have finished their 12 group-stage matches, Stewart's roster will compete in a seeded post-season finale.
There will be lots of new faces in the Coventry line-up, with Stewart participating in the EIHL's first draft and recruiting eight imports for the tournament.
The return of top-flight British ice hockey has been a long time coming and a lot has changed since Coventry last took to the ice.
Before puck drop on Saturday, there are two stories that you should be aware of: Paul Swindlehurst's injury status and Luke Ferrara's estimated time of arrival.
Both plotlines will impact how the Blaze roster will look on opening night afternoon, as I explain at the end of this article.
Without further ado, here is your first 'Coventry Blaze Round-Up'.
---
#LukeFerraraWatch: when will Feds be available?
Luke Ferrara is currently playing in Poland for Comarch Cracovia. The Polish season has reached its zenith, with Ferrara's side in the playoff final against second seed JKH GKS Jastrzębie.
Here's the catch, Ferrara can only play for Coventry in the Elite Series once his season in Poland has finished. As it stands, Cracovia trail Jastrzębie 3-1 in their best-of-seven series.
At Wednesday's press conference, I asked Stewart about how Ferrara would be reintroduced into the Coventry line-up.
"Obviously, we've got to wait for the result of the final there in Poland. Once it's done, we've got to get his Covid test booked. Once we've done that and have an idea for when he'll get his results, we'll book him a flight over and get him into the bubble.
"Obviously, he's had the benefit of playing, so there won't be an easing in factor. He should be able to get off the plane and jump right on the ice to start practising with us."
Ferrara, unlike many of his Team GB colleagues, has played a lot of hockey this season, making appearances in Poland and France. Across all competitions, Ferrara has played 28 games, registering seven goals and 12 assists.
19 points in 28 games is impressive for a British forward adapting to overseas hockey for the first time. Especially when you take into account the impact of the pandemic.
"[We're expecting] the same kind of thing that we've seen from Luke Ferrara," Stewart said on Wednesday, "he's been fortunate in the sense that he's been able to play a lot of hockey this year and I think coming back will be refreshing for him.
"He's been away in France, he's been away in Poland, I've spoken to him several times and he's really excited to come back.
"I think, when he comes back, he'll come back energised to be around his boys again. I think that'll be good for the room."
---
What does Paul Swindlehurst's injury mean for Coventry?
Paul Swindlehurst, the sixth overall pick in the 2021 Elite Series Draft, is currently injured. The 27-year-old suffered an upper-body injury while playing for the Blackburn Hawks last weekend.
On Tuesday evening, a Blaze spokesperson said: "Paul has seen a specialist for a shoulder injury today and will miss this weekend's games."
During Wednesday's press conference, I asked Stewart to provide more detail on the British defenceman's condition.
"He will be [out] for at least two weeks, possibly longer. We're going to bring him in and give him the physio he needs to get better and we'll go from there."
Swindlehurst's injury is a major blow for Coventry. For the start of the Elite Series, Stewart will be without his top defensive draft pick, a player recruited to play on the left side of the blueline.
If Swindlehurst is fit enough to return within 14 days of Stewart's comments, the 27-year-old will have missed the opening six games of the Elite Series.
Sam Russell, Coventry's eighth-round pick, is expected to fill the void in defence. The 20-year-old is right-handed and could be asked to play on his 'wrong' side.
As Stewart noted in his comments to the media, squad depth is an issue for all teams participating in the Elite Series. Teams recruited 23 players each, with 20 players due to dress for each fixture.
With Ferrara still in Poland and Swindlehurst on the injury table, Coventry's reserve list is down to one (young goalie Will Bray).
It's a situation to be aware of.
---
Armchair GM:
With the above in mind, I spent some time selecting a potential Coventry Blaze line-up.
The first image illustrates how the Blaze could look at full-strength. The team includes Ferrara on the top line, with Swindlehurst featuring in the second pair.
As it stands, Stewart's roster is not at full-strength - and won't be until at least halfway through the tournament.
In response, I have also selected a team comprised only of the players available for Saturday's opening game against the Storm.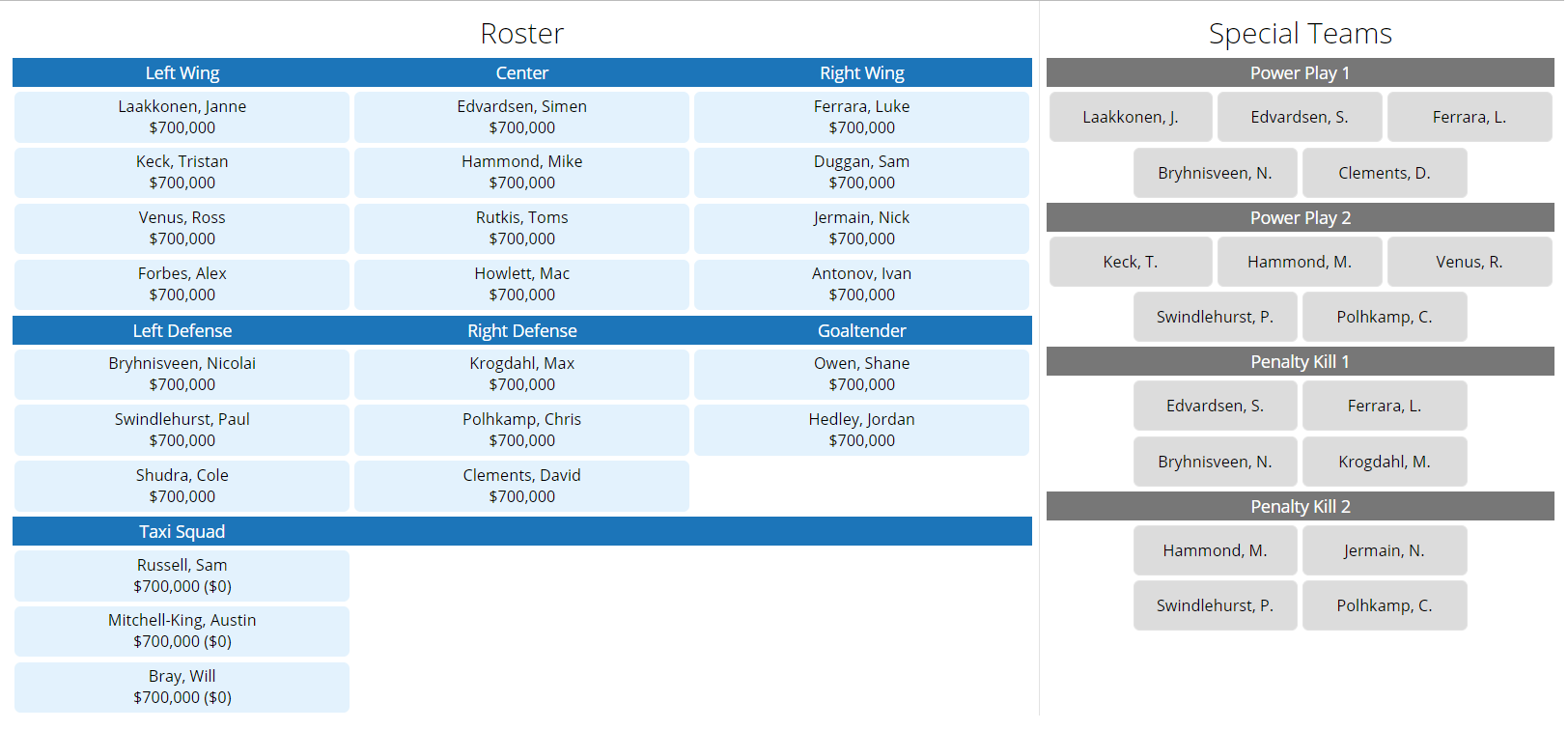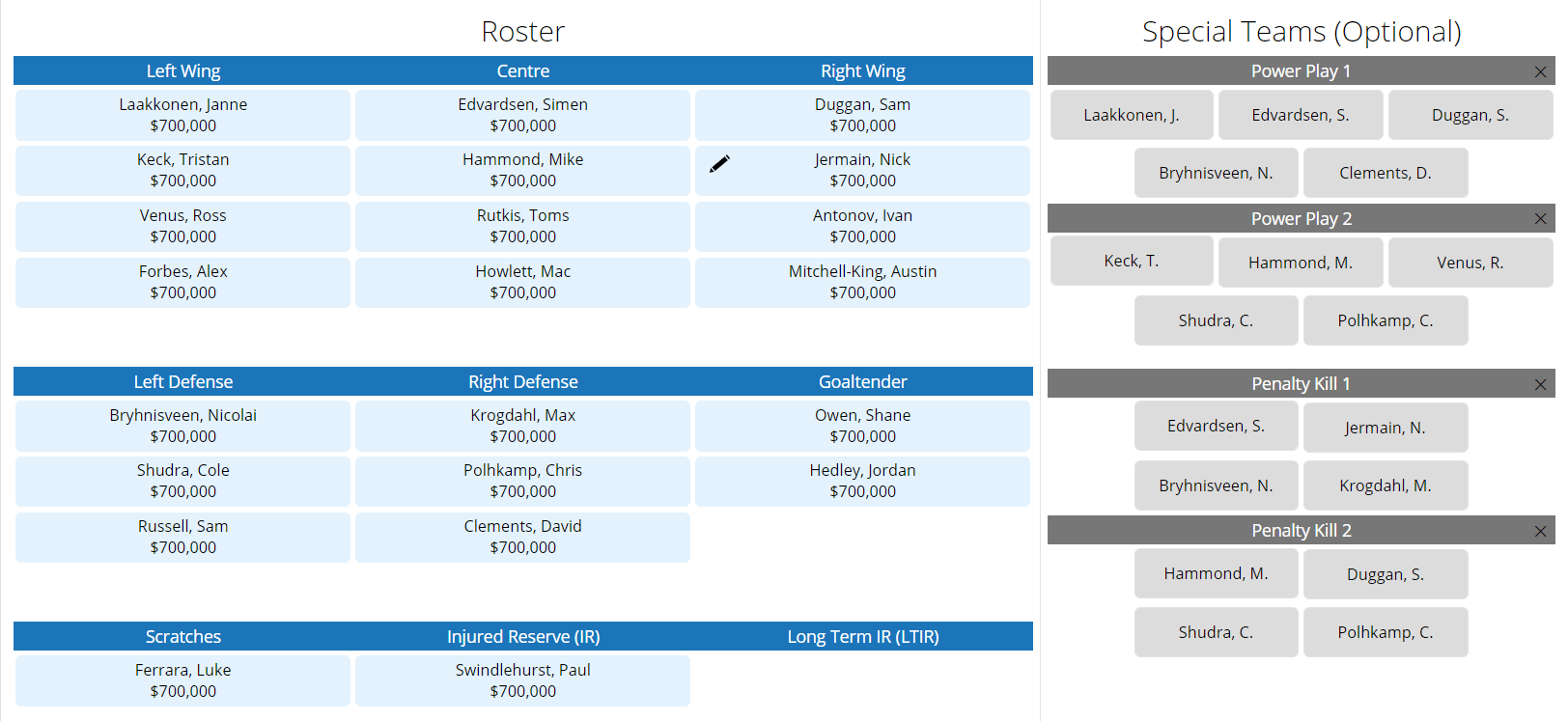 On paper, Coventry Blaze have an impressive team. A first-choice attacking unit of 'Laakkonen - Edvardsen - Ferrara' is alluring.
Likewise, a top pair of Norwegian duo Nicolai Bryhnisveen and Max Krogdahl is an interesting proposition in defence.
Furthermore, Stewart has repeatedly said that he will hand Coventry's British core (Ferrara, Ross Venus, David Clements, Jordan Hedley, and Alex Forbes) more situational minutes.
For Hedley, that means more starts. For David Clements, that means being handed the alternative captaincy and a shot on the power-play.
With the World Championships just a few short months away, now is the time for Coventry's British players to impress.
For the Blaze's import signings, this is a big opportunity to:
Win a job in the EIHL for next season,
Bolster their CV in an effort to land minutes in another league,
Secure a place at the World Championships.
The final point applies to Stewart's Norwegian trio, Simen Edvardsen, Bryhnisveen, and Krogdahl, all of whom are in contention for a place in Team Norway's squad.
Finally, a recent poll conducted by British Ice Hockey made stark reading for the Blaze. Of the four clubs involved, Coventry is the least fancied team heading into the Elite Series.
Losing 6-1 to the Panthers in an exhibition game won't have helped Coventry's pre-season odds. However, this is a team that will get stronger throughout the tournament.
By the time the semi-finals swing by, Coventry should be firing on all cylinders. Give them time.
---
The Boar Sport will be with you every step along the way during the Elite Series. Follow @BoarSport and @LukeJames_32 for Coventry Blaze news and updates throughout April and May.
Article Recommendation: Wallace speaks to the press