Elite Series Draft
The four participating Elite Ice Hockey League clubs selected 38 players from the 61-person draft pool.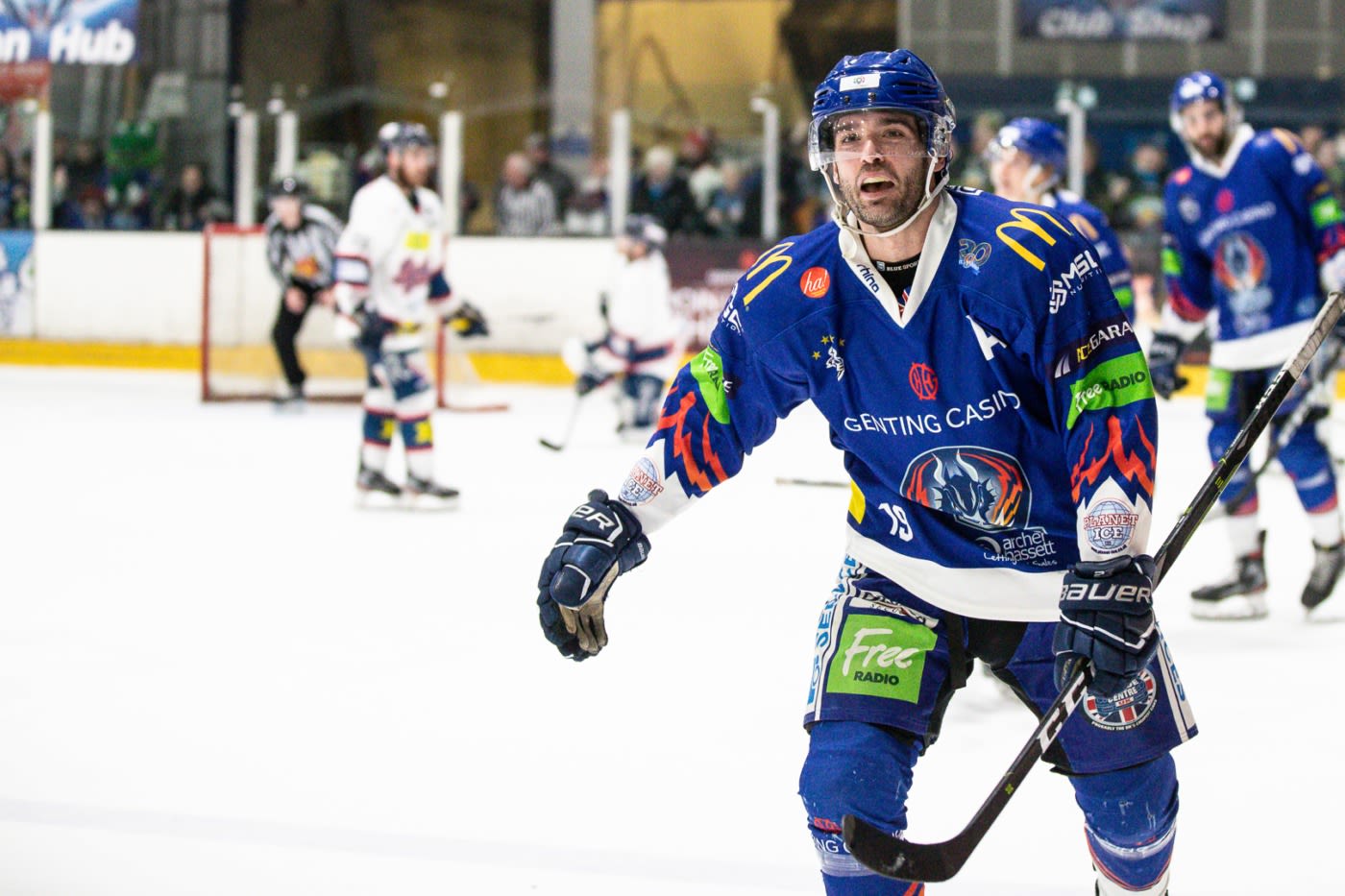 The Nottingham Panthers drafted Team GB goalie Ben Bowns as the first overall pick of the 2021 Elite Series Draft, after trading assets with the Manchester Storm.
Gui Doucet, the Panthers' representative at the Draft, stole the headlines by trading the second, seventh and tenth overall picks for Manchester's first, ninth, and 16th selections.
Before the Draft had begun, the Sheffield Steelers rocked the Elite Ice Hockey League (EIHL) by protecting NHL prospect Liam Kirk. Until it emerged that he had signed a contract with Sheffield, Kirk, 21, was expected to be available in the Draft.
The Manchester Storm used the second overall pick to draft former Coventry Blaze star Ben Lake. Mike Hammond and Matthews Myers were selected third and fourth, respectively, by the Coventry Blaze and Sheffield Steelers.
With the Elite Series set to begin on 3 March, teams will now seek to add 'imported' talent to their rosters.
Coventry head coach Danny Stewart admitted that the Blaze have held positive talks with international players and hope to announce their first signings in the coming days.
The Blaze, who finished the 2019/20 season third in the EIHL standings, prioritised young talent in the Draft, picking-up promising defenceman Cole Shudra in the third round.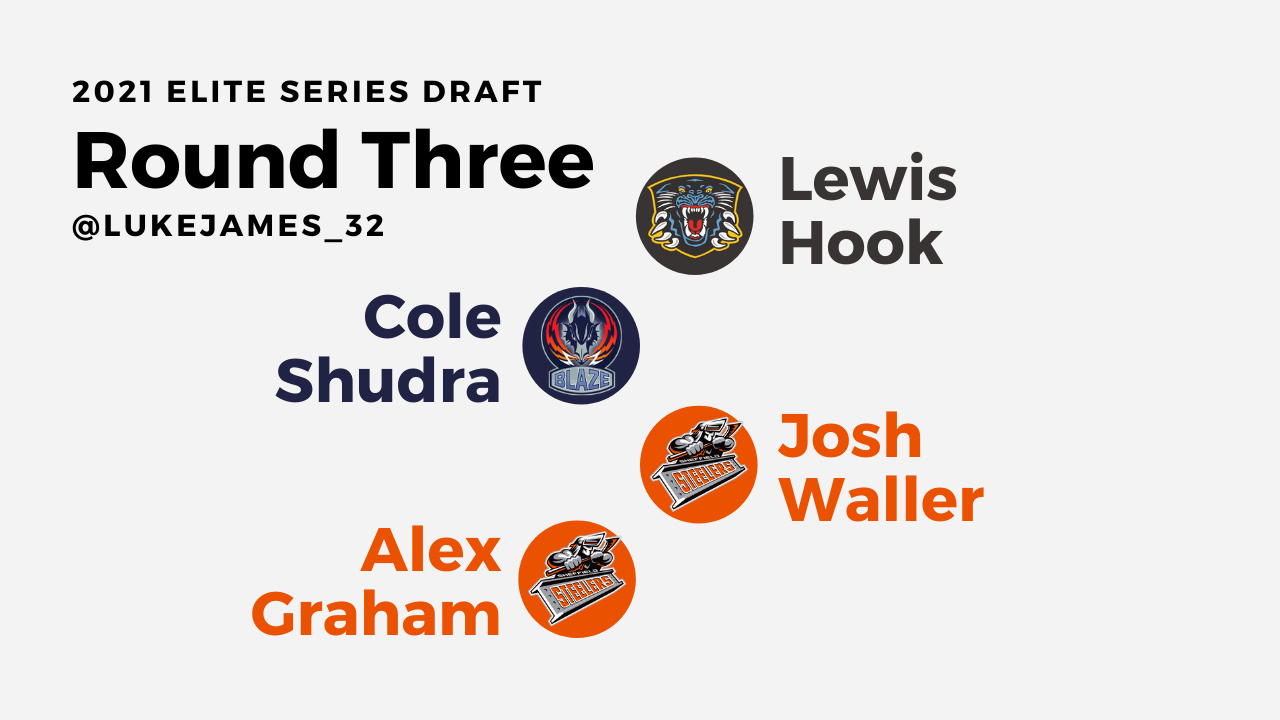 Teams were invited to select a maximum of ten players from the Draft, with the final three assigned to a 'Taxi Squad'. Taxi Squad players will act as reserves during the tournament and will be available to step into the line-up when required.
With a number of players currently competing abroad, it is highly possible that Taxi players will be called upon in the opening weeks of the Elite Series.
Coventry, Nottingham, Manchester, and Sheffield's rosters can be viewed in full below:
---
Player | Position | Draft Pick
Coventry Blaze | Head Coach: Danny Stewart
Luke Ferrara | Forward | Protected
Ross Venus | Forward | Protected
Alex Forbes | Forward | Protected
David Clements | Defenceman | Protected
Jordan Hedley | Goalie | Protected
Mike Hammond | Forward | #3
Paul Swindlehurst | Defenceman | #6
Cole Shudra | Defenceman | #11
Samuel Duggan | Forward | #14
Mac Howlett | Forward | #19
Tom Rutkis | Forward | #22
Vanya Antonov | Forward | #27
Taxi Squad:
Sam Russell | Defenceman | #30
Will Bray | Goalie | #34
Austin Mitchell-King | Forward | #37
---
Manchester Storm | Head Coach: Ryan Finnerty
Dallas Ehrhardt | Defenceman | Protected
Joe Hazledine | Defenceman | Protected
Zach Sullivan | Defenceman | Protected
Ciaran Long | Forward | Protected
Finlay Ulrick | Forward | Protected
Ben Lake | Forward | #2
Josh Batch | Defenceman | #7
Ben Davies | Forward | #8
Craig Peacock | Forward | #10
Matthew Haywood | Forward | #17
Declan Balmer | Defenceman | #24
Stephen Murphy | Goalie | #25
Taxi Squad:
Jacob Lutwyche | Forward | #32
Ben Solder | Defenceman | #33
Sam Gospel | Goalie | #39
---
Nottingham Panthers | Head Coach: Tim Wallace
Jackson Whistle | Goalie | Protected
Josh Tetlow | Defenceman | Protected
Robert Lachowicz | Forward | Protected
Brett Perlini | Forward | Protected
Ollie Betteridge | Forward | Protected
Ben Bowns | Goalie | #1
Lewis Hook | Forward | #9
Mark Garside | Defenceman | #15
Owen Griffiths | Forward | #16
Kieran Brown | Forward | #18
Jordan Kelsall | Forward | #23
Craig Garrigan | Forward | #26
Taxi Squad:
Liam Stenton | Defenceman | #31
Morgan Pizzo | Forward | #34
Will Kerlin | Goalie | #38
---
Sheffield Steelers | Head Coach: Aaron Fox
David Phillips | Defenceman | Protected
Brendan Connolly | Forward | Protected
Jonathan Phillips | Forward | Protected
Robert Dowd | Forward | Protected
Liam Kirk | Forward | Protected
Matthew Myers | Forward | #4
Sam Jones | Defenceman | #5
Josh Waller | Forward | #12
Alex Graham | Forward | #13
Ben Churchfield | Goalie | #20
Jason Hewitt | Forward | #21
Adam Jones | Defenceman | #28
Taxi Squad:
Jack Musil | Forward | #29
Chris Warburton | Goalie | #35
PASSED | #36