Football's Darkest Secret: An interview with director Daniel Gordon
Football's Darkest Secret recounts the horrific experiences of those exposed to exploitation during their careers in youth football.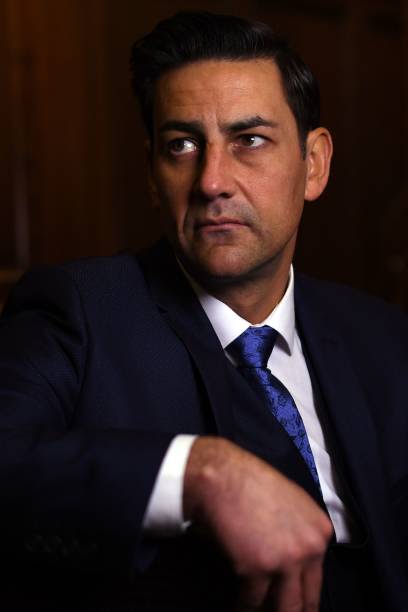 Andy Woodward, Image: Getty Images
Andy Woodward, Image: Getty Images
"History was my big grounding for filmmaking. It was a way of telling stories," Daniel Gordon, one of Britain's most renowned documentary film-makers and the director of Football's Darkest Secret, explains to The Boar. "From A-level through university, writing an essay was the equivalent of doing what I do now." This latest essay, available on BBC iPlayer, is arguably Gordon's most powerful and it opens up a vital discussion of historical sexual abuse in youth football.
Football's Darkest Secret is split into three separate episodes. In each one, survivors of five different paedophile coaches provide accounts of the torrid abuse they were subjected to for years. The film tells the story of former Crewe player Andy Woodward, who revealed the 'dark secret' to The Guardian in 2016, alongside other survivors, most notably England internationals David White and Paul Stewart, in order to reveal the sexual abuse they suffered.
At the time of Woodward's interview, Gordon had just made his Bafta award-winning documentary Hillsborough and he then approached the BBC with the idea of exploring the story. However, it became apparent that the prospect of another painful football story came too soon. "Very quickly I realised I didn't have my head in the right space. I hadn't had enough break from Hillsborough, and so I actually said 'it's too much'."
Following a discussion with Hugh Davies, the film's eventual producer, Gordon was persuaded to return to the story in May 2017. 
How willing had the survivors been to take part in the film? "We were really conscious not to have a casting process," Gordon says. "We decided that we would never film anybody that wouldn't be in the final cut. They need to have an out. They can't be made to feel like going to be dropped, like by their abuser all the way back when they were in childhood."
Football's Darkest Secret gives the players an opportunity to freely express themselves in a setting away from court, and the result is a collection of compelling, yet deeply upsetting accounts. "We just felt that these predominantly white working-class men of that age have never had a voice. And what's most impactful is the rawness of that voice. We're just not used to seeing that."
The film's second episode focuses on the trial of coach Bob Higgins, which shockingly ends in a hung-jury. Gordon concedes that whilst the hung-jury was "dramatically brilliant" for the film, it was vital that they were careful in their presentation as it was "horrific for the people [involved] to endure it".
The film includes footage taken from the time at which Higgins was employed by Southampton and operated the youth academy in a "God-like" manner. The footage shows hundreds of boys following their 'leader', chanting "Bob Higgins' Red and White Army", in an eerie echo of the way they would have been chanting on the terraces for the senior team at The Dell. 
"With Bob Higgins, on the surface, it doesn't seem that serious abuse," Gordon suggests. "But it is. It's really serious abuse. It's abuse of trust, and power, and relationship and love. When we first spoke to the police officers, they told us that they had never seen men so broken by an offence that in law is not a high bar.  But, in terms of the gravity of it, the effect has been horrific. We didn't quite understand what they meant by that until we got into it."
The effects of Higgins' abuse are evident on Billy Seymour, part of the Southampton youth academy before playing for Coventry and Millwall professionally. The film uses the video of his police report, his mother's account and other survivors to highlight the damage the abuse inflicted. Watching the film, you are never certain why Billy is not there. 
"It was only in the edit process that we were able to really understand that we could use Billy's [police] interview, as his story. The challenge for us was to try and get him to tell the story. You don't quite know why, but he's not there. And I still think as well, as I'm watching, 'Oh, by the end he actually took his own life.'" 
It is revealed at the end of the episode that Billy was killed in a road traffic accident in January 2019 in possibly the most heart-wrenching moment in the film. "It's as tragic as it can be. It was awful, because he had picked himself up and he got a new partner and everything was moving forward. And he was doing really well and much calmer. And it just seemed to be good, you know?"
The film not only uses the survivors to tell the stories, but also the parents. An underlying theme throughout is the parents' lack of awareness of the abuse their children were suffering. It haunts both the parents and survivors alike. 
Gordon's film draws the audience in through the relatability to the survivors through a shared love of football. Dean Radford, the former Southampton youth player, speaks of how he idolised the likes of Kevin Keegan, Mick Channon and Danny Wallace, in a way not dissimilar to how a child may see Kevin de Bruyne, Mohammed Salah or Harry Kane today. The film is consistently underlined by the feeling of "I am willing to do whatever it takes", which leaves children open to manipulation.
Football has improved it's safeguarding of children, but this addictive footballing dream continues. The opportunity for predators to manipulate remains. The film demonstrates the important work of the NSPCC helpline which continues to support anyone who has suffered abuse in football.
"There's always more that can be done," Gordon says. "It's all about the access, the moment that you don't take it seriously, someone that wants the access will sniff that out very quickly. It's much better than it was. There were no rules back then - the opportunity was always there. And that's harder now. But still, we filmed with Greater Manchester Police in 2018. And on that day, they were discussing 10 new cases. That was just Greater Manchester Police on one day, in one month, in 2018. So, it's clearly still going on."
As he recounts the split between the darkness of his work and his personal life at home, Gordon explains, "I think I can compartmentalise it a little bit. You come home and I can't speak to anyone because no one's going to sort of understand. I've got kids, they've got their own lives. You open your front door and you've got a smiling child looking back at you. That allows you to decompress quite quickly."
"I don't think mentally I can go back-to-back on this type of thing again. I couldn't go from Hillsborough to this even six months later, I needed more of a gap… I know I'm not ready at the moment." Gordon reflects. However, the possibility of another powerful football documentary remains inescapable for Gordon, who admits with a slight smile, "I've been thinking about three or four very strong ideas."
It is possible to call the NSPCC Helpline on 0808 800 5000 or email help@nspcc.org.uk