From dark horses to favourites: Italy at Euro 2020
The progression of this Italy team has been outstanding, down to a fantastic team spirit and revolutionary way of playing, meaning they are now favourites for the Euro 2020 title.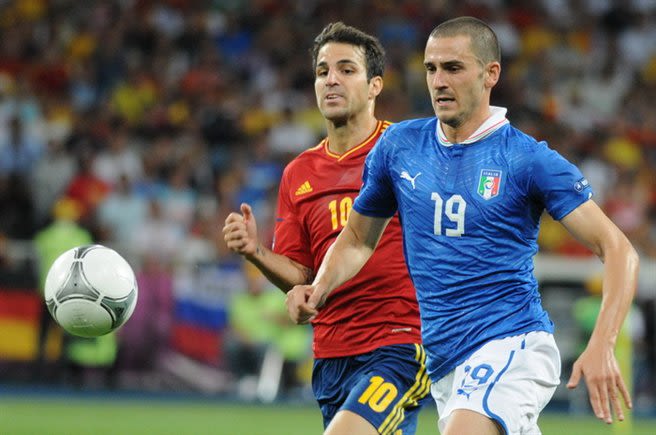 Roberto Mancini's Italy will face England at Wembley Stadium in the European Championship Final on Sunday 11 July at 20:00.
In the semi-finals, England beat Denmark 2-1 the day after Italy were victors in a penalty shootout against Spain.
Italy have been one of the most impressive teams of the tournament and come into the final having won all their games.
"My feeling is good and we're missing only one game," said Mancini about the Euro 2020 final.
Touted as dark horses to win Euro 2020 before the tournament, Italy slowly established themselves as tournament favourites after an incredibly impressive group stage, which saw them win their first two games 3-0 to clinch progression easily.
Their path to the final via the knockout stages has proved less smooth going, though they have clearly been up to the challenge.
The 2-1 win against Austria in their first knockout round game proved to be their biggest challenge yet, with Austria proving stout at the back. The Azzurri did, however, manage to wear down the Austrian defence in extra time to seal their victory thanks to goals from two substitutes. 
Their performance received a lot of criticism as many had Italy down as strong favourites going into this fixture, and many fans viewed this game as underwhelming and even a foreshadowing of Italy's potential downfall.
"Roberto Mancini continued to stress how there are 26 first-choice players in this team and the substitutes proved him right once again, making the difference when it was most needed," said Paolo Menicucci.
However, it was not to be. The game proved to be a wake-up call for Italy more than anything else and they came back strong by beating Belgium 2-1, through a fantastic display. It was during this game that Italy truly proved their worth.
Prior to the Belgium game, many fans and pundits alike had claimed that Italy had yet to face any serious competition, and that they had made their reputation from beating 'smaller' nations. Belgium, the top nation on the world rankings at the time, would be the Azzurri's first 'real' hurdle. Who better to challenge Italy's dominant midfield than Manchester City ace Kevin De Bruyne?
Though De Bruyne was carrying a slight knock going into this game, he was certainly a worthy opponent. His mazey runs proved to be a threat against Italy, though it was not enough. The better team won as Italy progressed to the next round through an attractive, possession-based brand of football that flexed their superiority going forward.
"What they showed from the attacking side was impressive. The combinations they played and the passing sequences – there was about a minute and thirty seconds where they had 25 to 30 passes and Belgium gave up and parked the bus for a minute," said Jürgen Klinsmann.
Such a display vastly differed to the performance that Italy put in against Spain, however. Spain dominated possession with over 60% and passed the ball more than 800 times (twice as much as Italy). Italy's back line was constantly under pressure, and it was the defensive and goalkeeping trio of Leonardo Bonucci, Giorgio Chiellini and Gianluigi Donnarumma that really kept Italy in the game.
With around 20 minutes left in the game, it had seemed that Italy were playing for extra time, as they were constantly on the back foot and failed to generate any sort of attacking momentum. Once extra time came, it began to feel that they were playing for penalties.
The veteran leadership from Italian legends Bonucci and Chiellini shone through, as they comfortably guided their side to the penalty shootout. Once there, Bonucci showed his exemplary leadership by stepping forward and taking a penalty too.
"Chiellini, who made his Italy debut in November 2004, still plays with desire and hunger but also with a smile on his face, relishing every second of every challenge, each battle to be won," said Phil McNulty.
In all, Italy's tournament has been nothing short of impressive. They have been one of the most fascinating teams to watch and are excellent both going forward and working backwards. Each part of Italy's Euro 2020 has boasted different strengths, and they truly look to be the complete package coming into the final.
Are they the favourites? Probably. But, as always, football is unpredictable.
Both England and Italy come into this game as defensive powerhouses. England have conceded just once this tournament. While some would argue that they have some deficiencies going forward, their defensive prowess has made up for it and more in their path to the final. Indeed, Jordan Pickford won the golden glove after Spain scored against Donnarumma in the semi-finals.
In fact, Italy and England are statistically the two best defensive teams of the tournament. While England boasts the best defensive expected goals rate in the tournament at 0.60, Italy are not far behind at all at 0.89.
As Sir Alex Ferguson said, "attack wins you games, defence wins you titles". This has certainly rung true of both these teams' paths to the final, but only one can take the trophy.
While Italy's defensive unit has looked stout, they have conceded in all three of their knockout games this tournament.
One matchup that could be particularly intriguing could be the one down England's left wing, namely Raheem Sterling versus Giovanni Di Lorenzo. Alessandro Florenzi's injury during the group stages has resulted in Di Lorenzo taking the starting right-back role, and while he has been sturdy, he looked out of his depth against Belgium's Jérémy Doku. A direct, powerful and speedy winger, Doku won Belgium's penalty and caused Di Lorenzo trouble all game. Therefore, this could be an unfavourable matchup for Italy, and it would make sense for them to try and double up on Sterling to give Di Lorenzo some help.
They will also be missing their star left-back, Leonardo Spinazzola, who sustained a tournament-ending injury against Belgium. He will once again be replaced by Emerson, who had decent games against Wales and Spain. However, it may not be the defensive work of Spinazzola that Italy miss, but rather the offensive. Spinazzola helped stretch oppositions both vertically and horizontally and so his absence behind Lorenzo Insigne will no doubt hamper Italy's attacking threat once again.
It is in attack that Italy can look so dangerous though – and the Azzurri attack will no doubt be the strongest that England have faced yet.
All three of Jorginho, Marco Verratti and Nicolò Barrella have had sensational tournaments, and they will look to continue this trend against a defensive England midfield that will likely comprise of Declan Rice and Kalvin Phillips.
"This Italy team are wonderful. So fun to watch and play such nice football. Barrella is such a beautifully skilful and technical footballer," said The Boar Sport's Editor, Sam Matthews Boehmer.
The creative midfield three will be looking to feed the prolific and in-form Lorenzo Insigne and Federico Chiesa, who was Italy's brightest attacking spark against Spain. Both are happy to take opponents on and have been successful in creating chances and scoring goals in the games they have played in this tournament.
Italy's attacking threat under Mancini is what sets them apart from past eras. Their 4-3-3 formation is largely unprecedented in Italy's footballing history and has been fundamental to Italy's attacking success since Mancini has taken over. He has fused the reliable, sturdy defence with a creative and attractive brand of attacking football.
His attack is not faultless though. People had voiced concerns over Ciro Immobile's finishing ability prior to the tournament, and they have begun to show once again. He had silenced his haters with two goals in the first two games but has since failed to get on the scoresheet.
Against the immovable wall that is the John Stones-Harry Maguire tandem, it is hard to see Immobile having much of a chance scoring in the final.
Tactically, this game will be a tale of two nations. Mancini will most likely stick with the same 11 that beat Spain and continue with his highly successful 4-3-3 system. For England, it is largely unpredictable. Southgate has tinkered with his line-up a lot over the tournament.
"This group, with this support, we are ready for any game against anyone," said Italy midfielder Jorginho after scoring a 'Ballon D'Or-worthy' penalty to send Italy to the Euro 2020 final.
Italy come into the final as the stronger of the two teams. As a team, they have very few deficiencies. However, it will be up to England manager Gareth Southgate to find a way to exploit Italy's limited shortcomings.