Guardiola and City lose their cool when it matters most
While Chelsea put in perhaps their performance of the season in the Champions League final, Manchester City were left pondering what might have been, after more tinkering from Pep Guardiola.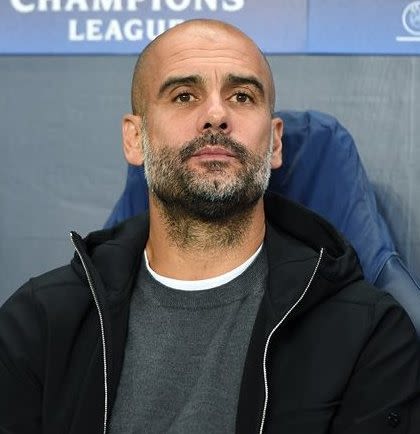 After a season of tactical precision, calmness and intelligence, Pep Guardiola's Premier League champions came unstuck in a 1-0 Champions League Final defeat against Thomas Tuchel's determined Chelsea side.
In a surprise selection, something which often has not boded well in Guardiola's recent Champions League history, a material change was made to their victorious semi-final winning line-up, with dynamic, out-of-form winger Raheem Sterling replacing in-form holding midfielder Fernandinho. Across Manchester City's fanbase, social media channels and conventional media, there was an overwhelming consensus that a repeat of the semi-final starting eleven was the obvious selection.
Guardiola's success throughout his career, which has continued at Manchester City with three Premier League titles making up a haul of ten domestic trophies, has been based on a dominance and patience in possession. 
Pivotal to this have been attacking midfielders in the same mould as Xavi, David Silva and Ilkay Gundogan, who possess the metronomic ability to dictate the tempo of a game, and rapidly step it up if need be, so their side can exploit the spaces formed in the tired, possession-starved defensive lines of their opponents. 
David Silva or Gundogan have routinely maintained midfield balance alongside a more naturally destructive attacking midfield option of Kevin De Bruyne or Bernardo Silva (who has improved in controlling the tempo in some aspects, yet this is far from his natural game), and in front of a midfield lynchpin of Fernandinho or Rodri.
In press conferences, Guardiola has often emphasised that his side's strength is when they show patience and calmness in possession, not through fast transitions in the 'heavy metal' style of Klopp's Liverpool.
In fact, Guardiola even told this to his players when 1-0 down in the semi-final first leg against Paris Saint Germain. Kevin De Bruyne recounted this, saying that Guardiola told them "to play more with the ball" and that they were "too rushed and wanted to go forward too quickly". 
In that second half, Manchester City went on to control the game and produce what was arguably their best 45 minutes of the season, running out as 2-1 winners in the Parc des Princes.
All of this makes it even more baffling why Guardiola opted for Sterling rather than a calming midfield presence of Fernandinho or Rodri. This limited City's numbers in the centre of the pitch, making it harder to impose control over the game. Gundogan was reduced to a holding role instead of the David Silva-esque 'free 8' position in which he has been arguably City's player of the season, thus limiting his ability to dictate the tempo from his natural role. 
Gundogan is also the club's top scorer this season with 17 goals, so moving him into a deeper role had the additional effect of nullifying one of the side's greatest goal threats. As a result, in the game of transitions which unfolded, City went without Fernandinho, the man whose greatest strength is stopping these very transitions. 
Foden was moved inwards from the wide left position in which he has excelled so much this season. All of this destabilisation was made to accommodate Manchester City's most out-of-form player. Even though an in-form Raheem Sterling has struggled in the past when given the wide left remit, he's fared far better either holding the width on the right or being positioned as a narrower left inside forward.
It would be wrong to conclude that Guardiola's two previous defeats at the hands of Tuchel's Chelsea were the cause of this tactical change. Guardiola made eight and nine changes from his strongest eleven in these games. If he wanted to change City's approach against Chelsea, then the widely expected line-up would have naturally provided Chelsea with a far sterner test.
This was Guardiola's most un-Guardiola-like tactical switch to date. Normally, he aims to gain even greater control in possession and greater resoluteness against counter attacks, such as by playing Gundogan on the right wing against Liverpool in 2018 or by including an extra defender against Lyon in last season's campaign. 
Guardiola has historically tweaked his system too much to ensure that his side can control patient possession and sustain attacks in these blockbuster European ties, not overthink in a way that sacrifices his side's ability to do the very thing that has brought him and his teams so much success.
It wasn't even as if this mistake hadn't been made before by Guardiola. Against Leicester City at The Etihad in September, Guardiola brought on forward Liam Delap for Fernandinho after 51 minutes with the score level at 1-1. As a result, City lost control of the game and could no longer contain Leicester's counter attacks. The game ended 5-2 to the Foxes. 
In the following match against Leeds United, City started with their two most destructive attacking midfielders in Phil Foden and Kevin De Bruyne. Without the calmer, patient presence of Gundogan, Fernandinho or even Bernardo Silva, what ensued was a game of endless chaotic transition. Despite ending 1-1, Leeds were the better side and were comfortable winners on expected goals (2.67-1.44). 
In fact, it was only after Fernandinho replaced winger Riyad Mahrez that City greatly improved and probably should've won a penalty. Gary Neville on commentary even declared that Fernandinho's introduction was Guardiola "restoring order" which allowed City to "sustain attacks". 
The Champions League Final followed a similar pattern to that match against Leeds. At half time, the BT Sport punditry team couldn't stop talking about the phenomenal tempo with which the game was played. Guardiola's team selection was clearly a principal reason for the frequency of these fast transitions, yet the individuals within the system must also take responsibility. Too many times did the majority of the team try to run the ball forward at great speed, rather than remain patient, control possession and wait for a better option to present itself. 
The same was true with the high number of loose, direct passes flung forward rather than the passing precision with which usually City operate. Given Chelsea's excellent ability in transition, gifting them transitions in this manner was particularly illogical.
Guardiola's decision to bring Fernandinho on after 64 minutes was a clear acceptance of his error of judgement. In fact, Guardiola's stubbornness in not making this change at half time where he would have had 15 minutes to instruct his team may have been costly. Choosing to substitute Silva here was another strange decision given the exceptional attacking midfield partnership that he and Gundogan struck up during a 21-match winning run earlier in the season. 
After this substitution, City controlled possession of the ball much better and greatly reduced the frequency of Chelsea's counter attacks. However, City still found it difficult to create too many openings against a robust Chelsea defensive line. The understandable difficulty of changing gear mid-half under such high pressure when already performing so poorly must have been a key factor here. 
The seemingly universal response of piling long balls into the box at the end of a final didn't help either. Perhaps, if the change came earlier and Fernandinho had replaced Sterling at half time, City would have had more time to get into a passing rhythm.
Surprise inclusion Raheem Sterling unsurprisingly failed to impress. Funnily enough, a player who had been woefully out of form in recent weeks remained woefully out of form. Maybe Guardiola should have thought about that beforehand. More likely, he thought about it too much.
I would love to see a counterfactual where Guardiola stuck to his finely-tuned system that deservedly overcame PSG and Dortmund, where City set up in a way that maximised their ability to operate with the same level of calmness and precision that has served them so well under the Catalan's tenure. In an interview before the game, Noel Gallagher said that if City and Chelsea were both at their best, then his side should triumph, which is hard to disagree with given that they finished the season 19 points ahead of their opponents. However, it was clear for anyone to see that Chelsea were close to their best and City were as far from it as could possibly be imagined.
Old habits clearly die hard for Guardiola. It is possible that even if he had stuck to his winning formula, the players may have lacked the composure to perform with their usual expertise. It would, however, have been a much more worthy and fulfilling attempt at the club's first ever Champions League Final, rather than the same bitter taste of unnecessary tactical failure repeating itself year after year.