Long read: Why Italy can no longer be considered simply as 'dark horses'
A fantastic group stage which proved solidity in defence, fluidity in attack and strength in depth consolidated Italy as one of Euro 2020's favourites.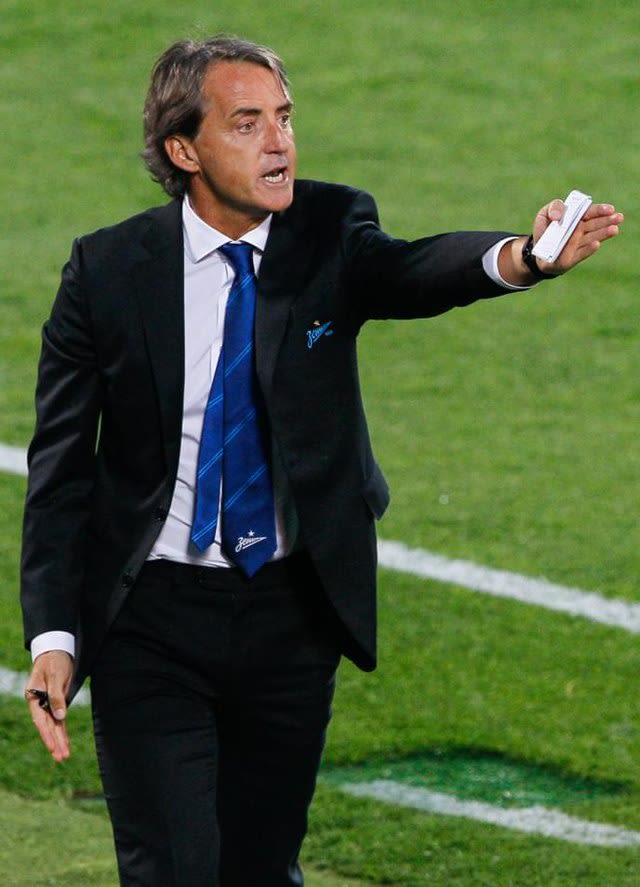 Image: Wikimedia Commons / Вячеслав Евдокимов
Image: Wikimedia Commons / Вячеслав Евдокимов
Italy saw off Wales 1-0 in their final match of the group stages thanks to a first-half goal from Matteo Pessina.
The Azzuri fielded a weakened team to keep their core players fresh, giving play time to some of their reserve players. Only Gianluigi Donnarumma, Leonardo Bonucci and Jorginho kept their place in the starting line-up. Prior to this game, Italy were already through with two wins in their first two games.
While they were not mathematically qualified, Wales were likely to go through already with four points, thanks to an important 2-0 victory over Turkey in matchday two. Manager Rob Page was wary of suspensions and so made three changes, though this resulted in a change of system from four to three at the back.
Italy dominated possession throughout the first half. While Wales had some threat of their own, Italy were comfortable and organised in defending them.
Despite Italy's dominance, it was Wales veteran Chris Gunter who had the first goalscoring opportunity, nodding a corner just wide.
However, Italy's class shone through. The amendments to their line-up had clearly taken its toll but, soon enough, the much changed starting eleven settled into the game and demonstrated just why Italy are one of the best teams in the tournament.
Following some probing passing in Wales' half, Italy won a free-kick courtesy of some neat work from Marco Verratti, who was returning from injury. His set-piece delivery was clever. Hitting it low and near, the free-kick beat Wales' high line and keeper Danny Ward, as Atalanta's Pessina diverted the ball into the far corner.
The rest of the half continued as such, with Italy controlling the game through Verratti and their dynamic running. The score entering half time was 1-0 to Italy – and deservedly so.
Despite their improvements starting the second half, Wales' task got much harder as Ethan Ampadu received a straight red card for a late challenge on Federico Bernardeschi. Ampadu's dismissal made him the youngest player in European Championship history to ever be shown a straight red card.
Following Ampadu's exit, Italy's dominance grew ever stronger, creating chance after chance and having complete control over possession. As the second half drew on, the game became increasingly difficult for Wales, with Italy pulling all the strings.
Wales' best opportunity of the game came at the 75th minute mark, as Gareth Bale's volley from just right of the centre of the box was blasted over the bar.
Manager Roberto Mancini's faith in his victory was evident when he substituted goalkeeper Donnarumma for veteran Salvatore Sirigu with two minutes left of regulation time.
The win for Italy secured their top spot in Group A with nine points, meaning they will play Austria in the first round of the knockout stages.
Switzerland's 3-1 win over Turkey was not enough to spring them into second. Instead, Wales finished second in the group due to goal difference and will play against Denmark in the last 16. Switzerland qualified for the round of 16 as a wildcard.
Kicking off Euro 2020, Italy beat Turkey 3-0 – a side that many thought were dark-horse competitors. The Azzurri were professional in approach and relentless in performance.
Despite dominating the game from start to finish, Italy found their breakthrough in the second half. After that, however, there was no looking back. With another two goals, Italy secured the victory comfortably.
Their ruthless mentality was replicated in their 3-0 win over Switzerland. Opening the scoring in the middle of the first half, Italy had a tight grip over the game and neutralised all of Switzerland's attacking threat.
Their defensive duties did not stop them from attacking either though. Maintaining a positive mindset throughout, the Azzurri kept pushing until the end and were duly rewarded with two more great goals.
"My idea was originally to target success in the 2022 World Cup, but now we can challenge for Euro 2020," said Italy manager and fan-favourite, Roberto Mancini, before the tournament.
Since Mancini has taken over, Italy have been a completely different squad to the one that missed out on the 2018 World Cup. The then-dejected side have undergone many changes in both tactic and personnel under Mancini and look revolutionised.
Italy had famously been a defensive team in the past. This European Championship is re-writing their identity though, as they are playing a dynamic brand of fluid football, in a slick 4-3-3 "formation". With seven goals and three clean sheets in three games, Italy should be considered an offensive powerhouse and defensive juggernaut.
In all their group stage games, Italy have looked impressive. They truly are a force to be reckoned with and are now cementing their status as one of the favourites of the competition, joining the likes of the Netherlands and Portugal.
"I think Italy have a lot of depth, and they've got a lot of really exciting young players. They've sort of combined the traditional Italian aggressive defending with this amazing free-flowing attacking football," said Ben Northcott during The Boar's Euro 2020 Preview podcast.
Tactically, Italy have been superb. They play a brand of football that is both effective on the pitch and appealing for the spectators.
Like you would expect from a "big team", they are comfortable on the ball and not a single player ever seems flustered or shy in possession. When teams press them, as evidenced at the start of the second half against Switzerland, they are happy playing out from the back and do so excellently.
Most of that can be put down to Mancini's fluid structure. His midfielders are always on the move and are efficient at finding space. When the Azzurri are in possession, the ball-holder never seems to be short of options.
This translates further up the pitch too. The likes of Manuel Locatelli and Nicolo Barella certainly do not hide away from pushing forward and making things happen. Leonardo Spinazzola, the left-back, has been a bright spot for Italy so far with his willingness to push forward and challenge opposition full-backs. There is a certain smoothness to their system which is so pleasing for both the spectator and, no doubt, the player in possession.
Attacking in approach, it seems that Italy are always looking to probe at the opposition defence. In the game against Switzerland, Ciro Immobile's late goal was created by a pass from Rafael Toloi, who had only just come on.
Their positive attitude is relentless, showing off their professionalism and ruthlessness in seeing off their opposition. They do not settle for anything – their effort is tireless throughout the game and ensures their victories right to the final whistle.
It is this winning mentality that can be so important in knockout football. Some teams lack the professionalism to close games out properly (many criticised the Netherlands for this against Ukraine when they won 3-2). However, the Azzurri are not susceptible to this fault. They have shown their strength and dominance in finishing games right to the very last second.
"If you play against Italy you are going to have to perform. They got it spot on tactically with a system that works for them," said former England defender Rio Ferdinand, after Italy's opening day win against Turkey.
While some would say that Italy have yet to be truly challenged by any "strong" competition, they have certainly done their job excellently so far and will be looking to carry on their impressive approach through to the knockout stages. You can only beat what is in front of you after all – and Italy have done that convincingly.
Winning teams have great depth and Italy are proving to have just that. Despite star player Verratti being ruled out for the first two group stage games due to an injury suffered late during his domestic campaign, the Italy midfield continued to dominate and looked impressive. 
Verratti did, however, manage to play against Wales, and was solid. He will certainly be playing a crucial role in Italy's success in the later rounds of this tournament. Match fitness will be the biggest concern here though, and since Locatelli and Barella have been excellent so far, Mancini will not feel the need to take any unnecessary risks.
At the back, Giorgio Chiellini suffered an apparent hamstring injury during the first half of the game against Switzerland. However, Francesco Acerbi filled his role most serviceably and Chiellini's club-mate and Italy veteran Bonucci was a perfect captain.
Off the bench, Italy have many different options too. Bernardeschi and Federico Chiesa can offer fresh legs and extra pace upfront whilst Sassuolo youngster Giacomo Raspadori could also give the attack a different angle if required.
They flexed their depth most during the game against Wales. With eight changes to their starting line-up, Italy were able to show off their strength in depth. Their fluid system and positive, attacking mentality were still upheld despite the many changes within the team.
Players such as Emerson and Pessina were up to the task and proved their worth in the squad with emphatic performances. If Italy were to suffer injury woes later in the tournament, Mancini will surely take comfort in knowing just how reliable his reserves are.
From England to Germany and Spain to France, it seemed that every team had its fair share of questions coming into Euro 2020.
For Italy, one of the biggest concerns was surrounding their attacking centrepiece, Immobile. Despite having an illustrious club career, his international goal-scoring record was concerning for many Italy fans. Prior to the tournament, he had scored just 13 goals in 46 appearances for Italy.
While some would argue that his two goals during two group stage matches should be enough to silence his critics, the truth is that he could certainly do with being more clinical.
Against Switzerland, he had an abundance of chances that he should have at least hit the target with. Fortunately, Italy were exceptional at continuing to provide support for him so, ultimately, the issue was negligible.
However, as Italy progress further into the tournament, opportunities may start to dry up and so they need Immobile to be more clinical. While he has been excellent in attack-positioning and creating goal-threatening opportunities, he will need to ensure he can finish off his chances as well as he creates them.
After a highly successful group stage where Italy proved their worth, it is evident that Mancini and his men have the necessary tools to progress deep in this tournament.
"Italy, rather than being simply dark-horses, look like they could go really far in the tournament," said The Boar Sport editor, Sam Matthews Boehmer, during the first Euro 2020 Round-up following Italy's win over Turkey. Given how Italy have cruised through the group stage, it seems such a claim is not a far stretch at all.
Italy's first knockout game is against Austria, today at Wembley Stadium.