Operation Football League: #1

The Football Manager 2021 BETA was released during reading week, which gave The Boar Sport the perfect opportunity to test our managerial abilities uninterrupted.

Welcome to Operation Football League, welcome to Leamington FC.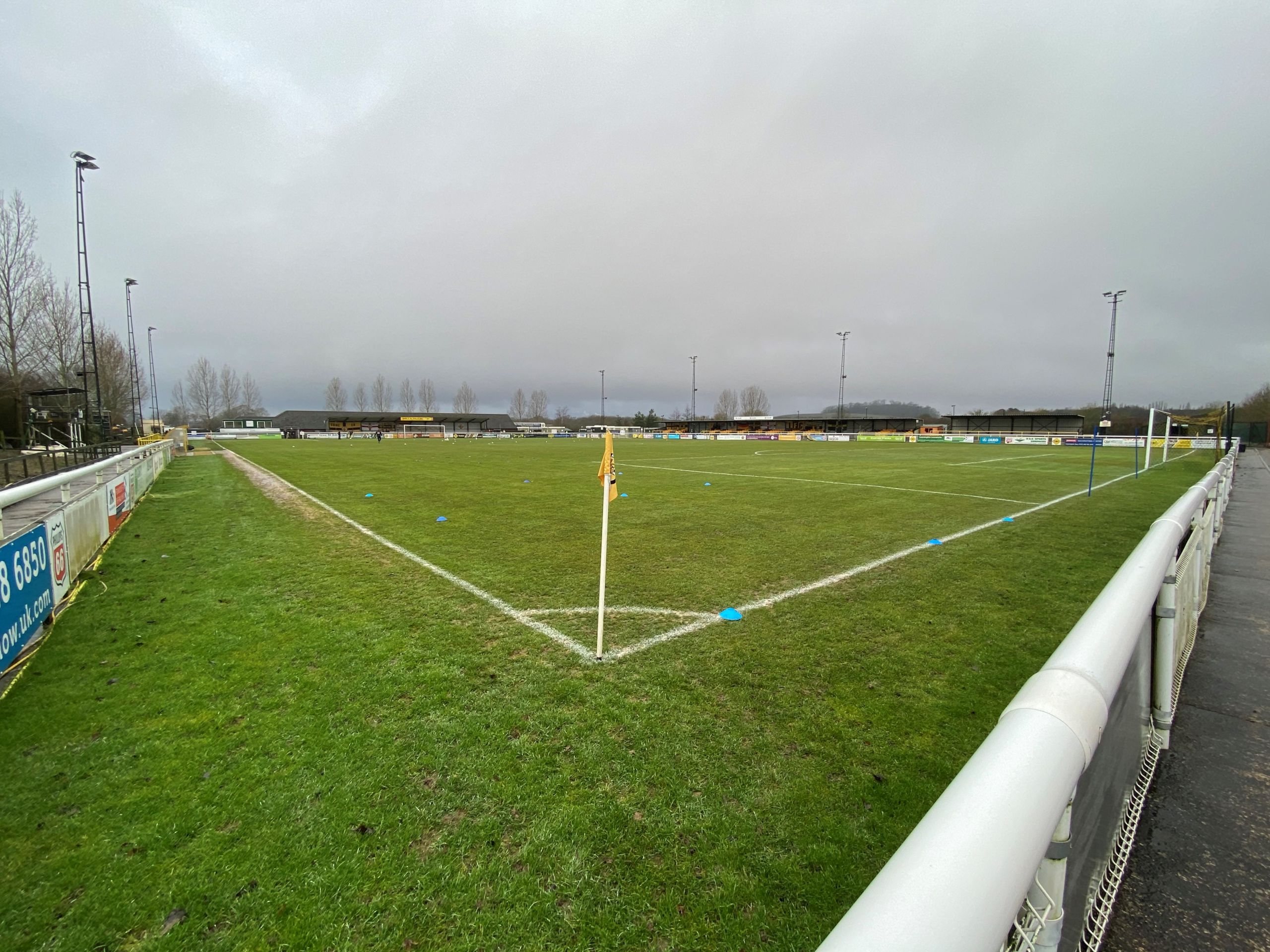 Image: Max Passantino / Leamington FC
Image: Max Passantino / Leamington FC
Football Manager 2021 was released on 24 November, although the BETA - an early version of the game - has been available to play since the start of this month. As a self-avowed FM 'enthusiast', and editor of The Boar Sport, I thought it would be appropriate to take the opportunity to write this series: Operation Football League.
The project will serve three purposes. First, I want to share my FM adventure with you - tactics, scouting, training, et al. Second, I hope to appraise the game itself - is FM21 worth buying? Finally, it is my mission to introduce you to Warwick's local team: Leamington FC.
With those aims in mind, this first instalment of Operation Football League will act as an introduction to the game, the club and my save.
Since first downloading FM21, I have raced through the opening two seasons of my virtual career.
What can I say? I study PAIS... and watching celebrities run around a Welsh castle doesn't quite capture my attention in the same way as circles and a spreadsheet.
This blog will cover my first season in charge of the Brakes, though future posts are in the pipeline. With my administrative duties out the way, welcome to the Community Stadium.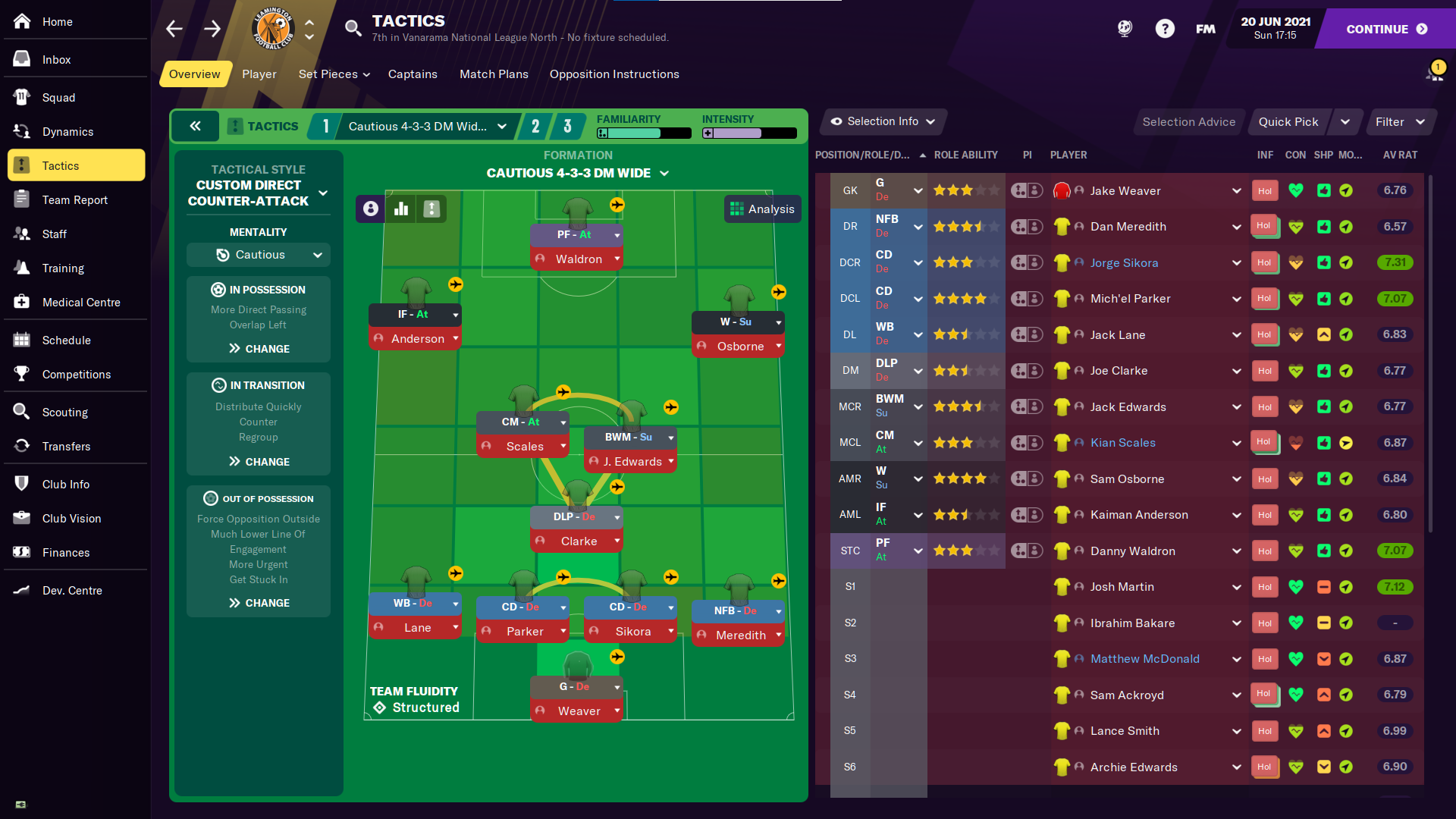 At the time of writing, I have already invested 46 hours into my save. Let's call that time research. Here are my initial thoughts:
Sports Interactive - the studio responsible for making Football Manager - introduced a number of flagship changes to the game this year. Among them was the abolishment of the percentage figures previously used to indicate players' fitness and match sharpness. In their place, SI has introduced hearts and arrows.
This departure from precedent has had one major impact: it has made the game more realistic. In real life, managers can't decide to substitute a player after they reach, say, 75% of full fitness. Now, thanks to the changes made for FM21, managers are forced to make realistic decisions about player fitness and squad management.
Initially, the change was jarring. However, having now gained almost two days' worth of experience on the game, the switch feels intuitive. Of course, I'm still getting used to the new system, but it feels like a step in the right direction.
From a technical standpoint, the game is much improved. FM21 is much faster than its predecessors - which is an absolute godsend for people (including myself) who play the game on sub-optimal laptops.
Now, we should probably talk about how the tactic (above) impacted the National League North standings (below)…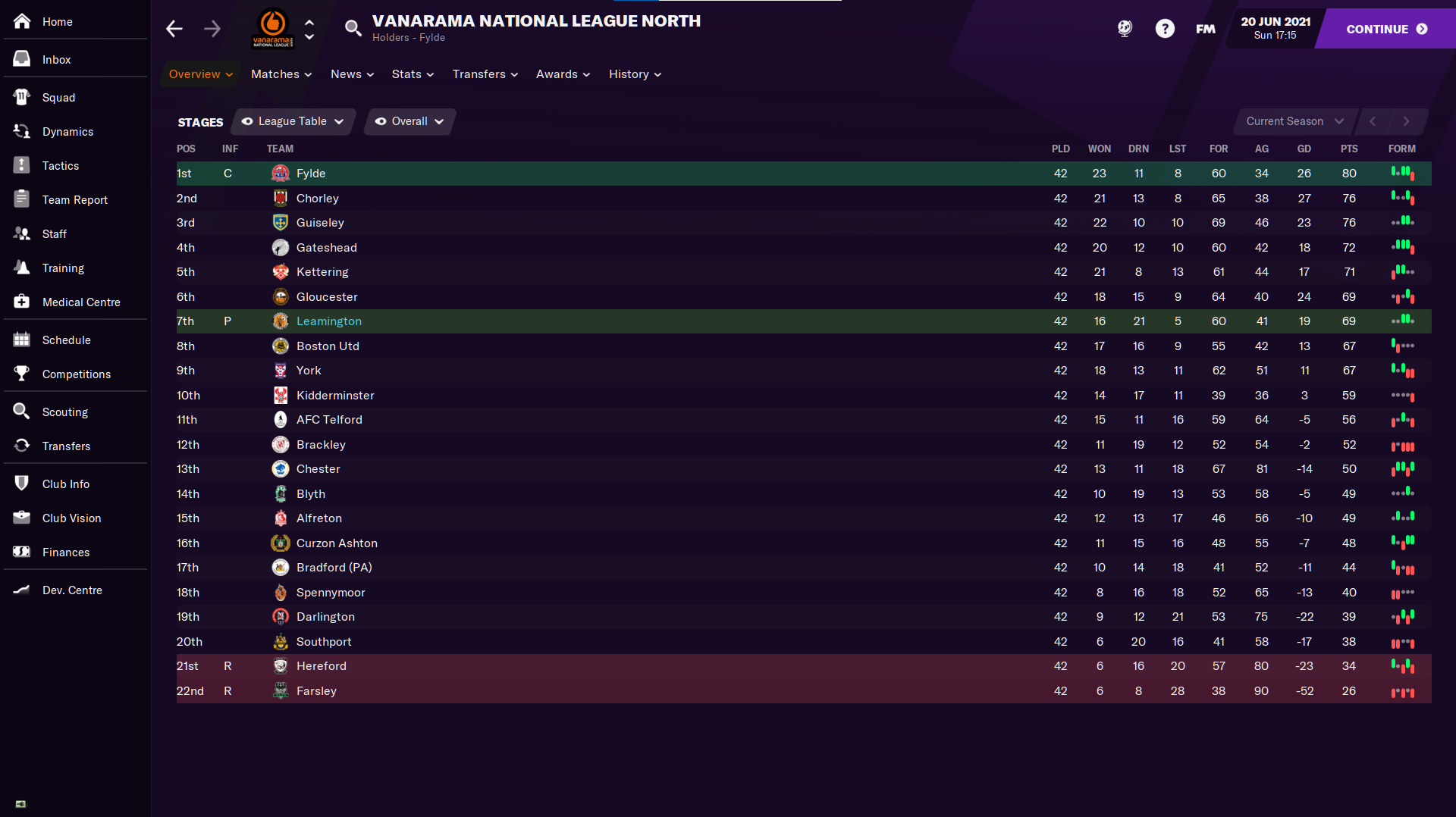 Against all the odds, my plucky Brakes gained promotion to the National League - the fifth tier - at the first time of asking. Jim Scott, the club's chairman, anticipated a tough season - as did the bookmakers, who had us down to finish in the bottom five.
Alas, the relegation battle never arrived. After losing to my reserves, and an array of lower-league opponents, in pre-season, I was worried ahead of our first game of the campaign against Boston United.
As a result, I went full Mourinho: organising my side to sit in a deep block, packing central areas to force our opponents into wide zones of the pitch.
The tactic - albeit not the fanciest in my repertoire - proved surprisingly effective, making up for the club's limited budget compared to some of our divisional rivals.
All in all, the campaign can be defined by our resilience in fixtures that we simply had to win. Brakes forward Danny Waldron - who tends to play on the left of midfield in real life - proved surprisingly clinical in front of goal, leading the line with the aide of Sam Osbourne and Kaiman Anderson.
On a separate note, it is important to acknowledge that the league was so, so tight. Only five points separated fourth-placed Gateshead from ninth-placed York City, a fact that makes our achievement all the more impressive.
We rode our luck throughout the play-offs (below), dispatching of Kettering Town on penalties in the final, but our performances captured the essence of the season as a whole. Despite playing the role of plucky underdogs, we were able to prevail because of a solid tactic, and some wise recruitment.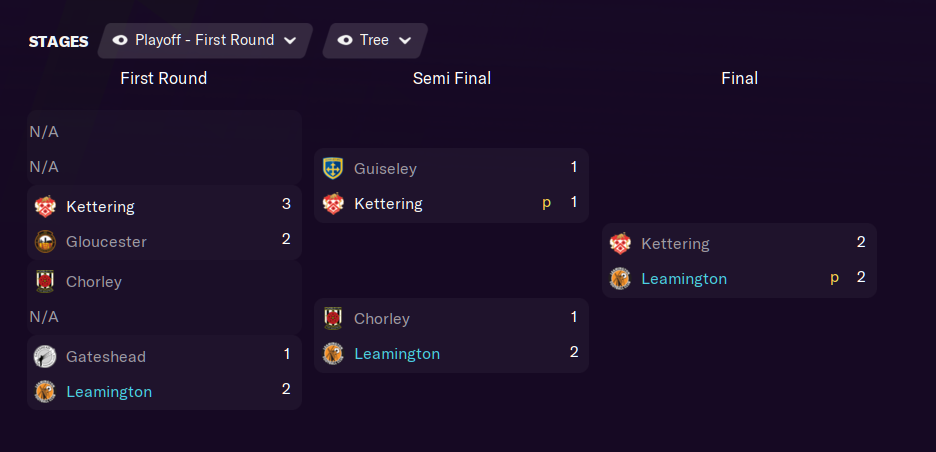 The playoffs, typically nail-biting occasions, saw us play some of our best football - especially against Gateshead in the preliminary round.
Archie Edwards played a pivotal role in our run to the playoff final, earning the MOTM award against Gateshead and Chorley, before scoring the opening goal of the final against Kettering Town.
At £230/week, Archie Edwards' arrival ahead at the start of the season felt like a bit of a coup.
At this level - with matchday squads limited to 16 players - having a full-back as versatile as Archie Edwards is a real help.
Despite being scarily bereft of balance, the former Charlton defender has something to offer on both sides of the ball, and would probably even make a good centre back if push came to shove.
Edwards was a mainstay in my side, making the left back position his own thanks to his contributions at both ends of the pitch. Three attributes of Edwards' stand out in particular: determination (14), positioning (12), and passing (12). Edwards is one of few players who I expect will remain a constant figure in my XI next season; his performances certainly warrant some loyalty.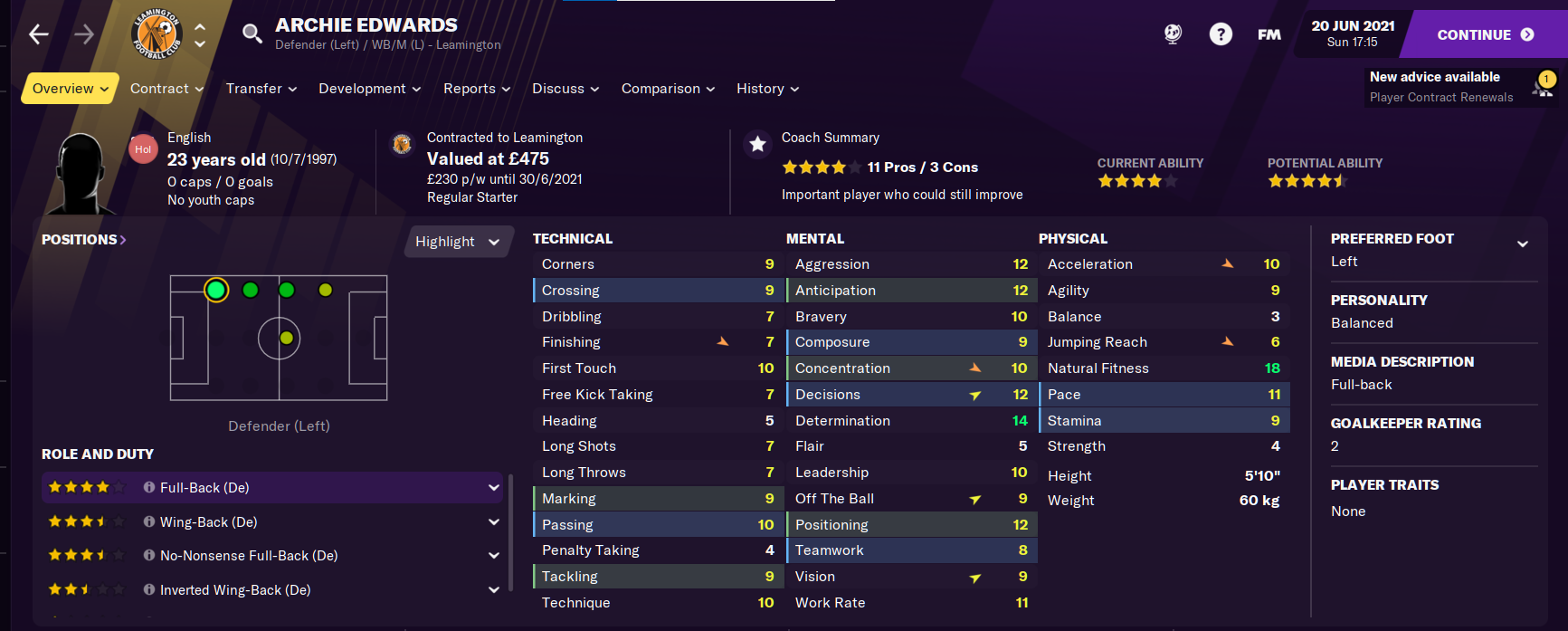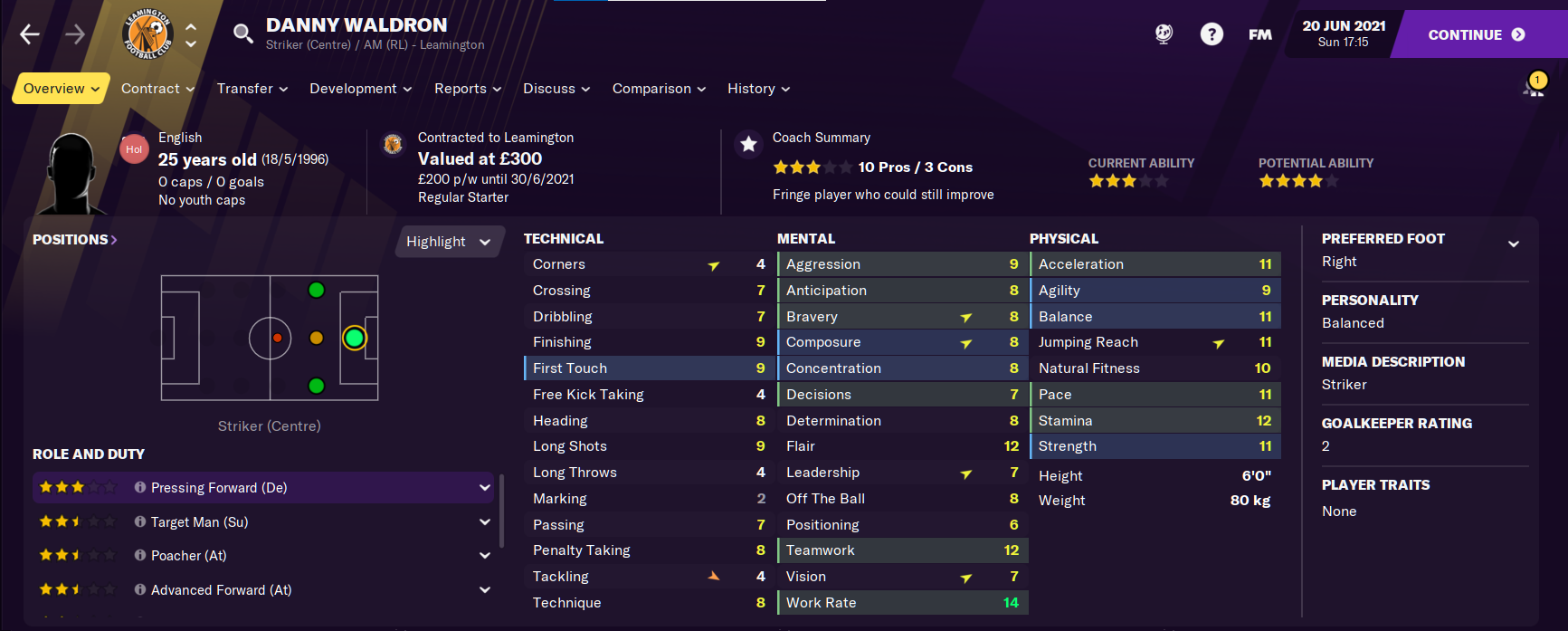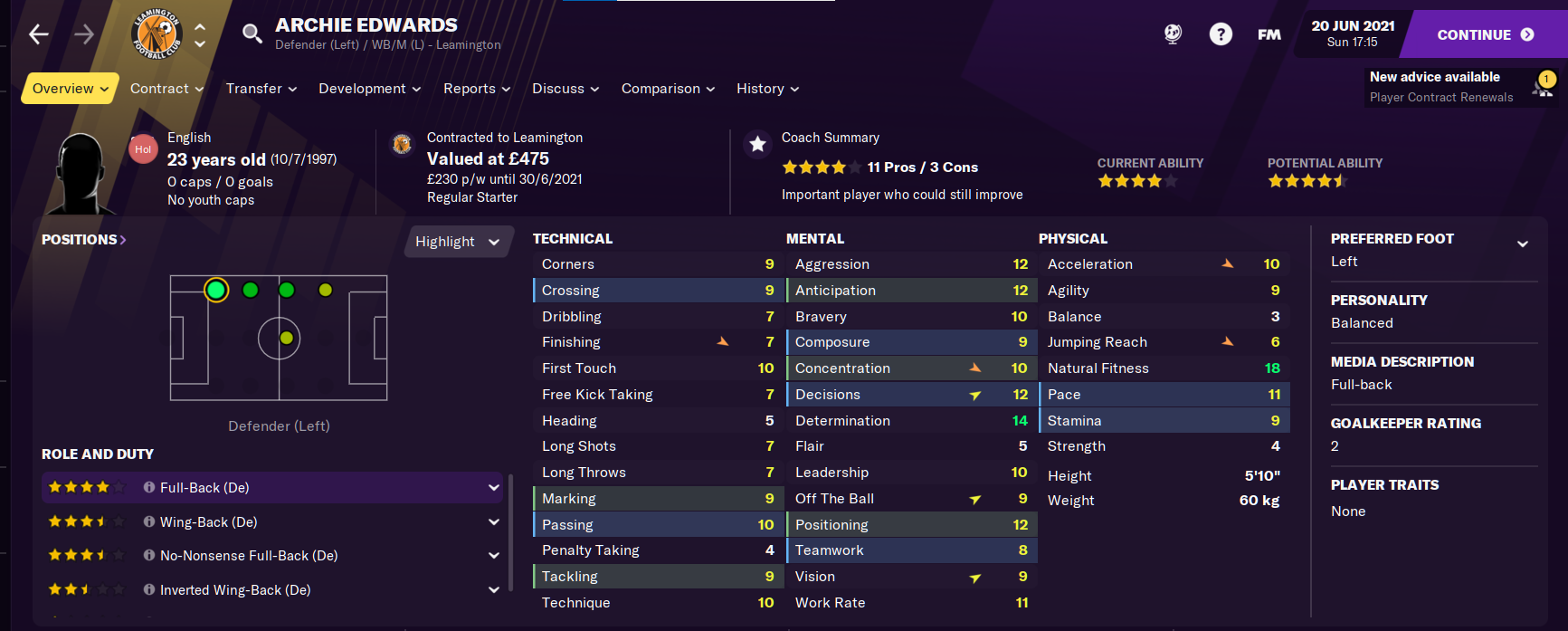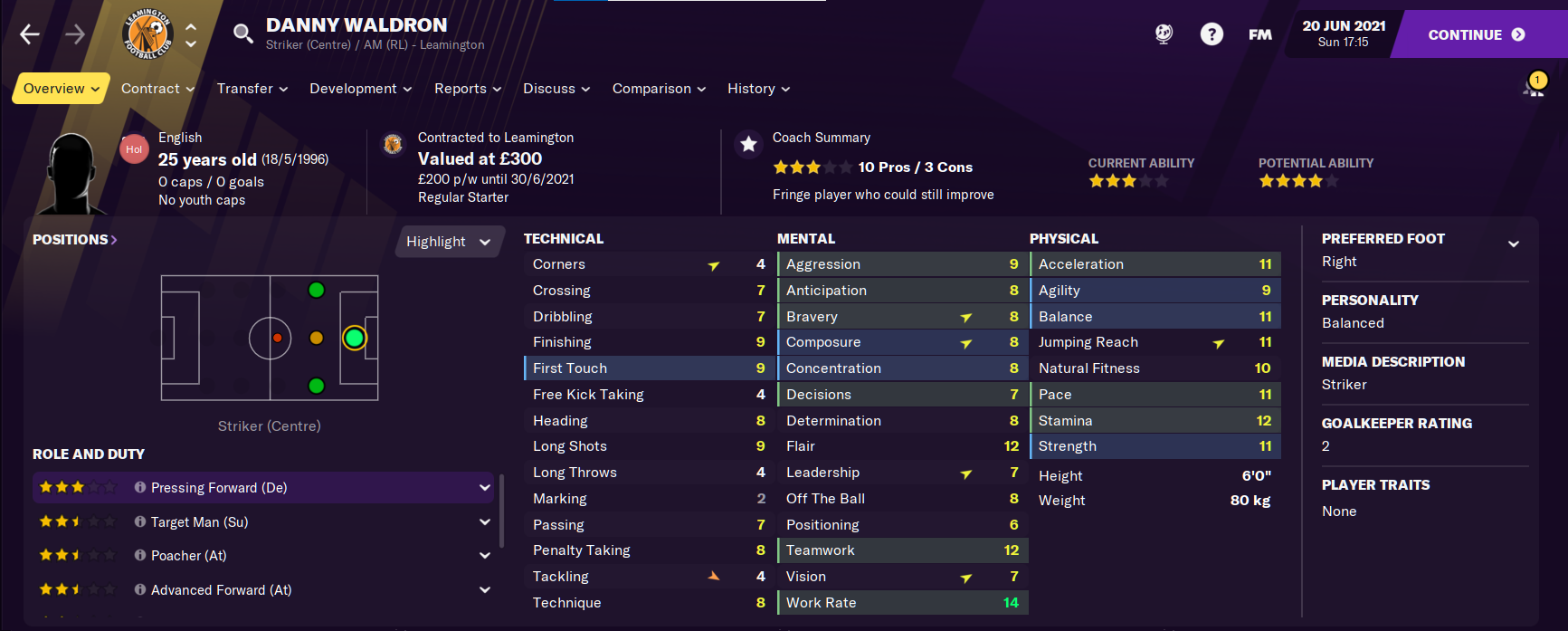 Danny Waldron has earned a shout-out simply because of his output throughout the league campaign. With 23 goals and eight assists on route to promotion to the fifth tier, Waldron cemented his place in the team as a pressing forward.
Waldron's standout attribute is his work rate (14), which made him the perfect choice for a role that requires more brawn than guile. Unfortunately, Waldron's contract expires at the end of the summer and he is currently demanding close to £1,000/week in wages and match fees.
For a player that might not be able to make the step up to the National League, that is too large a price to pay.
With that in mind, I expect to make wholesale changes to the squad ahead of next season. Given that our promotion came very much against the odds, it seems prudent to search for upgrades to our starting eleven wherever I can find them.
My approach to squad-building in the seasons ahead will be fairly simple. Each June, I intend to shortlist every player who has been set to be released by Premier League and Championship clubs. With this (not so)-shortlist, I will look to find diamonds in the rough, younger players who tend to be willing to be paid less to be played more.
Of the players at the club in real life, I hope to keep Jake Weaver, Jack Lane, Jack Edwards, Sam Osbourne, Lance Smith and Danny Waldron on for next season. Their in-game wage demands will determine whether or not that comes to bear.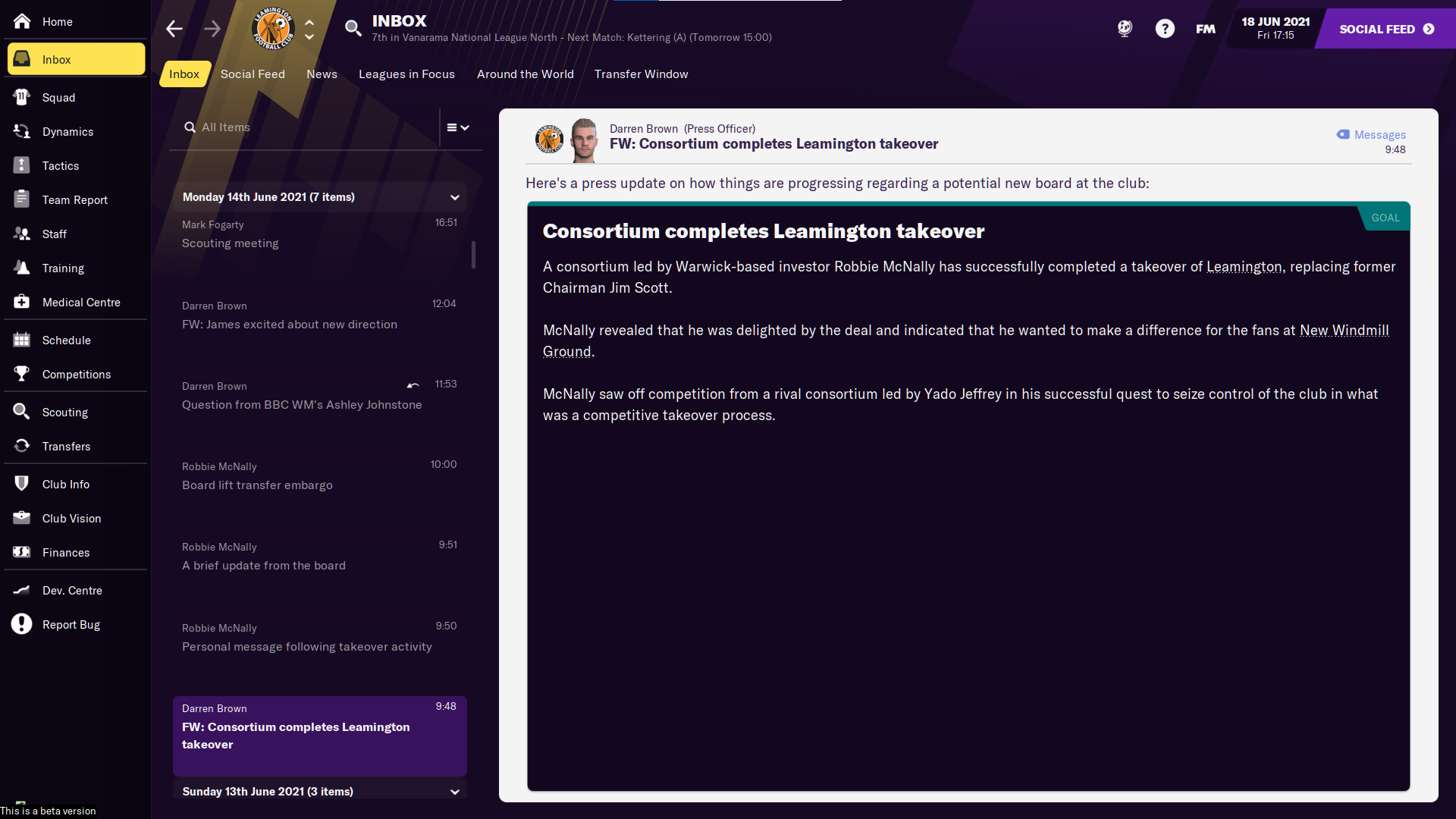 Finally, some sad news.
With the club hurtling toward the play-offs, I received a shocking inbox item. I was informed that rival consortiums had launched bids to purchase the Brakes from Jim Scott, one of which intended to sack me upon their arrival.
Thankfully, the side hoping to fire me were not successful in their efforts to buy the club. Unfortunately, the organisation was sold to the competing bidders.
As a result, Mr. Scott will no longer be involved in the running of the club - and will be replaced by (newgen) Robbie McNally.
And that draws our first season in the dugout to a close.
Though promotion to the National League is the highlight of our campaign, it would be amiss of me not to mention our progression to the Second Round of the FA Cup. I thought I'd drop that in here, somewhat nonchalantly.

Our aim in 2021/22 is simple: stay up. Over and out.