Post Super Bowl 2022 NFL First-Round Mock Draft
This draft is shaping up to be a hectic one, so here's how things could go down.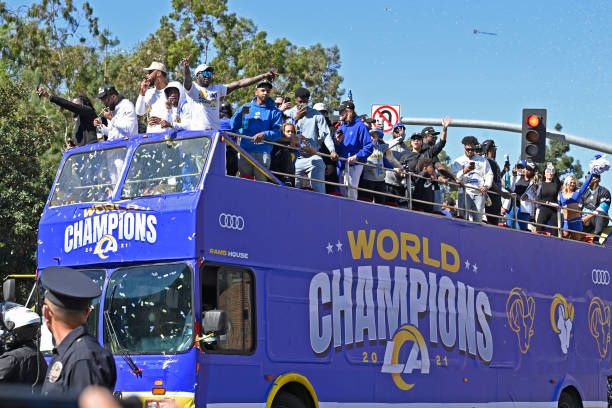 The 2021/22 NFL season was ended with the Los Angeles Rams beating the Cincinnati Bengals 23-20 to win the franchise's second ever Super Bowl.
With Super Bowl 56 now behind us, the draft order for the first round of the 2022 NFL Draft has now been set, with the Bengals taking the 31st overall pick and the Detroit Lions taking the Rams' 32nd overall pick (due to the Rams' trade for former Lion, Matthew Stafford).
While trades within the first round are inevitable, it is impossible to predict which trades will happen on the day (as the draft is still over two months away). Thus, this mock draft will not include any trades (that have not already happened).
This mock draft includes the free agency and trade frenzy that has marked this Spring period as one of the most hectic and dramatic ever in NFL history.
Click here to see our previous mock draft.
1) Jacksonville Jaguars – Evan Neal, Offensive Tackle, Alabama
The Jaguars selected quarterback Trevor Lawrence with the top pick last year – now is their chance to build around him. Neal is an elite athlete who can play at both left tackle and right tackle at the pro level. He would be an ideal building block to pair with Lawrence as the Jaguars look to build a new era under new head coach Doug Pederson and Lawrence.
2) Detroit Lions – Aidan Hutchinson, EDGE, Michigan
Hutchinson would be an ideal selection for a team that has needs throughout its roster. He is an elite EDGE talent, who is clearly the best power rusher in the draft this year. With this selection, the Lions would get a high impact player at a valuable position. Not to mention how poetic it would be to keep Hutchinson near Michigan too.
3) Houston Texans – Kayvon Thibodeaux, EDGE, Oregon
Thibodeaux is an excellent player and is arguably the best EDGE talent in the draft. As someone with a distinguished college career, Thibodeaux would bring a level of consistent class to a Texans roster which is in dire need of star power. This pick would be a no-brainer in this situation really, the Texans would be lucky if Thibodeaux falls to the third pick.
4) New York Jets -Kyle Hamilton, Safety, Notre Dame
Hamilton is an intriguing prospect who could be a 'marmite' player with NFL general managers. While his production at the college level has been phenomenal, it remains to be seen how a player of his skillset would translate to the NFL. Hamilton is a highly versatile prospect who can line up in most positions on defence (barring EDGE and defensive tackle) – he has been a tough game plan for many college offences. The Jets have needs all over and the talented defender could fill multiple gaps, especially in the secondary.
5) New York Giants – Ikem Ekwonu, Offensive Tackle, North Carolina State
The Giants selected offensive tackle Andrew Thomas in the 2020 NFL Draft. After a turbulent rookie season, he became one of the top pass protectors in his second year. In Ekwonu, the Giants could further bolster their offensive line after restating their faith in quarterback Daniel Jones. Ekwonu is a strong prospect who has guard flexibility. For the Giants, he could be a pass protecting right tackle or make the move to either guard spot.
6) Carolina Panthers – Malik Willis, Quarterback, Liberty
The quarterback class has yet to really take shape, though there is a general sentiment that Willis is among the top prospects. Willis is a dual-threat quarterback who could thrive in the Panthers system, especially with star player Christian McCaffrey taking most of the defensive attention. Given the Panthers' quarterback carousel over the course of the 2021/22 season, Willis could bring some much-needed stability at the most important position.
7) New York Giants – Travon Walker, EDGE, Georgia
With their second first-round pick, the Giants take Walker, a prospect with some of the most elite physical traits in the draft. Walker is an exceptional talent who tested phenomenally at the NFL Combine. His speed-strength combination allows him versatility as an inside or outside lineman, making him an easy scheme fit. The Giants are in a tricky position in terms of roster building and so a talented playmaker at a high value position will undoubtedly me a welcome addition.
8) Atlanta Falcons – Jameson Williams, Wide Receiver, Alabama
Recently, former Alabama wide receiver Calvin Ridley was handed a year-long suspension from playing due to match-fixing allegations. It leaves the receiver room in Atlanta both inexperienced and lacking in talent, making Williams an excellent pick here. His ACL injury could affect his physical traits but, assuming he makes a full recovery, Williams boasts elite talent, and has an excellent résumé at college level to go with it. Given Alabama's reputation for producing top quality players, Williams would be a wise selection for a position of need for the Falcons. A long-term solution at quarterback is required after losing Matt Ryan via trade, but they could test Marcus Mariota for one year first.
9) Seattle Seahawks – Matt Corral, Quarterback, Ole Miss
The Seahawks recently traded their generational quarterback Russell Wilson to the Denver Broncos for two first-rounders, two second-rounders, a fifth-rounder, quarterback Drew Lock, defensive lineman Shelby Harris and tight end Noah Fant. The trade has shaken up the entire league and leaves the Seahawks in a rebuild situation, despite coach Pete Carroll's comments. What next for them? With the selection of Corral here, the franchise gets a fresh start with a dynamic athlete as their future signal-caller. Some questions have been raised as to whether Corral is NFL-ready, but the Seahawks could opt to use Lock as a 'bridge' quarterback to allow Corral to develop for a year.
10) New York Jets – Jermaine Johnson, EDGE, Florida State
Following the selection of Hamilton earlier, the Jets double down on their defence with Johnson. Johnson is a relatively complete prospect, who is ready for the jump to the pro level. The biggest strength of Johnson is his football IQ, with many praising his natural feel for the game. That is not to downplay his athleticism, however, as Johnson outperformed expectations at the NFL Combine greatly. In Johnson, the Jets get a talented, high-impact player at a valuable position as they continue to build their young roster.
11) Washington Commanders – Derek Stingley Jr., Cornerback, LSU
The Commanders' rebranding of its franchise has proved divisive among those around the league, with many taking particular issue at the new uniforms. What would not be divisive, however, is the selection of Stingley Jr. in the first round of the draft. Stingley's stock has fallen a bit due to fear that he does not have the 'high effort' motor of prospects at the top level. On natural talent alone though, Stingley Jr. is one of the top players in the draft, and also plays one of football's most prized positions. If the Commanders can harness his talent, this would be an absolute steal.
12) Minnesota Vikings – Jordan Davis, Interior Defensive Line, Georgia
Davis is a solid prospect who has few flaws. His size and athleticism are to die for, making him a fantastic choice for the Vikings, who are in desperate need for more defensive interior pressure. Davis' pure physical traits mean that he will be able to fit into any defensive scheme that new Vikings defensive coordinator, Ed Donatell, draws up.
13) Houston Texans – Ahmad Gardner, Cornerback, Cincinnati
The Texans need a quarterback after finally trading away Deshaun Watson for a hefty draft haul. They also need to fill out their roster though. The quarterback class this year is considered weaker than most years, with no serious standout talents. As such, the Texans may opt to prioritise other positions this year and target a quarterback next year, giving Davis Mills another year as starter. Gardner is one of, if not the, best cornerback prospects in the class. The rangy cornerback is a primary shutdown corner who would be a massive steal at pick 13.
14) Baltimore Ravens – Trent McDuffie, Cornerback, Washington
Lamar Jackson's injuries over the 2021/22 season derailed the Ravens' season and blew their chance at making the playoffs. In truth, when Jackson is healthy, the Ravens are much better than their draft position suggests. For this reason, expect the Ravens to take the best player possible and, in this instance, it is McDuffie. McDuffie is a physical corner who has inside-outside versatility.
15) Philadelphia Eagles – Kenyon Green, Interior Offensive Line, Texas A&M
Green is a versatile offensive lineman who can play any position on the line, but projects best as a center or guard. With Jason Kelce reaching the end of his career, the Eagles would be smart to take Green, who could find his feet at guard initially. Green has all the necessary tools to become one of the NFL's top players at his position, and his experience as a starter means he is ready to start straight away.
16) Philadelphia Eagles – Andrew Booth Jr., Cornerback, Clemson
With their second first-round pick in a row, the Eagles select Booth. Booth is a lengthy cornerback with all the prototypical traits that can be expected of boundary defenders. His physical play style also makes him an asset in run defence. His rare blend of athleticism and size make him a fine selection for a team in need of talent in high value positions.
17) Los Angeles Chargers – Trevor Penning, Offensive Tackle, Northern Iowa
In the 2021 NFL Draft, the Chargers selected tackle Rashawn Slater, who had a truly dominant rookie campaign at left tackle. With Bryan Bulaga entering the final year of his contract, Penning would be a smart selection for the Chargers to fill that spot. Penning primarily played on the left at college level but his run-blocking prowess suggests that he would be a better fit on the right at NFL level. Having recently traded for defensive star Khalil Mack and signed big-time cornerback J.C. Jackson, an offensive selection here would make sense.
18) New Orleans Saints – Charles Cross, Offensive Tackle, Mississippi State
The Saints need a long-term solution at quarterback but recently re-signed Jameis Winston. Winston was effective for the Saints until his season-ending injury, suggesting that he could be the future for the franchise. Having lost Terron Armstead in free agency, Cross would be an excellent selection here. A top-10 talent in the draft, Cross is a plug-and-play left tackle who specialises in pass blocking. He would be an excellent replacement for Armstead and give the Saints stability on Winston's blindside for years to come.
19) Philadelphia Eagles – David Ojabo, EDGE, Michigan
Ojabo suffered a scary injury recently – a torn Achilles which could see him out for at least six months, missing all of the preseason and the start of the regular season. A full recovery is expected, but how could this affect his development? Without the injury, Ojabo is easily a top-15 player in this class and so the Eagles get a highly talented athlete. With three first-round picks, the Eagles could certainly take a punt on this high ceiling EDGE rusher.
20) Pittsburgh Steelers –Kenny Pickett, Quarterback, Pittsburgh
The Steelers lost their era-defining quarterback, Ben Roethlisberger, to retirement this season. Their difficult cap situation means that a big quarterback signing is unlikely – they have only managed to sign Mitchell Trubisky in free agency, who is expected to take the starting job for the Steelers. With quarterback-desperate teams ahead of them, there is a chance that the Steelers trade up, but in this scenario, the Steelers stay put and nab one of the top quarterbacks in the draft. Pickett's processor is his strongest aspect of his game, and he is ready to start at the NFL-level. This would result in an interesting quarterback battle between Pickett and Trubisky. It would also be great to see Pickett stay in Pittsburgh. One major concern about Pickett is that he turns 24 before the start of the season, which is older than most rookies.
21) New England Patriots – Garrett Wilson, Wide Receiver, Ohio State
Rookie quarterback Mac Jones turned out to be much better than fans, pundits, and even the Patriots expected. He was their instant starter and played all 17 games for the Patriots in 2021. His season was fantastic, benefitting from excellent coaching as well as a complete roster. With Wilson, the Patriots bring in a high-end offensive talent to play as the primary weapon on their unique Jones-led offence.
22) Green Bay Packers – Drake London, Wide Receiver, USC
The Packers only have one pressing need after locking up Aaron Rodgers to a long term deal. Davante Adams was recently traded to the Las Vegas Raiders, who subsequently made him the highest-paid non-quarterback in the league. London would be a superb selection at this spot, as a primary receiver. His large frame makes him excellent as a boundary weapon and would be a much-needed addition to Rodgers' arsenal in Green Bay.
23) Arizona Cardinals – Treylon Burks, Wide Receiver, Arkansas
The Cardinals recently lost Christian Kirk to the Jaguars in free agency after the Jaguars gave Kirk a monster contract. So, the Cardinals are now in need of high-end talent at the receiver position, with DeAndre Hopkins and Rondale Moore the only major starters left. On film, Burks looks like an absolute world beater. A highly versatile prospect, Burks has compared himself to Deebo Samuel, saying that he bases his game off the San Francisco 49ers' star receiver. His NFL Combine numbers were similar too, though they seemed somewhat underwhelming in comparison to his performances on the field.
24) Dallas Cowboys – George Karlaftis, EDGE Purdue
The Cowboys had a disappointingly short-lived playoff run. With Dak Prescott back, however, they did look a rejuvenated side. In Karlaftis, the Cowboys get a huge steal as they nab one of the best power rushers in the class in a position of need after Randy Gregory turned the Cowboys' free agency offer down.
25) Buffalo Bills – Kaiir Elam, Cornerback, Florida
The Bills are tipped to be one of the NFL's scariest teams next season, and rightly so – they are in win-now mode having acquired Von Miller in free agency. They have flashed excellence throughout the Josh Allen era but need to keep it all together on a more consistent basis. Elam would be great value at 25 and plays in one of the Bills' weaker position groups.
26) Tennessee Titans – Devin Lloyd, Linebacker, Utah
Despite finishing as the AFC's top seed over the regular season, the Titans suffered a disappointing playoff exit. While the Titans roster is fairly complete, they could certainly strengthen a few areas, such as linebacker. Lloyd is a fantastic linebacker who excels in the run game but has also developed his impact when in pass coverage too. He could line up in most linebacker spots for the Titans and could also serve as a disguised pass rusher in some cases.
27) Tampa Bay Buccaneers – Kyler Gordon, Cornerback, Washington
The Buccaneers thought they lost Tom Brady to retirement until Brady recently announced his unretirement, to the jubilations of the franchise and its fans no doubt. With Brady's return, the Buccaneers have done a fairly solid job of keeping their former Super Bowl-winning roster together. With few holes to plug, Gordon would be good value here. He is a boundary corner by description but has demonstrated the necessary toughness to also fill in at the slot position effectively.
28) Green Bay Packers – Devonte Wyatt, Interior Defensive Line, Georgia
With their second pick in the first round, the Packers take Wyatt, a prospect whose value improved vastly after his impressive NFL Combine performance. Wyatt could easily be an immediate starter for the Packers in either of their interior defensive line positions. Perhaps this would not be the most exciting pick, but it would be one that is good value at this position for sure.
29) Miami Dolphins – Chris Olave, Wide Receiver, Ohio State
Coming out of Ohio State, Olave is a technically gifted receiver with vast amounts of game-breaking potential. He is a smooth route-runner who could provide quarterback Tua Tagovailoa with another trusty target after last year's selection of Jaylen Waddle, which was a booming success.
30) Kansas City Chiefs – Nakobe Dean, Linebacker, Georgia
Dean is a twitchy athlete who won the 2021 Butkus Award winner, awarded to the best linebacker in the nation. The Chiefs have drafted a few linebackers of late, but none of them possess the same raw talent that Dean has. A quick and strong athlete, Dean is particularly effective in reacting to the opposition run game.
31) Cincinnati Bengals – Tyler Linderbaum, Center, Iowa
Super Bowl 56 exposed the necessity for the Bengals to build their offensive line. What better way to do it than draft one of the highest-regarded center prospects of all time? Linderbaum is one of the top talents at his position in the draft, what holds him back is that his skillset is center-specific. With Linderbaum, the Bengals get a generational talent to counter opposition interior pressure. While current center Trey Hopkins is serviceable, Linderbaum would be an upgrade for sure and Hopkins could be moved back to guard. The Bengals also signed Ted Karras in free agency, but Karras could also be moved to guard to make room for Linderbaum.
32) Detroit Lions – Sam Howell, Quarterback, North Carolina
With this pick, the Lions select quarterback Howell to sit behind Jared Goff for one season. Goff improved throughout the year, but it is hard to envisage him keeping a starting role in the NFL for much longer. With Howell, the Lions get a developmental option at quarterback. His biggest knock is that, at North Carolina, many of his throws were schemed and planned – something which is more difficult at the NFL level. However, given Howell's play extension and mobility, it could be that he is able to minimise the impacts of his early setbacks.