Team GB's joy in bronze
Team GB's women's hockey team had a successful Tokyo 2020, ultimately winning a bronze medal after falling to the superior Dutch in the semi-finals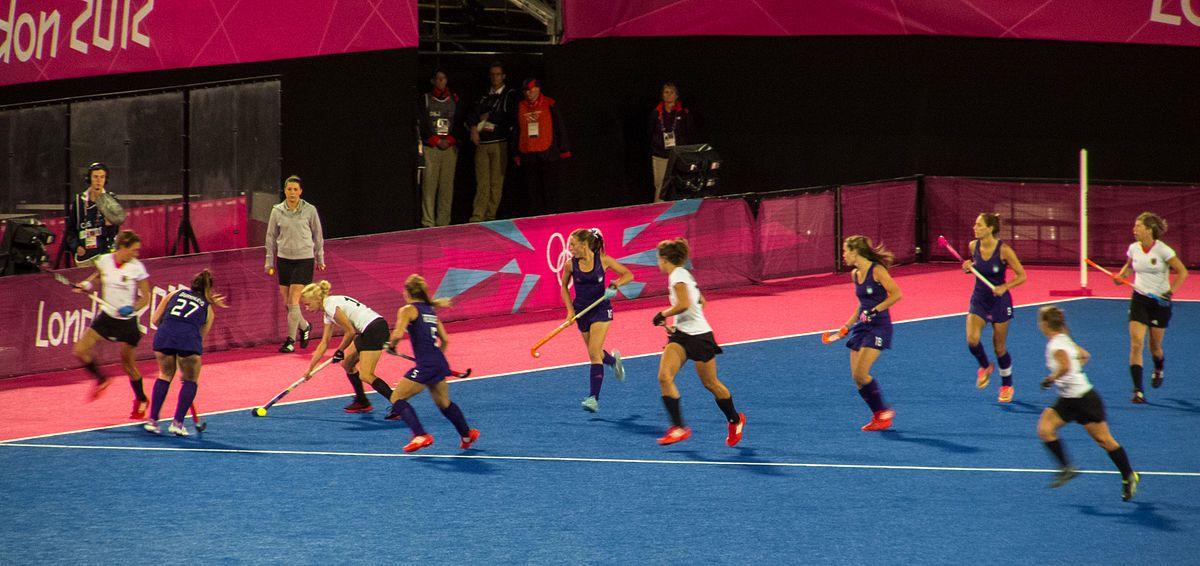 Britain beat India 4-3 in a pulsating third-place final to win their third consecutive Olympic medal. It was a great game, which had its fair share of scares for Mark Hager's women.
Starting the tournament with an unfortunate and unlucky 2-1 loss to Germany, many had ruled Britain out of the medallist conversation already. With much of the build-up and media hype surrounding the "glory days" of Rio 2016, where Britain won gold, there was a general sentiment that this team needed longer to rebuild themselves. The 2-1 defeat fitted this narrative, though some fans still felt that there was enough momentum from Rio's gold to carry this team to glory once again.
"There was a danger we could have come out and been nervous with an inexperienced group, but we started really, really confidently. We had them on the back foot and momentum was in our favour. It was a really pleasing start," said captain Hollie Pearne-Webb.
The 4-1 win over South Africa which followed, was far closer to what fans had expected from this team from the start. This provided them with enough winning momentum to play the villains in India's feel-good story, overturning them 4-1.
Team GB's group stage closed with a 1-0 loss to the Netherlands, before they ended Ireland's fairy-tale Tokyo 2020 journey with a 2-0 win over their neighbours.
Three wins and two losses cemented their third-place finish in Pool A. It was deserved – they beat the teams below them and lost to the two teams above them.
With a successful group stage providing some confidence for the team, Team GB faced a silky Spain side in the quarter-finals. The 2-2 draw after 60 minutes meant that penalties were required to decide a winner. Maddie Hinch's heroics were enough to prove why she is the best goalkeeper in the world currently, as well as seal Britain's place in the semi-finals.
The semi-final match was against group stage opponents, the Netherlands. Having lost 1-0 to them earlier in the tournament, Britain were desperate to reclaim their bragging rights.
They fell short though, losing 5-1 to the eventual champions in what was an ugly viewing for Britain's fans. It was not just ugly on the pitch though, the tense rivalry between the teams showed in the post-match press conferences too, with both teams taking shots at each other verbally.
Defeat ruled out any chance at a silver or gold medal, but the bronze medal was still in sight. The team in their way? India.
Having beaten India in the pool stage earlier in the tournament, there was no doubt that Britain felt confident going into the game. It proved a tight affair though, with both teams taking the lead during the game. Fortunately for Britain, the win was ultimately theirs, ending a solid tournament with a bronze medal to add to Team GB's tally.
The bronze medal is their third consecutive medal, having won bronze in London (2012) and gold in Rio (2016) beforehand.
It is also Team GB's only hockey medal this tournament, as the men's team finished fifth despite a promising start to the tournament.
"For the girls it means a hell of a lot. It's so rewarding for the group. Four months ago, if you asked me if we could get a medal, I'd probably have said no. We had belief, so it's very pleasing," said coach Hager.
---
Britain came into this tournament off the back of a glorious 2016. Holding them to the same standards again seemed harsh, especially given how much the team had changed, but such were the expectations of British fans towards their hockey team.
The 2-1 defeat to Germany was harsh and felt like a bit of a sucker punch. Team GB were the better side, taking the lead through 31-year-old Sarah Jones' close-range finish. Germany fought back though, through a penalty stroke and Viktoria Huse's scuffed effort.
Despite Britain's attacking efforts, Julia Sonntag produced some jaw-dropping stops to prevent Germany from dropping the three points. Ultimately, Britain's dominance did not translate to goals as their first appearance at the Oi Hockey Stadium was filled with plenty of positives, but not a point to show for it.
With a chip on their shoulder after a tough defeat, Team GB were able to overcome one of the lower-ranked sides in the tournament in South Africa. The win was comfortable, but perhaps less convincing than the 4-1 score-line suggested.
South Africa started the better of the two sides, pressing Britain into their own half. Their pressure turned into three short corners in the opening eight minutes, which ultimately led to their goal through Nicole Walraven.
The second half was a different story though. Britain appeared to be spurred on by their equaliser, coming towards the end of the first half, and came out the stronger and fitter of the two teams, as South Africa's press began to die down and mistakes crept in.
Anna Toman's shot from a short corner was deflected in by Lily Owsley for Britain's second as Laura Unsworth added Britain's third, after dispossessing the South African full-backs.
The win was sealed through Rayer's second goal – a slapped finish from Sarah Robertson's aerial.
A convincing second half was filled with positives, though Britain will have hoped to have started better against the South Africans. With that said, Britain's status as one of the stronger teams was settled after their 4-1 beating of India.
They burst out of the gates through Hannah Martin's early goal from a short corner. She added a second from a mouth-watering reverse finish, which went through the legs of goalkeeper Savita Punia.
A lapse in concentration towards the end of the half allowed India back into the game as some sloppy defending resulted in a cheap short corner, which was duly converted by Sharmila Devi.
Owsley restored Britain's two-goal cushion in the second-half against the run of play, netting her second goal of the tournament from close range. The points were ensured when Grace Balsden converted a penalty stroke late on.
The two 4-1 wins against South Africa and India were important in setting Britain up for progression into the quarter finals. To prove their worth, however, Britain needed to perform against the best. The Netherlands came into the tournament as favourites and were unbeaten in what seemed like forever.
Britain were one of the form teams of the tournament and so the matchup against the Netherlands proved to be a tense affair. Eventual top scorer Frederique Matla converted from a penalty stroke early on, which would be the only goal in the game.
Team GB applied some pressure but failed to find the right ball in the final third. However, the team demonstrated great character to keep the Netherlands from scoring more, with credit due to Hinch's smart stops too.
Even though they lost, Britain were not too disheartened by the result. The Netherlands had won three in three prior to this game after all, and Britain's path to ensuring progression required just a point from their noisy neighbours Ireland.
They managed more than just a point though, asserting their dominance and securing a comfortable 2-0 win to send themselves through, and Ireland home, thanks to goals from Susannah Townsend and Martin again.
Nine points from Pool A was a respectable tally, putting them behind the Netherlands and Germany and into third place, setting up a fixture with Spain.
Through the group stage, it had seemed apparent that Pool A was stronger than Pool B. Therefore, even though Spain finished second in their pool (and therefore had a better seeding), their matchup with Britain was viewed as an even one.
In fact, it was Team GB that took the lead through Martin, who had been one of Team GB's brightest sparks in the game. She scored a world class goal, beating two defenders with a lovely bit of skill before slotting home through the legs of the keeper.
Belen Iglesias found an equaliser for Spain shortly afterwards through a smart short corner routine. The ball was injected to an attacker on the outside of the D, who pumped the ball back into the D with pace allowing Iglesias to score an easy deflection.
However, Grace Balsdon restored Britain's lead with a venomous flick from a penalty corner.
The goal would not win them the game though as Spain managed another equaliser in the fourth quarter following some heavy pressure on Britain's back line. They managed to execute some fantastic eliminations through transition to outnumber Britain at the back, which allowed Berta Bonastre to lift a bobbly ball over Hinch.
The game went to penalties, and Hinch stepped up, just like she did to help Britain win gold in 2016. She denied all four of Spain's penalties to help send Britain through, as Martin and Jones were both able to convert.
"As a 'keeper you shouldn't fear them [penalties]. It's just a chance for you to do your part. I didn't fear them today, I felt ready, I felt I'd done my work," said a jubilant yet composed Maddie Hinch after the game.
The victory against Spain set up a 2016 final rematch against the then-runners up, the Netherlands. The Netherlands came into the match as the favourites due to their immaculate record in the build-up to this tournament, though Britain can never be counted out.
The Netherlands asserted themselves early though, dominating proceedings throughout. Marloes Keetels and Felice Albers both scored in the second quarter. Maria Verschoor added a third in the second half as Albers added her second, and the team's fourth, shortly after.
Britain looked done. In a word, they were outplayed. Despite limiting the Dutch to just one goal in the pool stage, Hinch could not pull out the same heroics this time round as Team GB's defence looked uncharacteristically lethargic against the elite opposition.
Giselle Ansley was able to add a consolation goal but Frederique Matla added a fifth to the Netherlands tally in the fourth quarter to dampen the hopes of any sort of comeback.
It was a disappointing performance for Britain, but it seemed that the Netherlands were simply an unstoppable machine at this point. The victory was more about Dutch dominance as opposed to an underperformance from Britain.
With silver and gold out of reach, bronze was Britain's last chance. With Team GB men's hockey not winning a medal, all eyes at Great Britain Hockey turned to Pearne-Webb to lead her women to victory against India.
The game started perfectly for Britain, with two goals early on from Rayer and Robertson. Robertson's goal, in particular, was stunning as she held the ball well in India's circle, before switching to her favoured reverse stick and sweeping home convincingly.
Team GB's bright start was not met without protest, however. India fought back immediately in the second quarter, scoring three goals in the space of five minutes to put them up 3-2 at the break.
Britain looked shocked, dazzled even and failed to find any sort of a comeback. India, on the other hand, looked inspired, and primed for the bronze medal.
The game would take another twist though, as Pearne-Webb stepped up and smashed home from the middle of the D.
Balsdon added Britain's fourth goal to make it 4-3 from a short corner. Her goal set up a tense final quarter as India pressed hard but ultimately Britain held firm – their efforts rewarded with a bronze medal.
Bronze is a fantastic achievement, regardless of what the expectations were before the tournament. Britain proved they could compete with the best and this was a great tournament for them to build on, given the youth they have in the squad.
Indeed, this was a largely underreported part of Team GB's story of Tokyo 2020. The media seemed transfixed on the golden era of Rio, speaking of long-time legends Pearne-Webb and Hinch as well as some retired members of that squad. Even during the tournament, former gold medallist Nicola White garnered more attention than some of the squad members due to her public criticisms of Great Britain Hockey. The whole of Britain's Tokyo 2020 campaign seemed inextricably intertwined with Rio's successes, but the truth is that they were completely separate.
Since Rio, the team suffered some huge losses, not least in the form of star players such as former captain Alex Danson among others. The team at Tokyo was vastly different from the star-studded line-up in Rio, albeit still a world class team, nevertheless.
No – Britain could not replicate the glories of 2016. However, they should never have been expected to – the changes in the squad meant that Britain fielded a more inexperienced squad this time round. Rio was a fantastic platform for Team GB to build from, and Tokyo 2020 has been the perfect start to this new exciting era.
"It's so hard to sum it up. We've not had many highs in this cycle, and after winning in Rio, that's the biggest challenge. To bring a group all together after so many challenges, I can't even remember them all. We've sacrificed so much to perform as best we could. A few months ago, an Olympic bronze was just a dream but I'm so proud we've done it," said Pearne-Webb.
In many respects, this tournament has felt like a passing of the torch from some of the veterans in the team. At 30 years old, Pearne-Webb could be one of Team GB's casualties before the next tournament, although it would make sense for her to stay and provide a consistent leading presence for the young team.
Fan-favourite Hinch is now 32. Both Pearne-Webb and Hinch were part of the Rio team and were clearly influential to Team GB's Tokyo campaign. There is a good chance that Hinch could announce her retirement before the next Olympics too, though she proved in Tokyo that she still has plenty of gas left in the tank.
Laura Unsworth, now the most successful British hockey player ever having been part of the 2012, 2016 and 2021 squads, looks set for retirement at 33 too.
Another player who could be gone before the next Olympics is Sarah Jones. Jones was an important veteran presence for Hager down the wings and offered a calm head when taking her penalty against Spain. At 31, there is a good chance that she will not be in the team in 2024.
All four of those players were integral to the success of Team GB this year. However, they can ride off into the sunset at ease knowing that the likes of Martin, Owsley, Toman and Rayer will be there to keep Team GB afloat. All four players were exceptional during the Tokyo 2020 campaign and Owsley and Martin looked to have established a lethal connection in the heart of the British midfield.
It remains to be seen how Hager manages the next (short) cycle until the Olympics, but there is no doubt that something great is brewing in the Team GB camp currently. Hager will need to address some of the deficiencies of the team, such as short corner routines, as well as find a way to replace the older members of his squad.
Bronze is a great start for the rebuild, one that even the team and Hager themselves did not expect. However, with the medal under their belt now, they will hope that they can push on from this great start over the next cycle.
"I'm so so proud of this group. It's hard to put into words what this journey has been like. It's been the biggest emotional rollercoaster since Rio, for me personally it's been really tough," said Pearne-Webb.
In a tournament that will forever be shadowed by the monumental achievement in Rio, Team GB had an unexpectedly great outing in Tokyo. One that set records and has laid a solid foundation for tournaments to come.
"So proud of this squad, for all they stand for and all that they are," tweeted Danson, after the India game.
Rio 2016 was a great era for Great Britain hockey. However, it is time to move on with a new team, and a new group of emerging superstars.