The controversial break-off that's shaking up snooker
Mark William's controversial opening shot has been accused by some of being too conservative. Is it bad for the sport?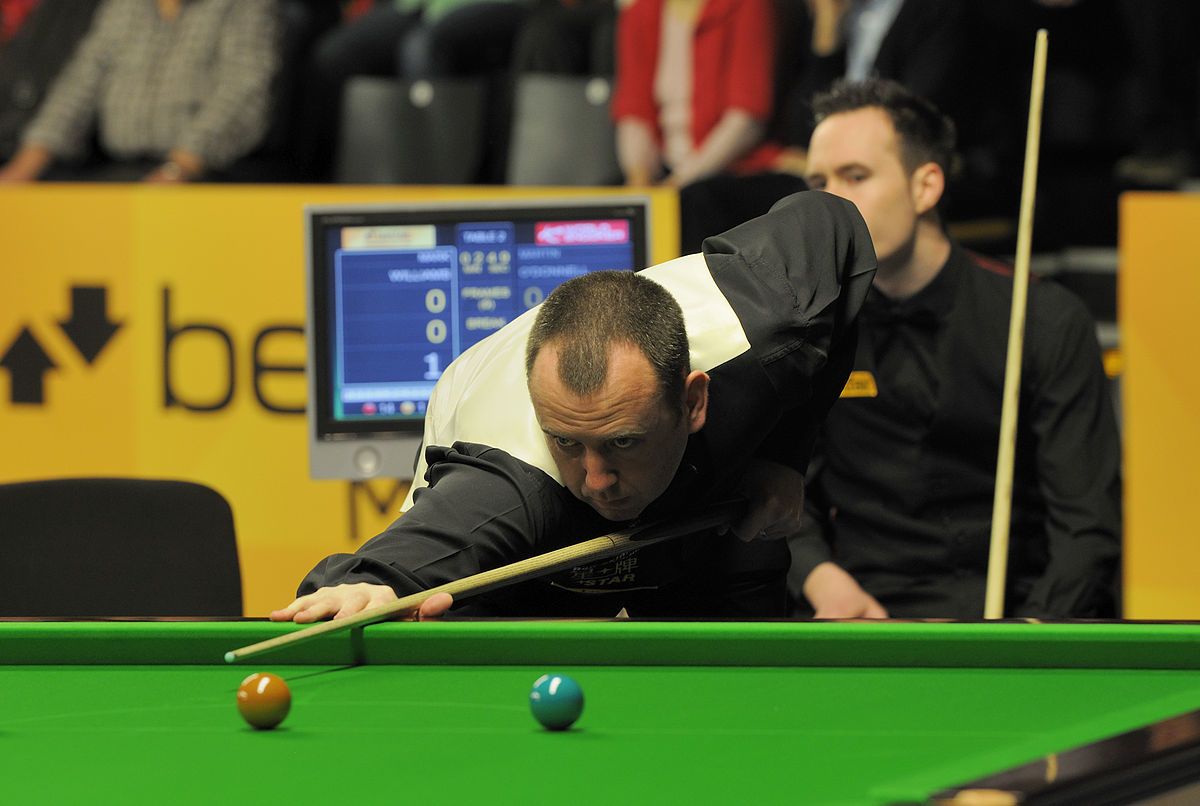 Image: Wikimedia Commons / DerHexer
Image: Wikimedia Commons / DerHexer
Snooker is a sport that comes with a lot of conventions, and it's big news when those conventions are shaken up. That's why a new break-off technique, used primarily by Mark Williams, has caused such controversy. Critics think it's a negative form of play, too defensive and not overly interesting to watch, while supporters think it's a fair new approach to beginning a frame. So what exactly is this break, and is it a fair shot?
   The typical break-off shot sees players cue the white to hit the furthermost red ball – the pack splits slightly, and the objective is to return the white to the baulk cushion. The Williams break-off, named because the Welsh potter pioneered it at the Masters in January, sees the player nudge the cue ball into the back of the reds off the bottom cushion. Both shots have their advantages and disadvantages – the Williams shot minimises the risk of leaving reds available for long pots, but playing it with too much pace risks leaving reds available to the middle pocket. Here's a video with Steve Davis and Alan McManus analysing the shot in greater detail.
After his first-round victory against Sam Craigie, Williams was asked about suggestions that the shot could be banned. He said: "How can they ban a perfectly legal shot? Are they going to start banning rolling up to the baulk colours or when the white goes behind the black?
"They've sent an email asking players what they think about it. Get on with it. There are a lot of worse things happening than worrying about my poxy break-off. Just count how many frames were lost today from someone's break-off. It ain't going to happen against me.
   "The only reason I'm doing it is because I'm sick and tired of leaving a red on and people potting it and making breaks. I just thought I had to find a way to stop them doing it, which I have. I just rolled off into the pack and thought, 'That's the way forward really'. Three shots and it's back to a normal frame. The black's never tied up. I'm the quickest man on tour. My average frame time can't be more than be more than 12 - 15 minutes."
   World number one Judd Trump, who has recently called for players to make the game more exciting, came out against the shot. He said: "It's not something I would ever do. It's so negative. Being so outspoken about how I want to improve the game and make it more exciting, it's certainly not something I'm a big fan of. It's a tough one, where do you stop with that? The players should know that it's entertainment and you've got people watching. I've seen a couple of the frames, and to be honest, I turned it off."
   It emerged that the sport's world governing body, the WPBSA's Players' Association, had been courting opinion about the shot, but that it didn't intend to pursue the matter further after speaking with players.
It issued a statement that read: "The issue of the 'defensive break-off' was raised by a small number of players to the WPBSA Players Board earlier this year. As a representative body of the current tour players, WPBSA Players sought opinion from the playing membership on this issue. The WPBSA Rules Committee was also being consulted at this time. Following this process, however, it became clear that there is currently no will from either the membership as a whole, or the Rules Committee, for the WPBSA as the sport's governing body to embark upon a rule change at this time."
   Williams was not the only player to try the shot, although he certainly made the most use of it in this tournament. John Higgins gave it a go in his match against the Welsh player, but he was clearly a little unimpressed with the result. In his second-round match with Anthony McGill, Ronnie O'Sullivan also employed the break-off, but he had little success – his attempt left a red for his opponent, which he potted, going on to win the frame.
   On a personal level, I see nothing wrong with employing the shot – it's simply another tool for the players' toolbox. If you're facing a player who is exceptionally good at long potting, then it's surely to your advantage to minimise the risk of leaving long reds on. I've seen no evidence that it slows the pace of frames, which tend to be back to normal service within a couple of shots anyway, and having more options at the start of a frame is always better. There are suggestions that the break-off is boring, but look at the reaction – the world of snooker has been set on fire, and that can only be good for the sport.