Three Lions missing some roar: England's underwhelming group stage
Although they were solid in defence, England's attack left fans concerned ahead of their last 16 clash with Germany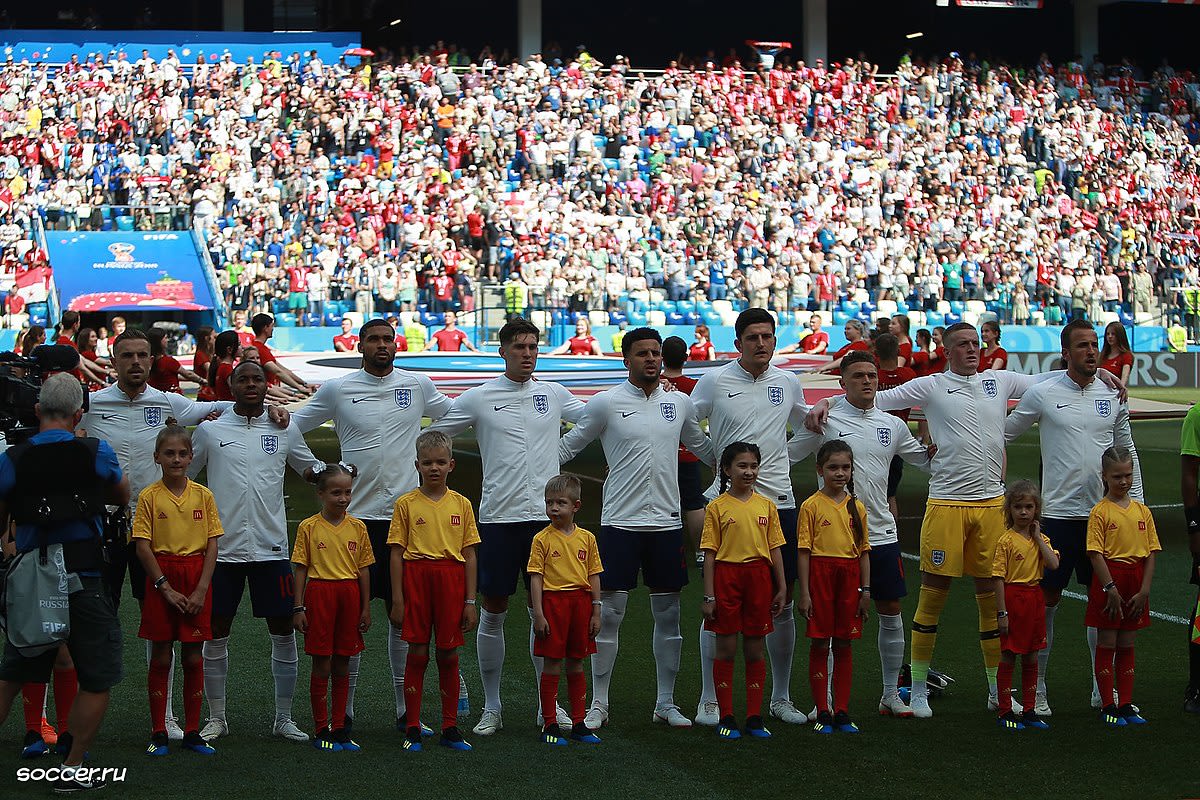 Image: Wikimedia Commons / Антон Зайцев
Image: Wikimedia Commons / Антон Зайцев
Well, England are through. Underwhelmingly so, but through nonetheless, and that earns some merit in my book.
Their first knockout round opponents? Germany, at Wembley Stadium on Tuesday 29 June at 17:00. The winner plays Sweden or Ukraine in the quarter-final.
On the surface, the group stage was a success. Seven points from nine is a respectable tally, and it even included a 1-0 win against 2018 World Cup runner-up, Croatia.
England topped Group D thanks to a 1-0 win against the Czech Republic in the final game.
Three clean sheets makes good reading too. England have only ever managed said feat in two other tournaments – the 1982 World Cup second group stage and the 1966 World Cup (not foreshadowing anything though, promise!).
The optimist would say that England have had professional performances to claim three clean sheets. Doing enough to ensure their progression, without risking anything defensively. A Mourinho-esque attitude, if you will.
However, the pessimist and, in my opinion, the realist, tells a different story.
So far, England's route to progressing to the last 16 has been nothing short of comfortable. But do not confuse that with England being impressive. Prior to their 1-0 win against the Czech Republic, England had already achieved qualification thanks to some magic third-place wildcard maths that a history student should not delve into. It essentially meant that their uninspiring win against Croatia and their sluggish draw against Scotland were enough to see them through.
To put it truthfully, England's performances have been drab. Touted as favourites to win their group before the tournament, their football has suggested nothing of the sort.
England are ranked a concerning 22nd of 24 nations on shots per game at the Euros currently. While that would be fine if England scored goals, they have only managed two goals in three games. To make matters worse, both goals have come from the same player - Raheem Sterling.
At no point have England been convincing for a full match. They have good patches, sure, enough to nab a goal in two instances, but they do not have the sustained attacking threat to fill any fan with confidence.
Against a Croatia team that was much weakened compared to their 2018 selves, England squirmed by. Their goal came from a moment of brilliance from Kalvin Phillips, who made an energetic run towards goal before sliding Sterling through.
That was, truly, the only memorable moment of the game though. England lacked any sort of offensive threat and captain Harry Kane looked tired and leggy. It was not just him though, veteran Kyle Walker also looked particularly poor.
A similar performance can be found against Scotland, except maybe even less inspired. Many Lions fans came into this match with high hopes, bullish about their chances against their noisy neighbours, especially given that the game was hosted at Wembley.
Once again, Kane failed to provide any goal threat and was subsequently substituted in the second half, despite the team needing a goal. Creatively, the midfield looked depleted, and Scotland looked the likelier of the two sides to score.
"Southgate substituted his captain when his side most needed a goal… which is telling. Kane's performance was lethargic and missing any sort of cutting edge," said The Boar's Luke James.
Soon enough, the backlash against the England team began. #ItsNotComingHome were among some of the hashtags trending on social media. Those watching the game knew England were lucky to come away with a point, if they had the patience to even watch the full 90 minutes that is.
Somehow, the poor performances ensured England's place in the last 16 before the game against the Czech Republic. With Mason Mount (and Ben Chilwell) ruled out of the fixture due to self-isolation regulations, Southgate was gifted with the chance to tinker with his line-up a bit.
Fan-favourite Jack Grealish was handed his first major tournament start, with Bukayo Saka given the nod as the starting right-winger in place of Phil Foden. These changes seemed to brighten England up, providing them with a more positive approach in transition.
The opportunities created by Grealish and Saka were effective in getting Kane involved too, who seemed much livelier with them playing. Overall, the first half of the Czech Republic game was more like what fans had expected from England coming into the tournament.
Such a dream would not last though, as England fans were force-fed with more of the toothless Three Lions in the second half that they had been compelled to in the previous games. England's attacking momentum fell off a cliff after Grealish was substituted and, before long, we were back to the same England that hung on to a dull draw against Scotland.
Lazy and inflexible in approach, England's group stages have somehow been enough. Enough to get through. Enough to show some flashes of brilliance. Enough to keep fans hopeful. Their performances can be summed up in a few words: patchy and mostly lethargic. But enough to see them progress. Seven points, no injuries, and hardly a sweat broken.
Some might call it professional "game-managing" from Southgate. Genius – conserve your players' energy, ready for the knockout stages.
Well, to the optimist, I ask this: are England expected to spring to life against Germany? With all this "saved energy", are England supposed to thrash Die Mannschaft, who played through the group of death to reach this stage? Will Germany, perhaps, collapse from all the exhaustion of playing hard in their group stage games?
"The suggestion is England are simply marshalling their strength. But how easy is it to spark into life from a standing start?" said The Guardian's Barney Ronay.
A crucial cog determining England's success in the knockout stages will be captain Kane. Supposedly the focal point of England's attack, he has been anything but that. Not only is he yet to score in the tournament, he also failed to register a single shot on target in England's first two outings. If he can turn his form around though, there is no doubt he could lift this England team.
Not all of England's attacking deficiencies should be pinned on Kane though. Despite the hype going into the tournament, England's creativity in the attacking third has been generally quite suspect.
"I've seen a few comments blaming Harry, but we didn't create enough for him to even have a chance," said Foden, after England's draw against Scotland.
This seemed to prove true against the Czech Republic. Kane looked better when supported by the livelier pair of Saka and Grealish. England fans will surely be hoping that they can see more energetic performances like that.
England's only goal scorer so far is Sterling. With two goals in three games, the tally is far from bad for him individually. With that said, England need to find a way to have a consistent attacking threat, as both goals they have scored have come from bright "patches" of play, that have truly been scarce. It is the age-old question – where will the goals come from? Southgate holds his faith in Kane.
A bright spark for England has been Luke Shaw. Shaw, who had a great season for Manchester United, was excellent against the Czech Republic and seems like a lock for the starting job at left-back.
In their opener against Croatia, right-back Kieran Trippier had been preferred to Shaw at left-back – a decision that was met with its fair share of backlash.
Southgate has also been heavily scrutinised for his lack of use of Dortmund ace Jadon Sancho. Sancho, whose club future is currently under heavy speculation, was sent on for "garbage time" minutes against the Czech Republic. The Dortmund man has been consistently playing at a high level in the Bundesliga and Champions League and so his exclusion is puzzling.
Further, England's system has been doubted by many. Heavily defensive and rigid, the pessimist might criticise Southgate for being unambitious. Others, however, would claim that such a system is built for playing against "big teams". A system where a clean sheet can be ensured, and thus a single moment of clinical finishing or attacking brilliance is enough to clinch the game. Against Germany, this will be put to the test.
In truth though, England have been defensively stout so far. Jordan Pickford has been excellent, though not tested much. John Stones, Harry Maguire and Tyrone Mings have all looked serviceable, at worst, and good, at best. The distribution from the back has been solid too, without setting the world alight.
It is the attacking output that concerns England fans currently.
England's main questions heading into their knockout round fixture against Germany surround their offence. Can England find the system and personnel to create a serious attacking threat? Will the un-droppable Kane be able to score his first of the tournament?
"Intensity" was the buzz word around the England camp after a slow performance against Scotland. If England are to have any luck against Germany, they will need to ensure they play with a much higher intensity than they have done so far.
At Euro 1996, current England manager Southgate saw his penalty saved against Germany, which sent England out at the semi-final stage. 25 years later at Euro 2020, Southgate is looking to make amends.