Tim Wallace: 'we wanted guys that had something to prove'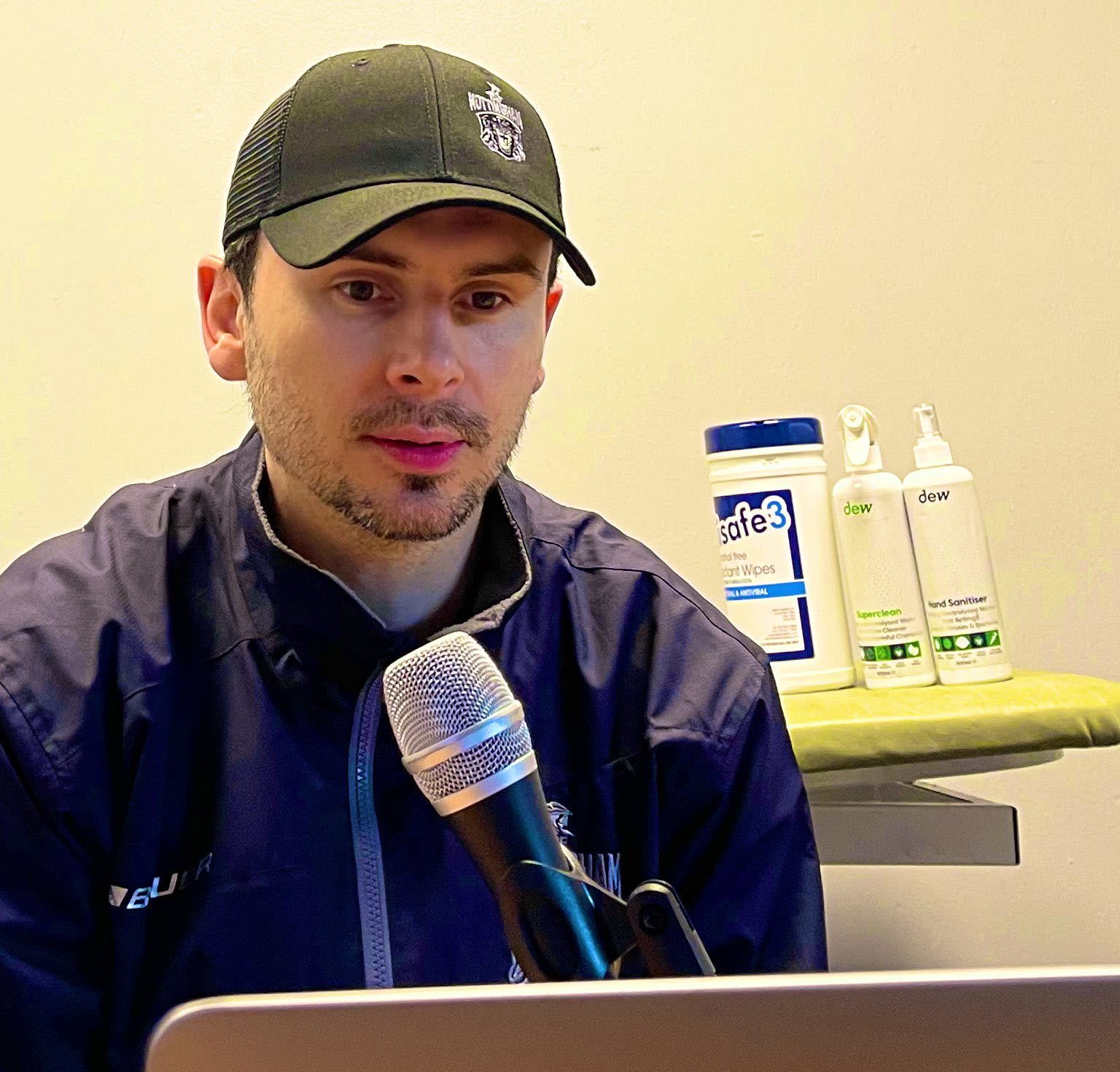 Image: Elite Ice Hockey League / Twitter
Image: Elite Ice Hockey League / Twitter
On Wednesday afternoon, Nottingham Panthers head coach Tim Wallace sat down for his pre-Elite Series press conference, with Nottingham starting their campaign with a ferocious clash against the Sheffield Steelers on Saturday 3 April.
Given the chance to ask a few questions ahead of the tournament, I consulted Wallace on a number of topics, from his expectations for the competition, to the process of participating in a player draft.
Regarding expectations for the Elite Series and hockey's return in the UK, Wallace commented excitedly, "I don't know what to expect, to be honest!
"I think from our three practices, they [the players] were a lot sharper than I expected, so I can expect our group to play fast. I don't know what the other teams are going to do, but we have guys that have a lot of things to prove.
"We're going to be working hard, playing fast, and it's going to be fun to be a part of."
Looking ahead to the Panthers' first game of the series against Sheffield, Wallace - who made 101 appearances in the NHL- noted that "the start's going to be huge."
"If we have a good start and we're playing the way we want to play, it can send the message for the rest of the tournament," the 36-year-old added.
"Obviously, they're going to have a good side as well, but we're going to focus on us. I'm doing the best I can to get everyone on the same page in three days, so it's going to come down to their natural instincts and just wanting it more.
"Yeah, it's a big game, Saturday, but I'm sure we'll be up for it."
The head coach seemed optimistic about Nottingham's chances of a strong performance at the tournament, and given every team is in a similar position, with little time to prepare, this really could be anyone's series for the taking.
I'm expecting intriguing viewing from start to finish, with tactical shakeups aplenty and a mixture of EIHL-quality play and high-profile mistakes, as the teams start to get to grips with their teammates and their movements.
The Elite Series also included a player draft, with teams each given a number of rounds to select a player of their choice from a prepared selection.
Obviously we knew we made that trade, so we knew we had 'Bownsy' first.
The draft process is something I find very interesting, so, wanting to know more about the thinking of teams heading into such events, I asked Wallace how the Panthers planned for the draft and what their process was for picking players each round.
"We did a couple of mock drafts… Obviously we knew we made that trade, so we knew we had 'Bownsy' first, and then we can pretty much guess what's going to happen in the next couple rounds.
"When it came back to our turn, we already had the scenarios planned – if he's there, we take him, if he's not there…"
On how he felt the draft went for his team, the American said "it went really smooth, there were no hiccups for us… we had everything prepared, we were ready for when it happened.
"But it could have turned and gone a different way, then we would have had two minutes to be on our feet to figure it out, so it was fun."
Ahead of the draft, the Panthers traded up to get the first pick in the draft. In doing so, Nottingham was able to secure the services of netminder, Ben Bowns.
Given Panthers already boast the Team GB's second choice goalie in Jackson Whistle, I wondered what the thinking was behind this acquisition, to which Wallace responded:
"Well, we knew 'Bownsy' had been playing and I think that's big. Obviously, he was hurt, but he came back and finished and was playing hockey at a high level.
"I know Whist is a great goalie as well, but the time off is risky. With hockey, you've got to be dialled in, you've got to keep sharp.
"So, we wanted 'Bownsy' early and then to get that now we have eight skater imports, and we think that's very valuable… It's pretty valuable to have those skaters up front."
It seemed then that the Panthers' approach was to find players who had been active as recently as possible to help them assemble a match fit team from the beginning of the tournament.
When asked if this was indeed the thinking behind the draft picks, Wallace replied:
"We wanted guys that wanted to be here, we wanted guys that had something to prove, and it's also an advantage to have guys that have been playing, but those three things don't always come, so we tried to balance it out.
"But yeah, guys that were playing is definitely a big advantage because they're fresh, they're sharp, they're in shape, but we also tried to find an even balance with guys that wanted to be here and wanted to play, so that was our planning, and we'll see what happens."
See what happens we shall, especially given the enhanced coverage of the tournament through the use of eight camera angles and live streaming of all matches from the Motorpoint Arena, the Panthers' home turf.
To bring a close to my section of the conference, I asked Tim what his expectations were for the impact that the Elite series will have on British hockey going forward, given there is very little hockey on display across the world, and so more viewers will likely be tuning into the games in Nottingham over the next few weeks.
Obviously, I'm biased, but I think it's the best sport in the world. It's fast-paced, physical, it takes a lot of skill
The viewing experience will of course be enhanced by the use of multiple cameras, and so these games could likely have a very positive impact on the future of British hockey.
"Definitely! I hope that people buy it," Wallace exclaimed.
"Especially this first game, it's going to be fast and if we have those cameras low like we have playing with sound and to see how fast the game really is… it's a special sport.
"Obviously, I'm biased, but I think it's the best sport in the world. It's fast-paced, physical, it takes a lot of skill, you've got to be in shape, you've got to be on the same page, and if things get heated you can fight! So, you know, it's a great sport and hopefully the UK gets a chance to see it from great camera angles and everything."
Tim Wallace is certainly hopeful ahead of the Elite Series 2021, and has every right to be so, with all teams heading in as something of an unknown quantity.
The performances of the teams over the weekend will surely give us a great indication of what to expect from the players and from the competition as a whole, but until then, we wait with bated breath in anticipation of all of ice hockey's thrills and the inevitable brawling that comes with it.
---
Enjoyed this article? Why not listen to our podcast with Free Sports commentator Aaron Murphy?