Tottenham left stunned by Dinamo Zagreb
What should have been a routine victory over the Croatian champions resulted in a humbling which raised serious questions about Spurs' future under Mourinho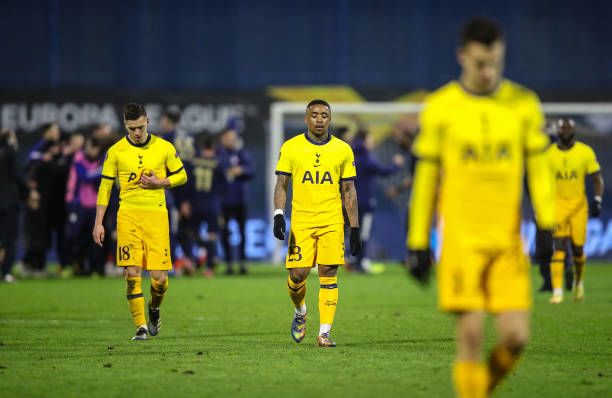 Image: Getty Images / Pixsell/MB Media
Image: Getty Images / Pixsell/MB Media
Leading 2-0 after the first encounter in London a week earlier, the Spurs crashed out of Europa League as Dinamo Zagreb pulled off miraculous comeback in the second leg. The fateful encounter took place in Maksimir Stadium, home of Zagreb's Bad Blue Boys on 18 March 2021. 
"They left sweat, energy, blood. In the end they left even tears of happiness. Very humble and committed. I have to praise them," Mourinho commented on Dinamo's performance. 
"On the other side, my team. They didn't look like they were playing an important match. If for any one of them it is not important, for me it is." Mourinho accused his team of not respecting their jobs after defeat by Dinamo, declaring himself to be "more than sad." Spurs' rocky performance in Zagreb revealed Mourinho's inability to connect with Tottenham players.
With a great left- footed shot into the top corner, Mislav Oršić gave Dinamo a head-start at 62 minutes. Zagreb then drew level on aggregate at 2-2 in the 83rd minute with yet another goal from the hero of Dinamo's triumph. The match then headed into extra time, where Oršić completed an impressive hat-trick which crumbled keeper Hugo Lloris at his near post. In an attempt to redeem themselves, Tottenham unleashed a series of shots on the Zagreb net in the closing minutes of extra time, but the host's keeper Dominik Livaković stood firm and helped his team see out the win. 
The Croatian champions were left without coach Zoran Mamić, who stepped down after having a prison sentence for fraud upheld, three days before the fateful Thursday match. These happenings clearly did not derail Dinamo from doing the impossible and knocking out the Spurs. Under the guidance of assistant Damir Krznar, the Croatian league leaders displayed the commendable overcoming of hurdles, both on and off pitch. 
The goals scored by Mislav Oršić (63, 83, 106) contributed to a sensational match pushing Dinamo into the quarterfinals of the Europa League. "I think everyone is a hero tonight because we all breathed as one in an unforgettable match," said Oršić. "We were gutted after the 2-0 defeat in London because we felt we had it in us to do better and we couldn't put a foot wrong tonight. It was a dream come true. We showed that we are capable of standing our ground against a high-level team and if we stay humble and avoid getting carried away we can do more big things in the Europa League." The last time Dinamo played in the quarterfinals of any European cup was in 1970.
What we witnessed in the Tottenham-Dinamo encounter was another example of Spurs' constant failure to carve out clear-cut chances for striker Harry Kane. This is cause for concern and has been flagged on several occasions. The Spurs' heavy reliance on Kane who, as usual, made up the majority of Tottenham's threat, was a crutch. The absence of equally instrumental Son Heung-min, out on account of a hamstring injury, created yet another vacuum in the Spur's line-up. 
This encounter has highlighted managerial issues among other things, but a key question still remains: will key players like Kane will be asking to leave after this performance? It may very well be the case that the team at the moment is simply a reflection of what is going on at the club, although Dinamo have also faced their fair share of hiccups with Mamić's sentence.
Tottenham has made up for its losses in Birmingham as Mourinho's team now stands three points shy from the Premier League's Champions League qualification spots. However, Mourinho's most recent statement reveals just how fresh the wound is, the win over Aston Villa is shadowed by the humiliation in Zagreb.  "It is sad we need such a bad defeat to have this kind of reaction," said Mourinho following the Spurs' encounter with Aston Villa on 21 March. 
"This should not be a reaction, this should be a permanent state of mind, permanent soul in the team, I think that is our next challenge - to have this standard in terms of effort, commitment, sacrifice. Kane, too, confirmed that the team had been "embarrassed" by the events in Zagreb and encouraged them to now push forward for the Premier League Top Four. "The last couple of games we dropped below our standards," he said. 
What does this loss mean for the self-proclaimed Special One? Are Mourinho's best days behind him? Results have been at the forefront of the effectiveness of Mourinho's tactics, but this shortfall match and exit from the Europa League is sure to make a dent in the remainder of the Spurs' season. 
---
DINAMO - TOTTENHAM HOTSPUR 3:0 (0:0, 2:0)
Maksimir Stadium
Referee: Davide Massa (Italy)
Goals: 1:0 Oršić (62), 2:0 Oršić (83), 3:0 Oršić (106)