Long Read: What has happened to trent alexander-Arnold this season?
Last week Alexander-Arnold was dropped from the England squad. The reasons for this selection, and how England will line up for Euro 2020, are discussed in this article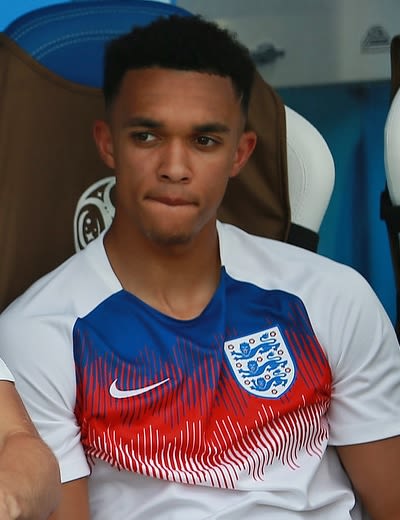 Image: Wikimedia Commons / Антон Зайцев
Image: Wikimedia Commons / Антон Зайцев
Gareth Southgate's latest squad for this month's World Cup qualifiers has been on everyone's lips over the past few weeks. Most notably due to the omission of Liverpool's star right back, Trent Alexander-Arnold. Other headlines include the returns of Jesse Lingard, Luke Shaw, and John Stones.
Despite some recent glimpses of quality, Alexander-Arnold has struggled for form this season, and Southgate cited Alexander-Arnold's reduced level of performance this season as the reason for his absence. 

This rings true statistically, at least in an attacking sense, which is thought to be Alexander-Arnold's greatest strength. Compared to the previous two seasons, both his actual assists and his expected assists (xA) have fallen significantly. This indicates that he's now creating either fewer chances or lower quality chances, or both. It is likely to be a bit of both, given that his chances created are significantly down on last season. However, they are up on the season before, which only serves to highlight the lower quality of the chances he has created this season compared to two seasons previous. 
Perhaps a greater cause for concern is his significantly reduced crossing accuracy. Too many times this season, it has felt as if Alexander-Arnold has fizzed in countless crosses, only for them to be directed at opposition defenders. Not only is this wasteful offensively, but each ball given away gives the opposition an opportunity to launch a counter. Hence, Alexander-Arnold's wasteful crossing has put increased pressure on his own side's defence.
His passing accuracy has actually improved slightly, perhaps due to a greater emphasis on possession since Thiago's arrival. However, he still ranks very poorly for passing accuracy compared to other Premier League full backs. The trade-off of higher quality chances in exchange for riskier passes that could allow the opposition to start attacks, seems too high a risk to take.

Despite falling below his high standards this season, Alexander-Arnold still compares relatively favourably offensively to his opposition for the England right back berth. He has a higher xA per 90 and xG per 90 than Trippier, James and Walker. In addition, he has the ability to affect the game going forward with very high numbers of chances created and crosses attempted. The problem here, however, is that his low passing accuracy and crossing accuracy in the final third may leave England exposed going the other way. 
As an additional point of note, Trippier's assist rate and crossing accuracy are exceptional. This was particularly on display at the 2018 World Cup.
There's an additional perception, evident even when he has been at his best, that Alexander-Arnold struggles defensively. He was brutally exposed one-on-one against Raheem Sterling in Manchester City's 4-1 drubbing of Liverpool in February, with his passive defending leading to a penalty and a goal. 
In addition, his very advanced positioning (perhaps by design, but perhaps due to a lack of positional awareness) can expose the rest of his defence. For example, Alexander-Arnold did teammate Rhys Williams no favours as Marcus Rashford was allowed to terrorise him in Manchester United's 3-2 FA Cup win over Liverpool in January. 

The underlying statistics somewhat back this up. Alexander-Arnolds defensive passiveness is reflected in making fewer tackles per 90 than James and Trippier. He does make more tackles per 90, however, than Walker, although this stat is likely misleading as Walker has largely operated in a much withdrawn role as part of Man City's "back three". This also likely explains Walker's weaker attacking stats, though Walker is undoubtedly weaker going forward than the other three.
Alexander-Arnold is relatively poor but by no means terrible at winning ground duels, and he doesn't stick out too much for the wrong reasons for being dribbled past either. He's strikingly poor in the air which may be a considerable downside in a back four, though he should be well covered if England were to operate with three centre backs.
An additional point of note is the increased importance for Southgate of performances with the England squad when considering England selection. Performances for England give the strongest indication of a player's ability to adapt to the style and players in the England setup, and will obviously be far more salient to the onlooking Gareth Southgate. 
Whether at right back or right wing back, Alexander-Arnold has struggled for England. This is true even during his best spells in a Liverpool shirt. One explanation for this is the idea touted by fellow sports writer James Palmer of Liverpool's stars being highly system reliant and therefore finding it difficult to adapt to other ways of playing, especially with little training time.
---
So how will England line up defensively?
The most likely option would be with a back three. Southgate has used this system most recently. Thomas Tuchel's Chelsea display the perfect template of how to use this system, which has given them excellent defensive stability and control of games as I highlighted on episode 15 of the Boar Sport Podcast. This is so crucial in major tournaments. Spain had this defensive stability and complete control at the 2010 World Cup, where they won every knockout game 1-0.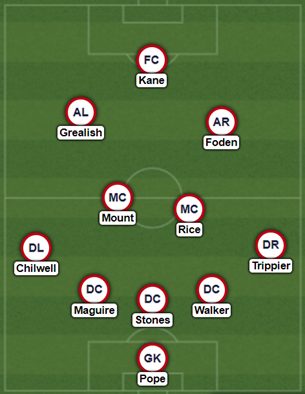 Maguire, Stones and Walker would be the obvious back three here. They excelled together at the 2018 World Cup and all have been playing well for their clubs. In addition, Walker has phenomenal recovery pace to help defend against counter attacks.
With this system, a lot depends on Southgate's trust of Mason Mount to play in the midfield double pivot. He's excelled in his few appearances there for England, though he has been preferred as one of two number tens by Thomas Tuchel. If Foden and Grealish were selected as number tens, they'd naturally be able to provide extra cover in the centre of the pitch, which may encourage Mount's selection. 
Henderson, if fit, could partner Rice, though this would likely be seen as overly negative and England may struggle to link their midfield with their forward players. Potential other central midfield options are either unlikely to be trusted in this role defensively or probably aren't of the required quality to start for England.
Alexander-Arnold would likely find himself in a battle here with Trippier and James for the right wing back spot. However, his lack of experience in this specific position coupled with his reduced attacking output and increased wastefulness this season could lead to the position being handed to a Southgate favourite in Kieran Trippier. If, however, Liverpool's generational talent can rediscover his excellent form from previous seasons then he should be a certainty to start.
---
A possible alternative would be a 4-3-3, as Liverpool have been so successful with in recent years.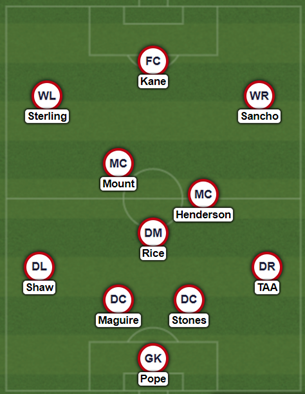 If Henderson is fit, England may be better equipped to deploy a midfield three, as including both Rice and Henderson may provide the defensive stability to go without three central defenders. Mount could be the most attacking of the midfield three, though Foden, Maddison or Grealish could also fit in well here given the extra central midfield steel of both Rice and Henderson in this system. 
Southgate has, however, trialled this system before and ditched it, presumably due to a lack of defensive stability. Therefore, it may be unlikely for Southgate to use such an attacking system. It may also be unlikely for defensive minded Southgate to use such an attacking right back in Alexander-Arnold. However, Jordan Henderson's presence in the right central midfield area could provide the necessary cover for Alexander-Arnold to attack as we have seen so often for Liverpool.