FIRST ROUND NFL DRAFT LIVE - THURSDAY 28TH TO FRIDAY 29TH APRIL
It's draft day in the NFL, so join Curtis Leung as he breaks down all the moves made as teams make their picks!

Thank you and goodnight
That's all from me - I definitely need to sleep now! But I'll be back soon for some more coverage of the 2022 Draft in the form of a review piece. Thank you to everyone who tuned in!
And that's a wrap!
So many players are left, most notably QB Malik Willis, RB Breece Hall, EDGE Arnold Ebiketie and more.
You made it this far?
Congrats and thank you! There's so much of the Draft left and so much analysis to be done.
I'll whip together a review piece for the first round soon.
The final pick of the first round is safety Lewis Cine
Cine to the Vikings ends the first round. Great pick and perfect fit for the Vikings. He can play as a box safety but can also hang over the top. Cine is immensely powerful and one of the best tacklers in the class.
The final pick of the first round is in
The Minnesota Vikings have made their decision...
#31 is Daxton Hill to the Bengals
Hill is a top talent in this class. He has versatility as a safety or as a slot cornerback. With prototypical size and great athleticism, Hill is good value here.
There are a lot of good safeties in this range, I expect a few to go at the start of Day 2.
Kansas City Chiefs run up to the podium to take George Karlaftis at #30
Karlaftis is one of my favourite prospects in this class. His pass-rush win rate was the same as #2 overall pick Aidan Hutchinson in the 2021/22 season - he's truly underrated.
One of the highest floors among this class, Karlaftis is an NFL-ready player that can start immediately for the Chiefs.
Cole Strange to the Patriots at #29 is strange
Strange is a guard/center prospect. He did not make my top 50 prospects this year but, fortunately, I have done a bit of research on him.
Strange is a physical player who is excellent with his hands. He can really hold his own against bull rushers.
The Packers select IDL Devonte Wyatt at #28
Wyatt is an excellent prospect. Despite not being too often deployed as a primary pass-rusher, Wyatt was very effective in getting to opposition quarterbacks. Added to this, Wyatt was an exceptional run-stopper.
Will Packers fans be happy? The lack of a wide receiver suggests no. I think this is a good pick though. Wyatt is an immediate starter who can give the Packers an extra push right from the start of his NFL career.
Devin Lloyd to the Jaguars at #27
This was my pick for the Patriots so now it makes sense why the Jaguars traded up. Lloyd is great in space and offers a lot as a run-stopper too.
He struggles to get off blocks, however, and needs to improve his playing strength.
BREAKING: Jacksonville Jaguars trade up to #27
And that breaks the trade record in the first-round.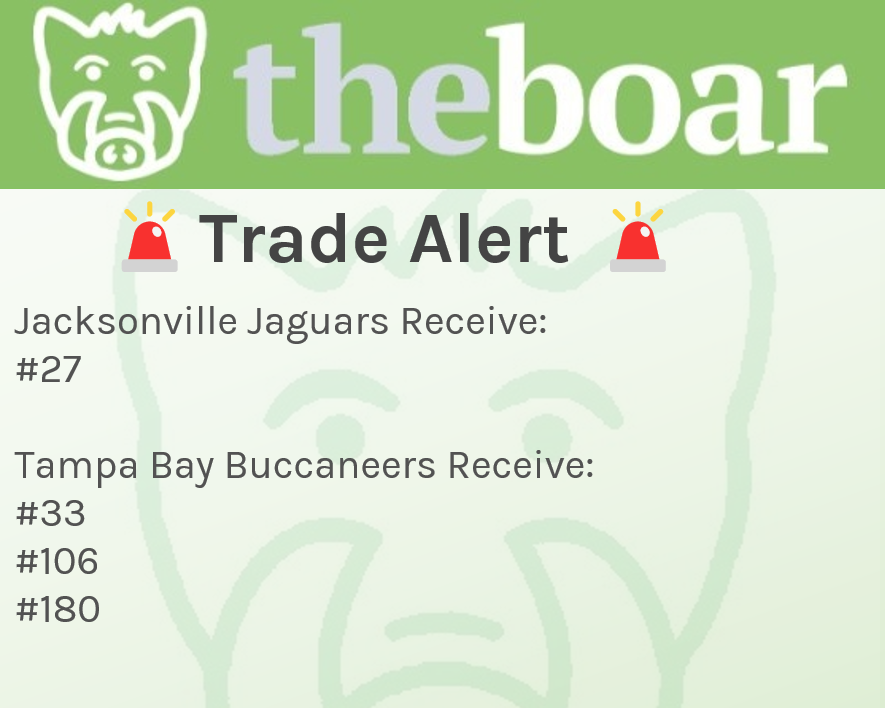 New York Jets select FSU EDGE Jermaine Johnson II at #26
The fall ends, Johnson II is finally selected. Johnson is a very talented edge rusher and could have gone as early as #4. He can win with speed or power and has great hands too. Good value at #26 for sure.
BREAKING: Jets trade back into the first round
Don't have too much of an idea who this is...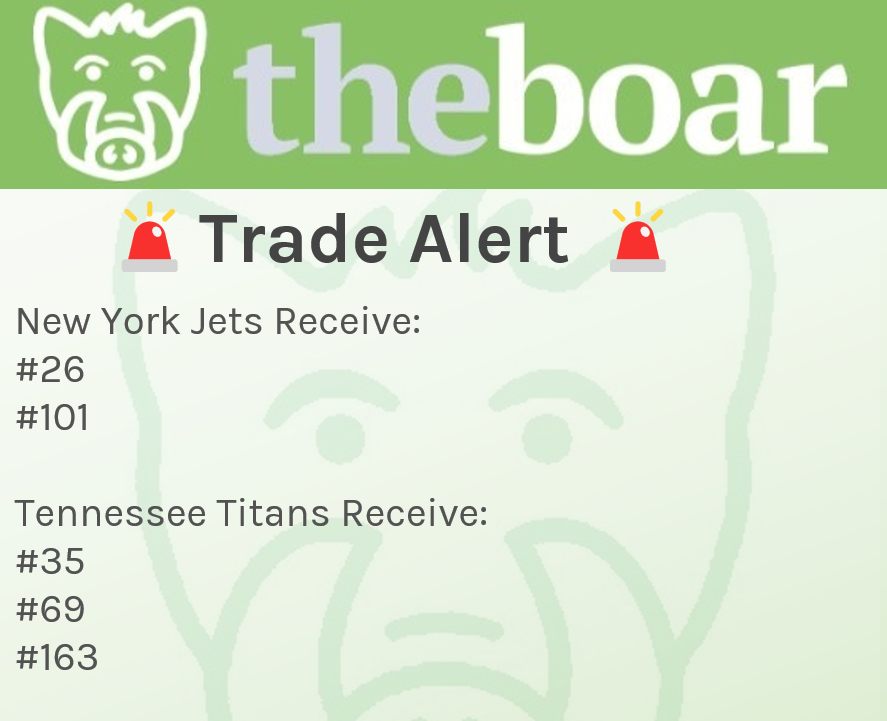 Eighth trade of the first round, tied most since the new Draft format.
At #25, the Baltimore Ravens select Tyler Linderbaum
Love love love this pick. Linderbaum is a top-10 prospect according to my big board. His only knock? That his position isn't as valuable. He's arguably the best center prospect in recent history.
Ravens always boss the Draft, no different in 2022 so far.
Cardinals QB enjoying the Brown addition
Kyler Murray was college mates with Hollywood Brown at OU - they had an electric connection. Brown is a good fit in the Kingsbury offense.
Baltimore Ravens on the clock
Having jumped around the board a bit, the Ravens are now on the clock.
#24 is Tyler Smith out of Tulsa to the Cowboys
This pick makes sense. Smith is a versatile offensive lineman who can play tackle or guard. He projects best as a starting guard as a rookie but he could be a tackle later on.
The Cowboys' offensive lineman has been great for so long but they have got older and picked up more injuries. Smith is a heads-up pick.
Regarding that huge AJ Brown trade
The compensation seems small for such an amazing receiver but it's important to remember that he was in desperate need of a new contract.
Deebo Samuel on the move next?
CB Kaiir Elam out of Florida selected by Buffalo Bills at #23
Physical, athletic and lengthy. Elam is a top corner, just surprised that he has gone ahead of Andrew Booth Jr. though. This is a good pick for the Bills - they needed help opposite Tre'Davious White and they got it.
BREAKING: Bills trade forward with the Ravens
Bills on the clock at #23. What are they moving forward for? This is interesting.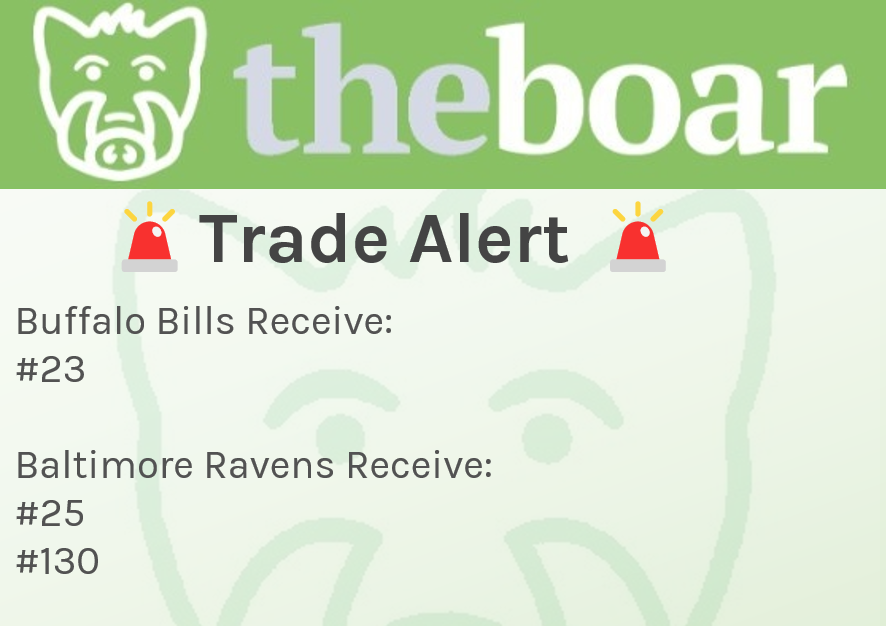 #22 is Quay Walker to the Packers
Solid pick at a position of need. Walker is a great athlete and a very solid player generally.
Big news follows.
Trade terms for Chiefs-Patriots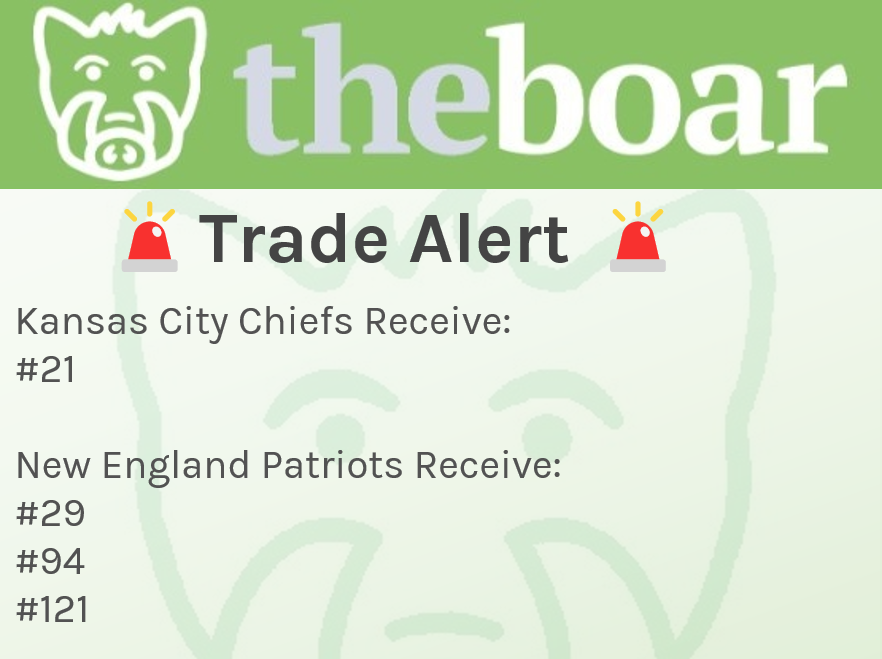 Kansas City Chiefs steal Trent McDuffie at #21
What a pick for the Chiefs. Yet to see the trade compensation but McDuffie is an excellent selection at a position of need. McDuffie is a versatile cornerback who is a very sturdy and physical defender.
BREAKING: Kansas City Chiefs trade up to #21
And another trade...
Pittsburgh Steelers welcome Kenny Pickett home
Pickett stays in Pittsburgh, it's poetic. He's the safest quarterback of the Draft and is going to a great place where he can develop slowly.
And yes, Pickett is the first QB off the board.
#19 is Trevor Penning to the New Orleans Saints
Penning is a special athlete, a dominant offensive lineman to the Saints who lost Terron Armstead in free agency. Penning needs to improve his pass protection but his run-blocking is exceptional.
BREAKING: AJ Brown just got paid
4 years, $100 million. $57 million guaranteed.
Tennessee Titans take Treylon Burks
Burks is the perfect replacement for the former Titan AJ Brown. He's a YAC monster and has versatility as an outside and inside receiver. #18 for Burks, which is about right.
Titans still need receiver help after this pick though...
The wide receiver trade terms: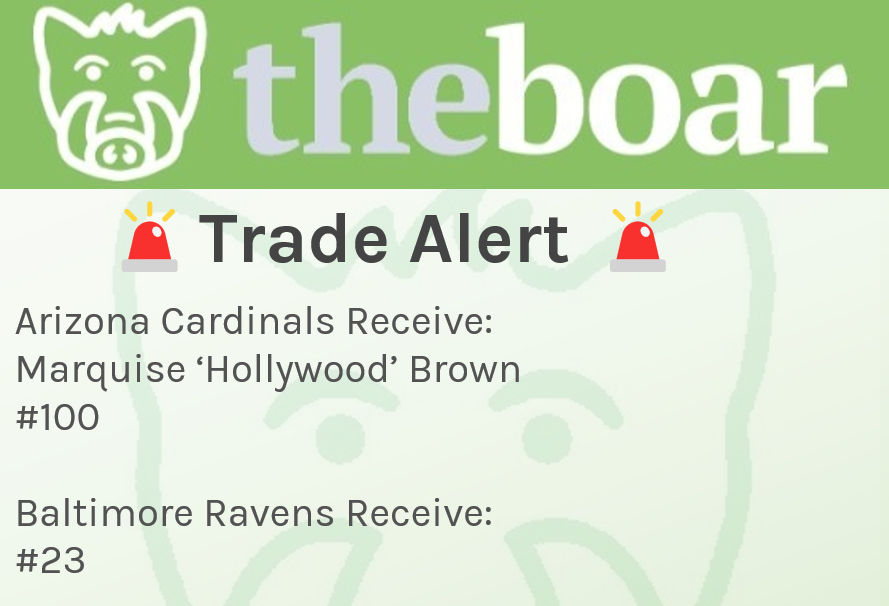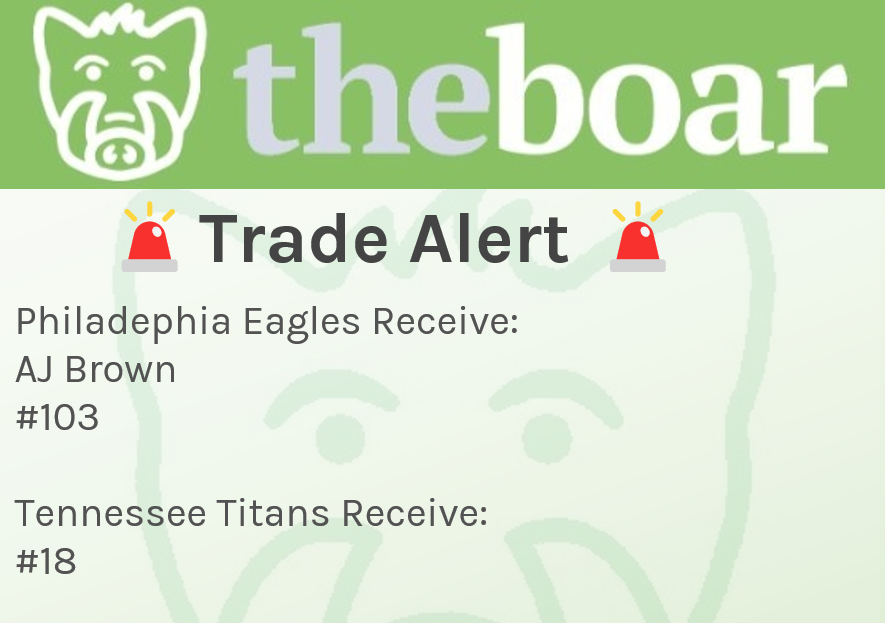 #18 is now the Tennessee Titans
This must be a wide receiver...
#17 is Zion Johnson to the Chargers
Smart pick and smart guy. Johnson is slightly undersized but is a great, physical guard.
More on Dotson
Great player but a slight reach for me. Possibly the best 'hands catcher' in the draft and has excellent speed and body control. Nice get by the Commanders to trade back and get him but this is a reach for me.
BREAKING: The Tennessee Titans have traded AJ Brown to the Philadelphia Eagles
This is getting wild!
#16 is Jahan Dotson
Dotson to the Commanders but bigger news coming...
Houston Texans select IOL Kenyon Green
The Texas A&M man lands in Houston. Good pick for a team that has so many holes. Roster-building at its finest, build in the trenches.
BREAKING: The Baltimore Ravens have just traded Hollywood Brown to the Arizona Cardinals
More to follow.
Baltimore Ravens select Kyle Hamilton at #14
One of my favourite picks of this Draft so far. Here's my deep dive: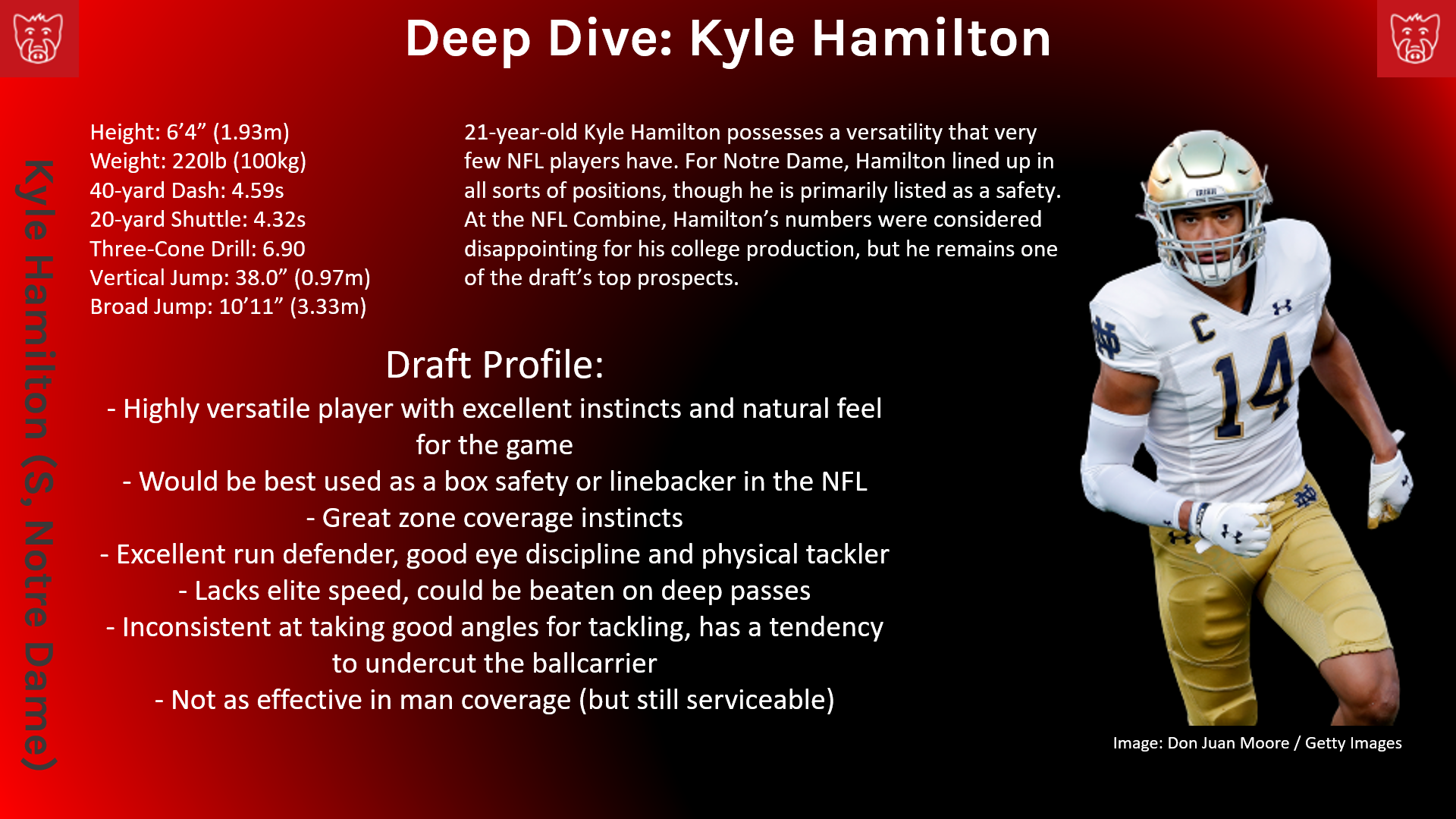 #13 is Jordan Davis indeed
The Philadelphia Eagles have selected Davis out of Georgia. Davis is a rare athlete and is a menace on the defensive line. He is a huge asset to an Eagles defence that has a lot of holes.
TRADE ALERT
This got swept under the carpet a bit...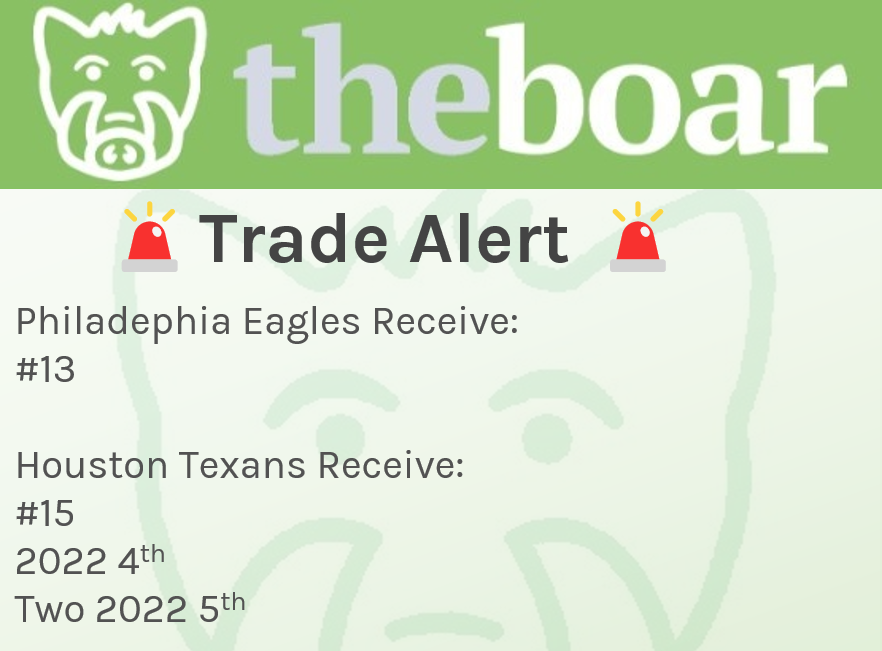 BREAKING: Eagles rumoured to be taking IDL Jordan Davis at #13
Huge if true.
The Detroit Lions select Jameson Williams at #12
Incredible pick. Williams is a game-changer, he is phenomenal and my top receiver in the Draft.
His injury is his only knock but Williams is a franchise-building cornerstone.
#11 - Chris Olave
Olave to the New Orleans Saints. Olave is so underrated, the Saints have just rocked up this Draft mightily.
Olave is a clean route-runner and has game-breaking speed.
Now back to the Lions at #12...
BREAKING: Detroit Lions trade up to #12
Oh my word...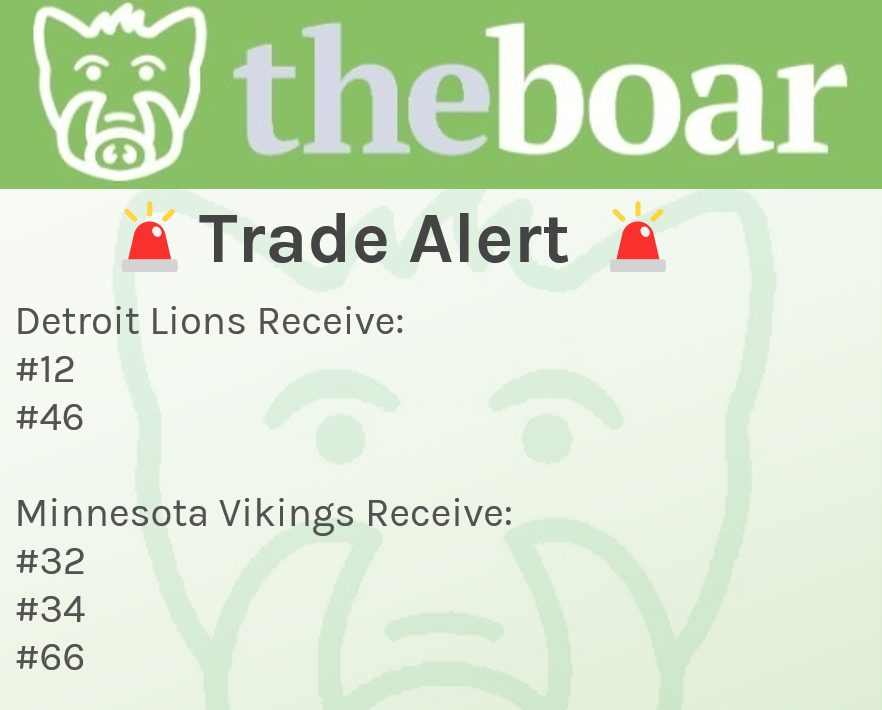 Trade terms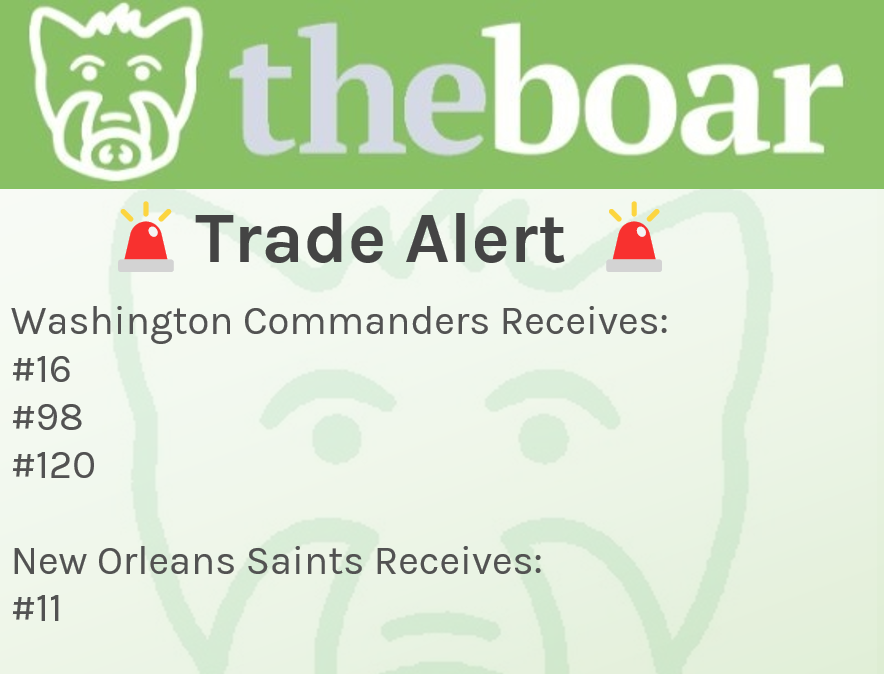 It's the Saints!
Perhaps this is wide receiver, I think this could be Jameson Williams.
Don't be surprised if it's quarterback though.
BREAKING: Commanders expected to trade down
QB time?
#10 - Garrett Wilson to NYJ
Wilson is a great prospect, this makes sense for me. He's a boundary receiver with good speed and a great catch radius. Well-balanced receiver who will compliment Elijah Moore excellently.
Jets pick is in
I'm feeling Garrett Wilson or Jermaine Johnson here...
Watch it be Jordan Davis now.
With the ninth pick of the 2022 NFL Draft, the Seattle Seahawks select Charles Cross, Tackle, MSU
Good, smart pick. The Seahawks get a position of need here. Cross is arguably the best pass-protector of this Draft and his technique is phenomenal.
All the picks have made sense to me so far, barring #1. No quarterbacks gone yet. No trades either.
Seahawks are on the clock
I like quarterback Malik Willis here but they may opt to go for a different path, the 'Hawks are unpredictable. Matt Corral is actually my favourite fit for Seattle though.
Pick is in.
#8 - Drake London is the first skill player
Atlanta Falcons select Drake London out of USC. People often pidgeon-hole London as an X-receiver. While London is a great boundary guy, he offers a lot as a route-runner and ballcarrier too.
Receiver was a need for Atlanta - the last receiver they drafted was Julio Jones... Jones and Pitts is a scary duo.
An interesting comment from you on the #1 pick:
Don't get me wrong. Walker is a great prospect and projects very well into the NFL thanks to his superb athleticism.
My biggest question is his pass-rush ability though. Georgia very rarely asked him to win one-on-one and that's something that is concerning for me.
Back-to-back tackles, Evan Neal at #7 to the Giants
This is a monster. Neal is a scary athlete. He will play right tackle opposite Andrew Thomas, who had a very good sophomore year.
I like this pick, the Giants are building in the trenches and that's exactly what good teams do. Thibodeaux and Neal are both starters right from the start.
Daniel Jones is in his make-or-break year, he must be feeling the heat.
Here's what you thought of the Giants' earlier pick:
I agree wholly with this sentiment. Thibodeaux is an excellent speed rusher and has one of the highest ceilings in this class.
#6 - Ikem Ekwonu to the Panthers
Ekwonu is a great player. The Panthers needed an offensive tackle. This is a good pick. Would have liked the Panthers to trade down but always easier said than done.
'Ickey' is a mauler and a Day 1 starter in the NFL. Smart pick.
Panthers NOT trading
The pick is in.
All defence so far
This is rare but not unexpected. All the offensive lineman still on the board, the Panthers could look to take one of them or trade down and get more draft capital I think.
#5 - New York Giants select Kayvon Thibodeaux, EDGE, Oregon
Did not see this coming... Thibodeaux deserves this, he was my #1 player on the big board. I think the Giants have other needs but I can't blame them for taking such a high-upside player.
Overall, I like this pick even if I didn't expect it.
Giants are on the clock
This will be offensive line I think. With offensive line, scheme is extremely important. I think Neal is the perfect fit for the Giants but the front office may disagree.
Jets got some Sauce
#4 is Ahmad 'Sauce' Gardner. Great cornerback. Five-star prospect in terms of talent and character. This is a complete prospect with ideal size, athleticism and character for the NFL.
Just to remind you: Gardner gave up 0 (zero) touchdowns in college. Crazy.
Not letting the clock run
Perhaps the NFL knows I'm staying up late for this? These teams are hustling for these picks as opposed to letting the clock run down - the Jets' pick is in...
Kayvon Thibodeaux or Sauce Gardner?
Stingley Jr. to the Texans
This is a phenomenal pick. Stingley Jr. has one of the highest ceilings in the Draft - he is a true lockdown corner and is one of the best cornerback prospects of the last few years. #2 on my big board, #3 in the Draft.
Yes, Stingley Jr. regressed over two years and has a lingering Lisfranc injury but his talent is unquestionable.
With the third overall pick of the 2022 NFL Draft, the Houston Texans select Derek Stingley Jr., CB, LSU
WOW
Texans pick is in
This is where the Draft truly begins...
Hutchinson goes #2 to Detroit Lions
Lovely for Detroit. Great character, excellent foundation and future face of the Lions franchise.
Nothing to dislike about this pick, Hutchinson is the Draft's best player and deserves to go #2 overall.
My reaction to Travon Walker at #1
Don't love it, he was my #27 prospect after all. I can see the logic but Walker is too much of a boom-or-bust prospect at #1 for me. Here's my deep dive on him: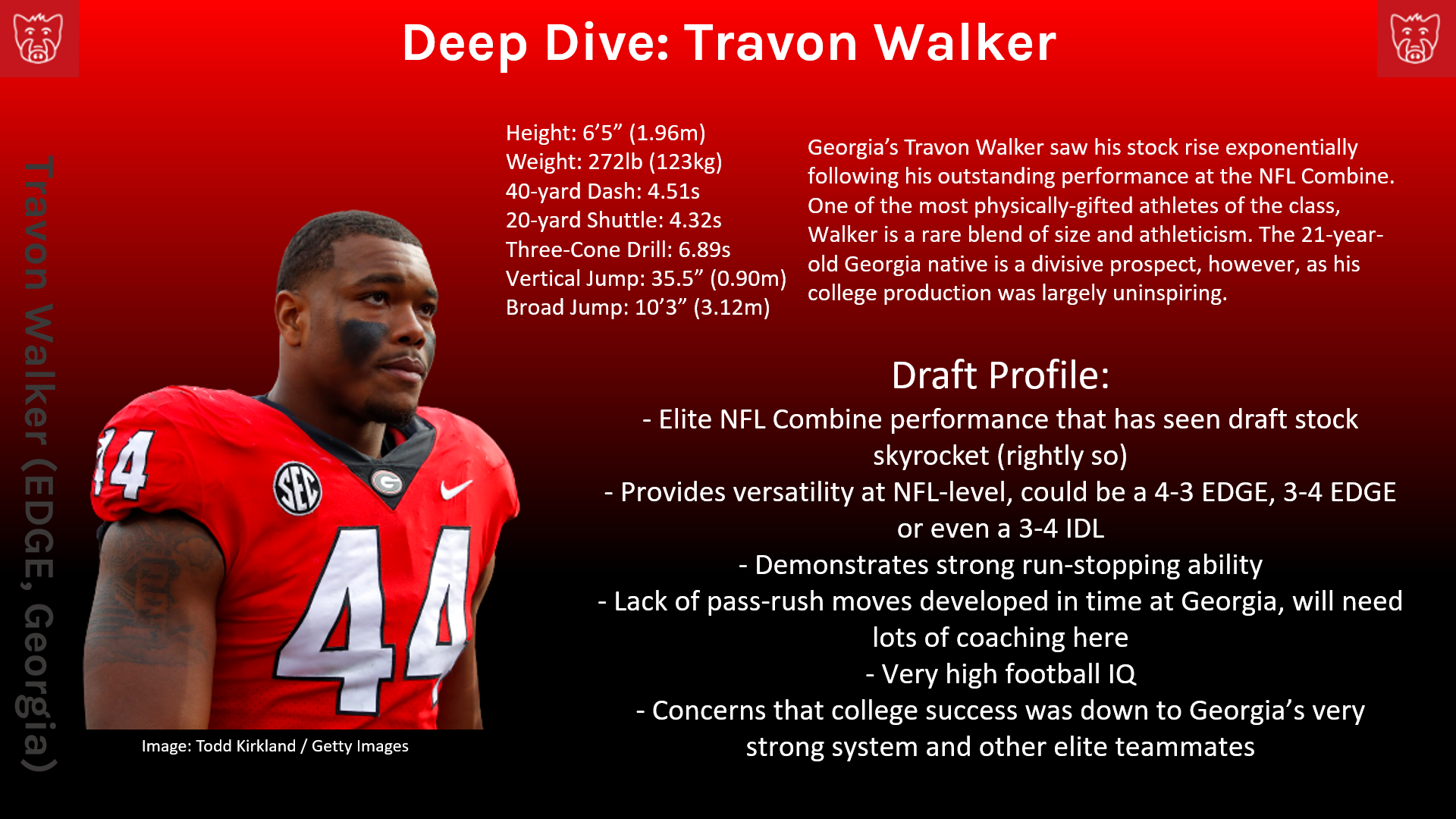 Jacksonville Jaguars select Travon Walker
As we expected...
BREAKING: The pick is in
Who is it?
The three players in play here:
Travon Walker, Aidan Hutchinson and Ikem Ekwonu are the three players in play here. If it's none of these guys, my mock draft and predictions are already ruined...
On a serious note, these guys have had the most buzz at the top spot, especially Walker of late.
5 minutes to go...
Here's a reminder of my 'Big Board'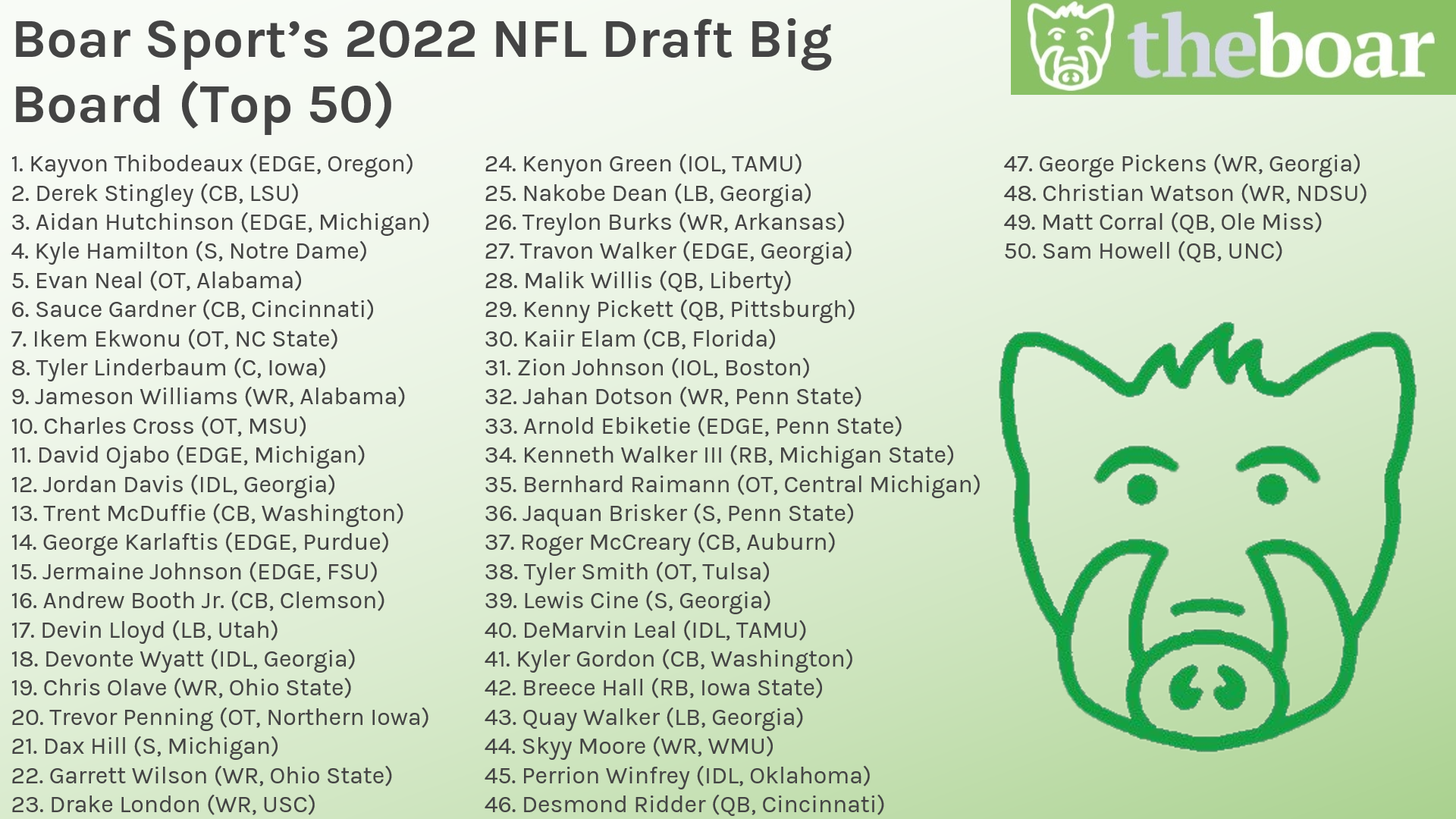 The 2022 NFL Draft is officially open
The Jaguars are now on the clock
The Jaguars are on the clock first
Here we go!!!
Less than 10 minutes to go
Hope you're settled and ready for one of the most unpredictable drafts in NFL history!
A UK connection
Being an NFL Draft reporter based in the UK, one particular prospect caught my eye. His name? David Ojabo. I do not expect to see him get taken tonight due to his injury, but pure talent alone, he is one of the top edge rushers in this class.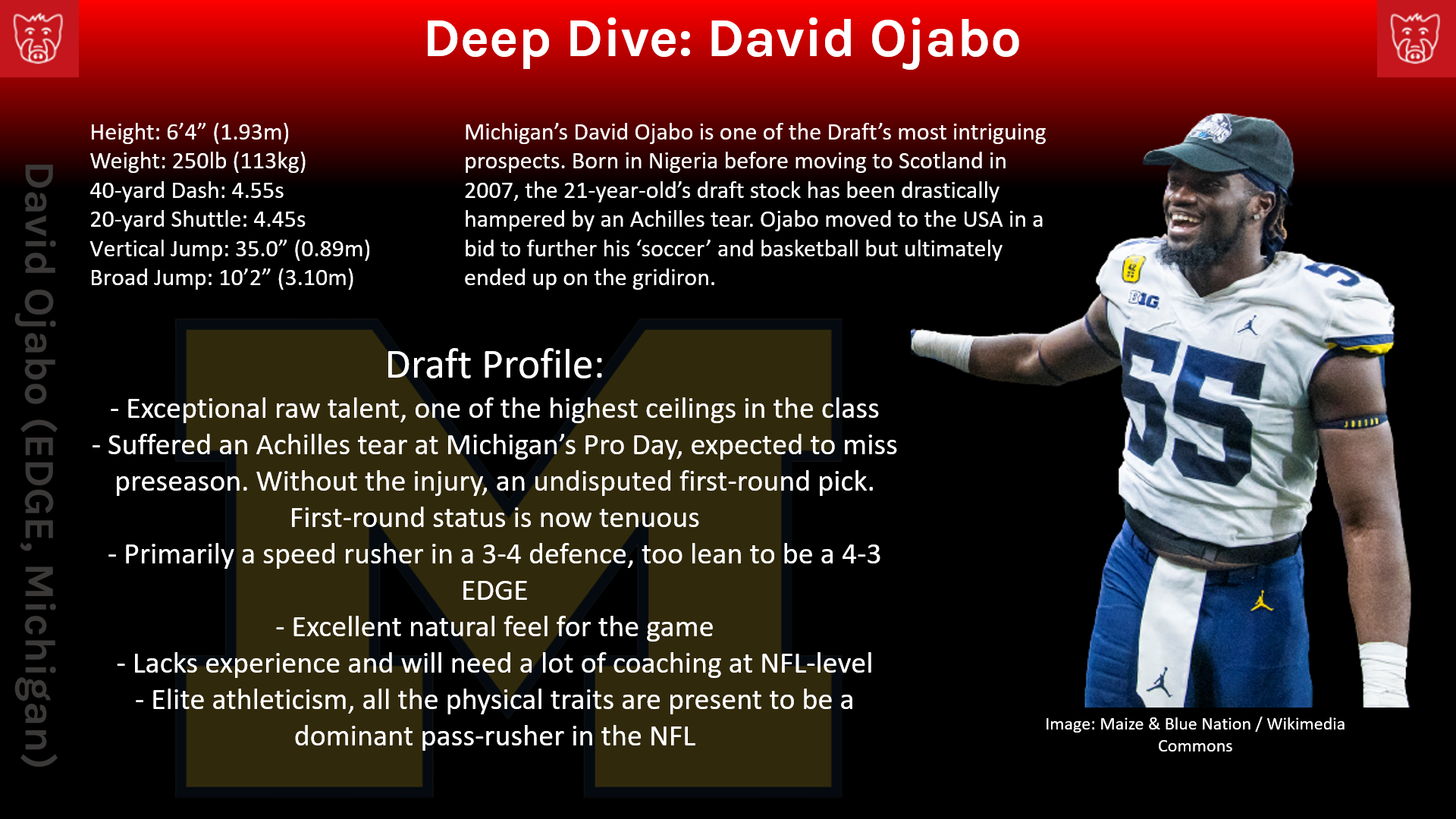 Half an hour to go...
Only half an hour until the 2022 NFL Draft, here's a reminder of my top ten players for this year's Draft: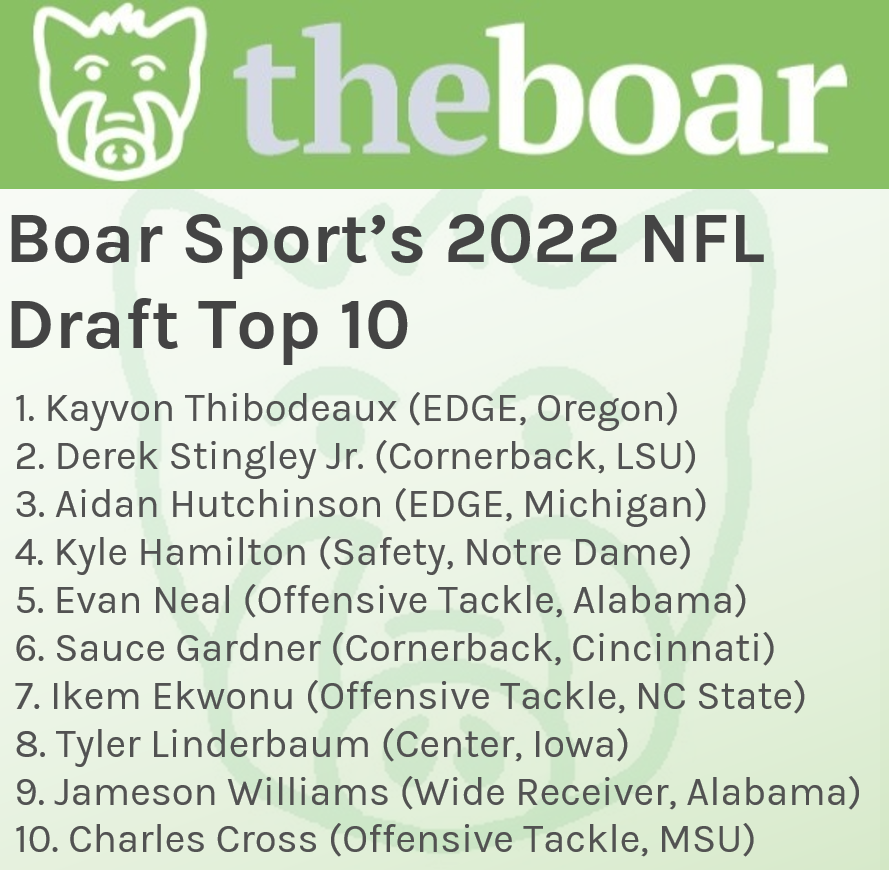 Jaguars 'united' and 'locked in'
It seems that the Jacksonville Jaguars have decided on their guy. Who will it be? I have my money on Travon Walker but Ikem Ekwonu and Aidan Hutchinson make a lot of sense too.
Less than one hour to go!
Nothing new to report on currently but expecting some more trade buzz between now and 01:00 BST.
Most important news of the day...
Graphics getting a lot of love!
Trust me though, Mitchell doesn't need me!
Adding to the quarterback debate...
Mitchell with a nice comment that sums it up well here:
It's certainly true - Pickett is the 'safest' quarterback of this class and, at his peak, I imagine will be a Kirk Cousins-level quarterback - top 12 quarterback on his day but ultimately not All-Pro calibre.
Willis is a boom-or-bust prospect. There is no denying he is the greatest athlete among all the signal-callers in the class. The way he single-handedly won games for Liberty was astounding but he has much to work on in terms of his processor. With the right coaching, I project Willis to be a top five quarterback at his peak. The question is, where is he best off?
Who's QB1?
Unlike other Drafts, there is no consensus quarterback rankings for this class. My top two guys are Kenny Pickett and Malik Willis, who are very different. Here's a deep dive and comparison on both: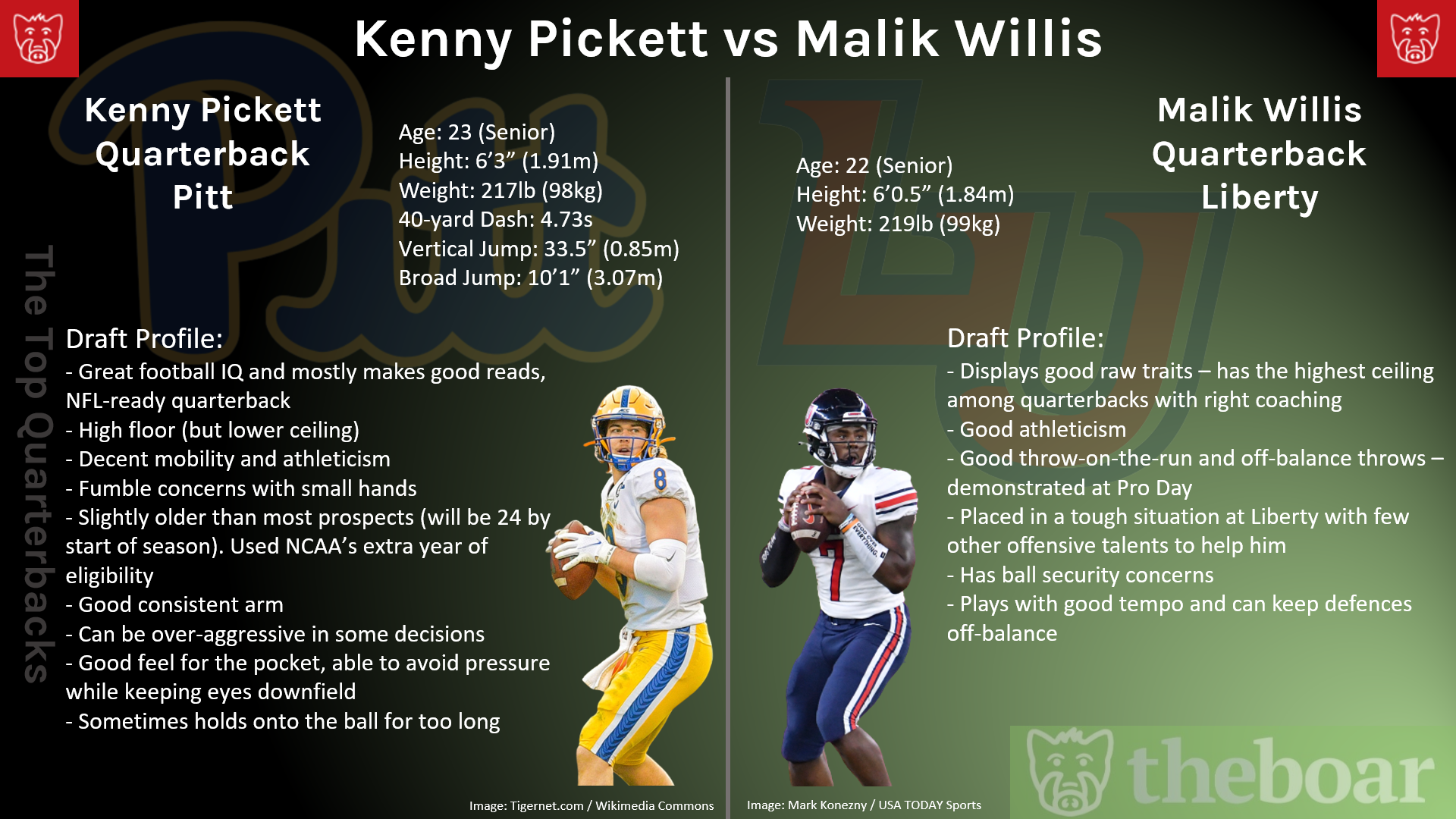 My 'Big Board' has Willis as QB1, but I can respect the argument for Pickett too. What do you think? Pickett or Willis?
Who else could trade up for a quarterback?
For me, the only candidates for QB in this year's Draft are the Panthers, Falcons, Seahawks, Saints and Steelers.
The Falcons should not draft a quarterback in the first two rounds this year, in my opinion. Their roster is far too weak to compete and the quarterback prospects are simply not good enough to carry them. They should aim for a quarterback in the 2023 NFL Draft.
The Panthers and Seahawks are trade-down candidates. The Panthers have no Day 2 picks this year - trading down from #6 and acquiring more Draft capital could be important for them. The Seahawks, meanwhile, have a habit of getting funky with trades on Draft day. They could get themselves a nice deal if they can persuade a team to move down. Both these teams could trade back four to five spots and still secure a quarterback.
The Saints and Steelers are both trade-up candidates.
Packers among many teams with more than one first-round pick
The Packers' multiple round one picks could create a nice package for moving up the board, especially given that there are rumours that there is far more interest in trading back as opposed to trading forward.
It was leaked this morning that the Texans could be a trade-up candidate too, and I fancy the Eagles, Saints and Chiefs to all possibly trade up.
The Pittsburgh Steelers are my only candidate who could trade up without multiple first-round picks. I believe they could do this if they want to get a quarterback, perhaps Kenny Pickett?
A question from the editor...
Reacting to the Packers news, Mitchell has posed a great question:
Now I can't make any guarantees about this Draft but here's what I do know: the Packers need a wide receiver and Treylon Burks is a superb fit. At 6'2" and over 250 lbs, Burks is a physical receiver who possesses versatility at the receiver position. The Packers offence has always valued 'YAC' (yards after catch) and Burks has the most YAC of any receiver in the class.
From what I've heard, the Packers are infatuated with him and I think he'd be a superb pick for what it's worth.
However, if the Packers are looking to trade up, that seems to me like they could be targeting an even better receiver. Depending on how far up the board they're willing to go, I expect that any of the top five receivers could be in play - I particularly like the fit of Chris Olave to the Packers. Olave is a 6'1" route technician and his running style really reminds me of Davante Adams.
The other side to this though is that the Packers simply want to secure Burks for sure. Perhaps the front office believes there will be a run on receivers, meaning that Burks could go higher than expected. This seems less likely, but not impossible.
The wide receivers
The Packers needing a wide receiver was always glaringly obvious. They needed one before losing Davante Adams already - his departure only furthered their need for one.
The receiver classes have been very solid of late, here's how this year's top receiving talents look compared to the last two drafts: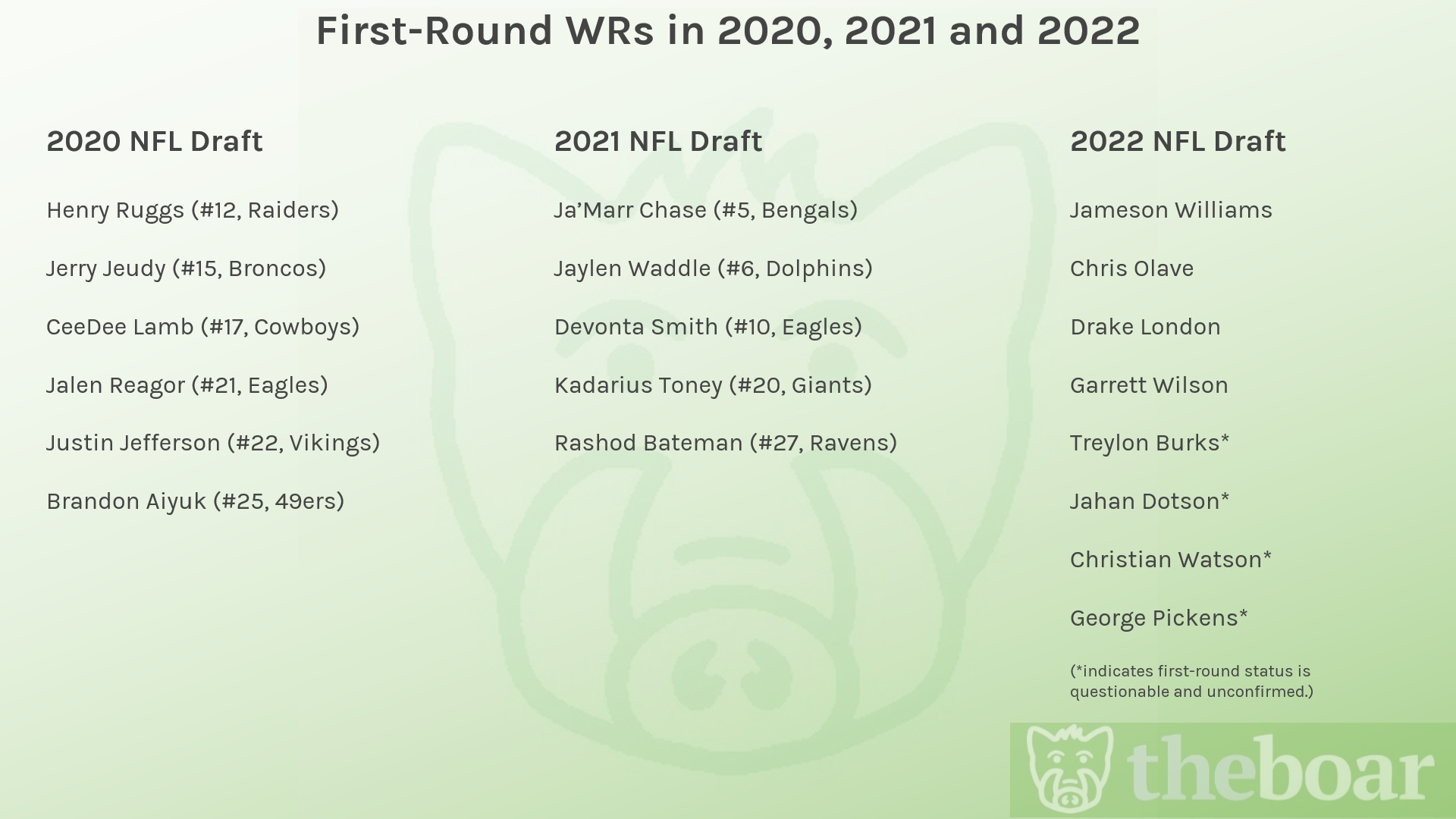 BREAKING: Packers among teams exploring a trade up
Final 2022 NFL Mock Draft
I've held out long enough - I didn't want to release this too early in case a trade happened but here we go, here is my final 2022 NFL mock draft: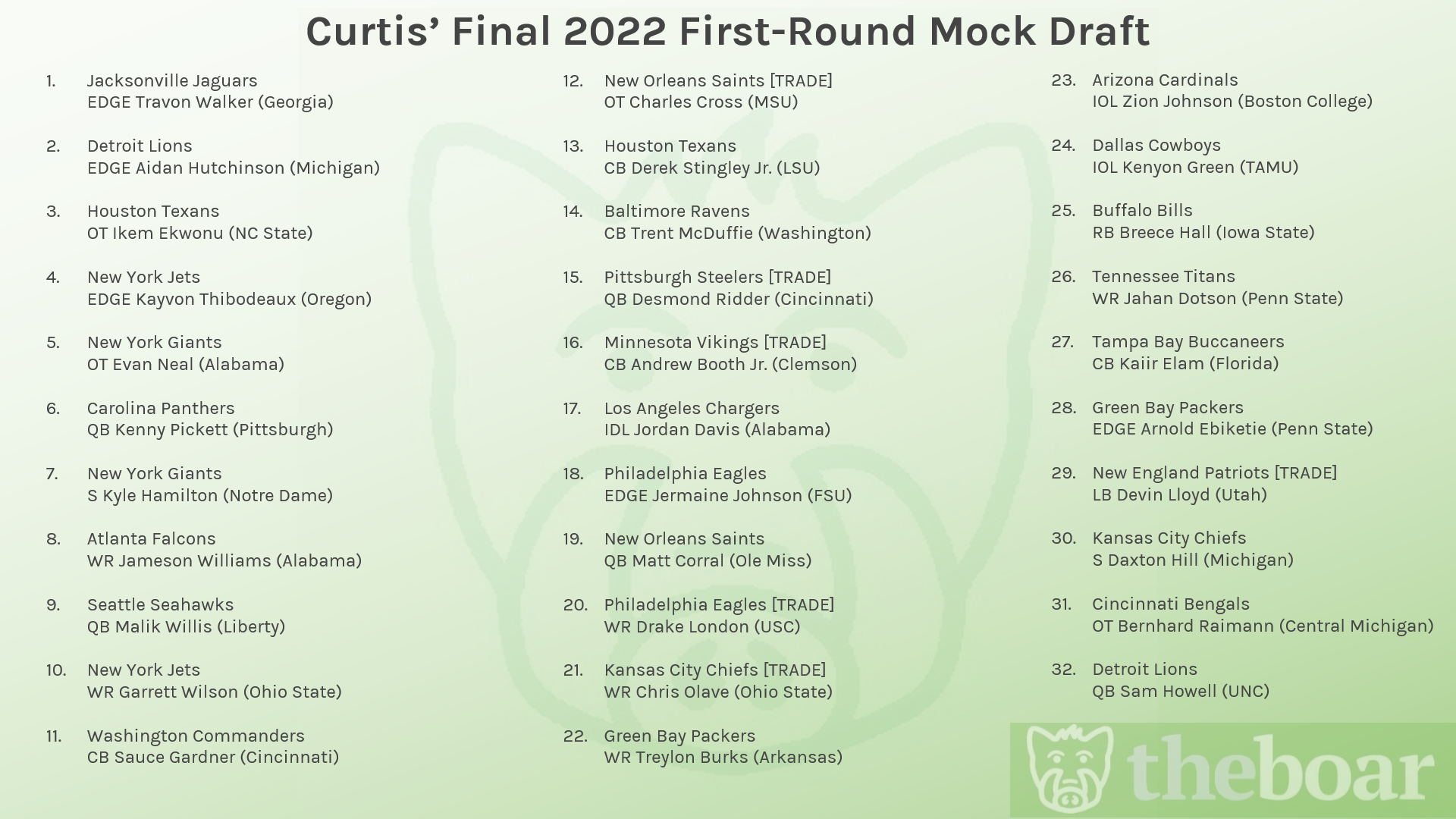 It's highly unlikely to be right, I'm not confident myself past the first two picks. But it's food for thought I suppose. Analysis of some of the prospects will come soon.
A question from you...
So Luke's asked a great question here about players who are gems outside of the top ten/twenty. Here's a couple of things I should say first:
- The top ten/twenty seem incredibly subjective this year, there appears to be little consensus on who the top players in this Draft are
- The Draft is STACKED with gems in the late-first to early-third portion (around picks 25 to 80)
But answering Luke's question, here are a few guys who I think are slept on outside of the (vaguely-defined) top prospects:
- IOL Zion Johnson (Boston College)
- CB Kyler Gordon (Washington)
- LB Quay Walker (Georgia)
- RB Kenneth Walker II (Michigan State)
Walker II's tape is pure entertainment, he's an absolute joy to watch. Here's a taste:
(Glad the graphics are getting good reviews too, thanks Luke!)
How did my mock do last year?
Solid if unspectacular. At the time of writing, I expected the Falcons to select Justin Fields, which undoubtedly impacted the rest of my mock. I was pretty happy to get the 49ers pick right though:
Speaking of last year...
Here's a recap of the 2021 NFL Draft to refresh your memories: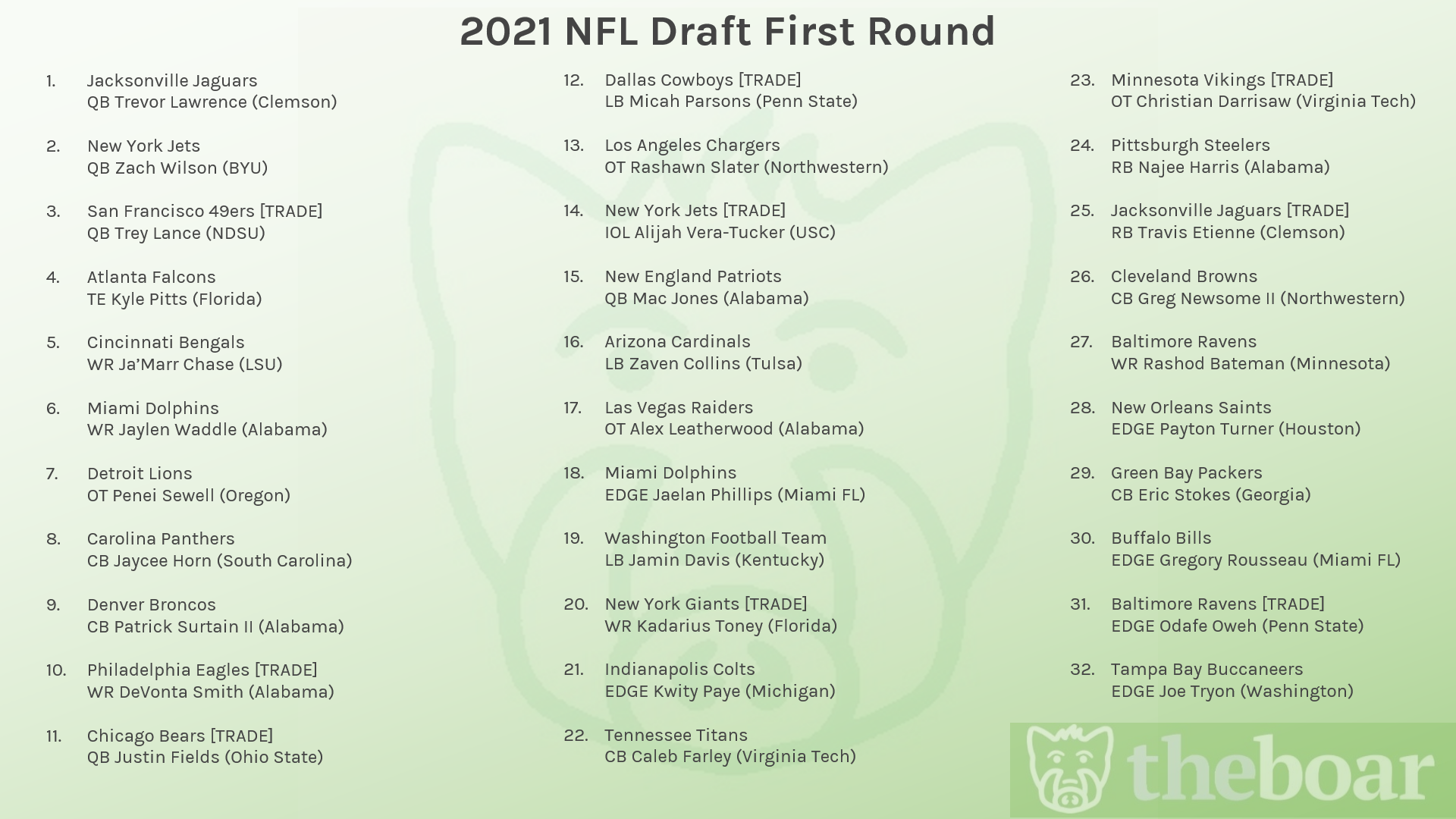 You can find my analysis of all the picks here.
One guarantee
Here's one guarantee I can give you now: the Jaguars will not draft a quarterback. Last year, Jacksonville drafted a generational talent in Trevor Lawrence. He had a rough rookie year but his supporting cast was far from adequate - the Jaguars will stick with him for the foreseeable future.
With the top pick not being a quarterback, this will be the first time since 2017 that the #1 overall pick will be anything but a signal caller. Indeed, since 2011, it will be just the fourth time a non-quarterback is selected.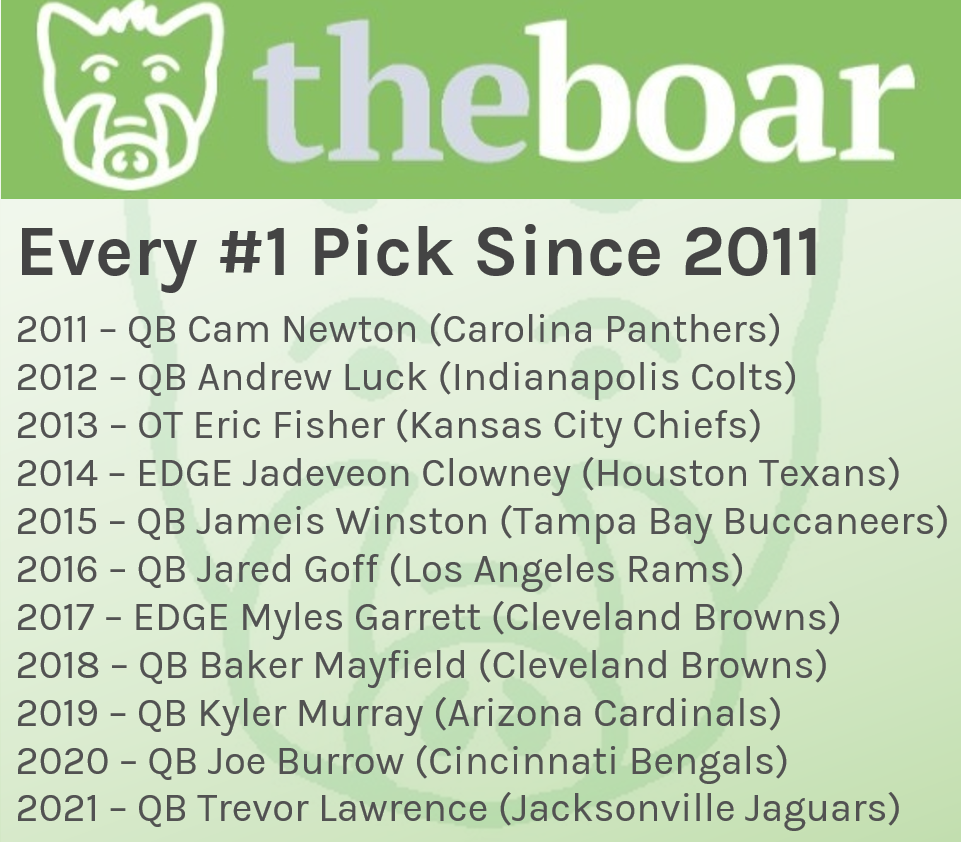 How many first-round talents?
I've heard so many varying figures for this, from 12 to 18. In a strong year, there are generally considered to be 24+ first-round talents.
While there may be less high end talent this year, there is certainly no shortage of Draft 'gems'. The second day (rounds two and three) of this Draft looks like it could be packed with plenty of great players. In my draft notes I have plenty of early second-round talents.
A crazy draft
This is definitely one of the most unpredictable drafts of all time, and it fittingly follows one of the wildest offseasons the NFL has ever seen.
Part of this is down to the lack of top tier quarterback talent. Another part is down to the lack of real first-round talent. There appears to be little consensus on who the Draft's top players are, and who the best players are in their respective positions even.
So back to that Travon Walker comment earlier...
Earlier today I posted about speculation that edge rusher Travon Walker would be the top pick in the Draft.
Here's why I believe it:
- GM Trent Baalke is unpredictable, Walker is exactly the kind of boom-or-bust prospect that Baalke would gamble on
- The Jaguars had previously been rumoured to be looking to trade down in the first round, perhaps to take Walker later
Here's why I don't like it:
- While Walker is a scheme fit, I do not believe he will be effective as an immediate starter. Can he start straight away? Sure. Will he be good? I have my reservations. The lack of real pass-rush ability demonstrated at Georgia tells me that he needs a lot of coaching
- This is a very deep class for edge rushers. At #33 the Jaguars can most likely get a starting-calibre edge player anyway
- I do not believe Walker is the best edge rusher in this class, let alone the best player
Top 50 Big Board
Below is my top 50 for this year's NFL Draft: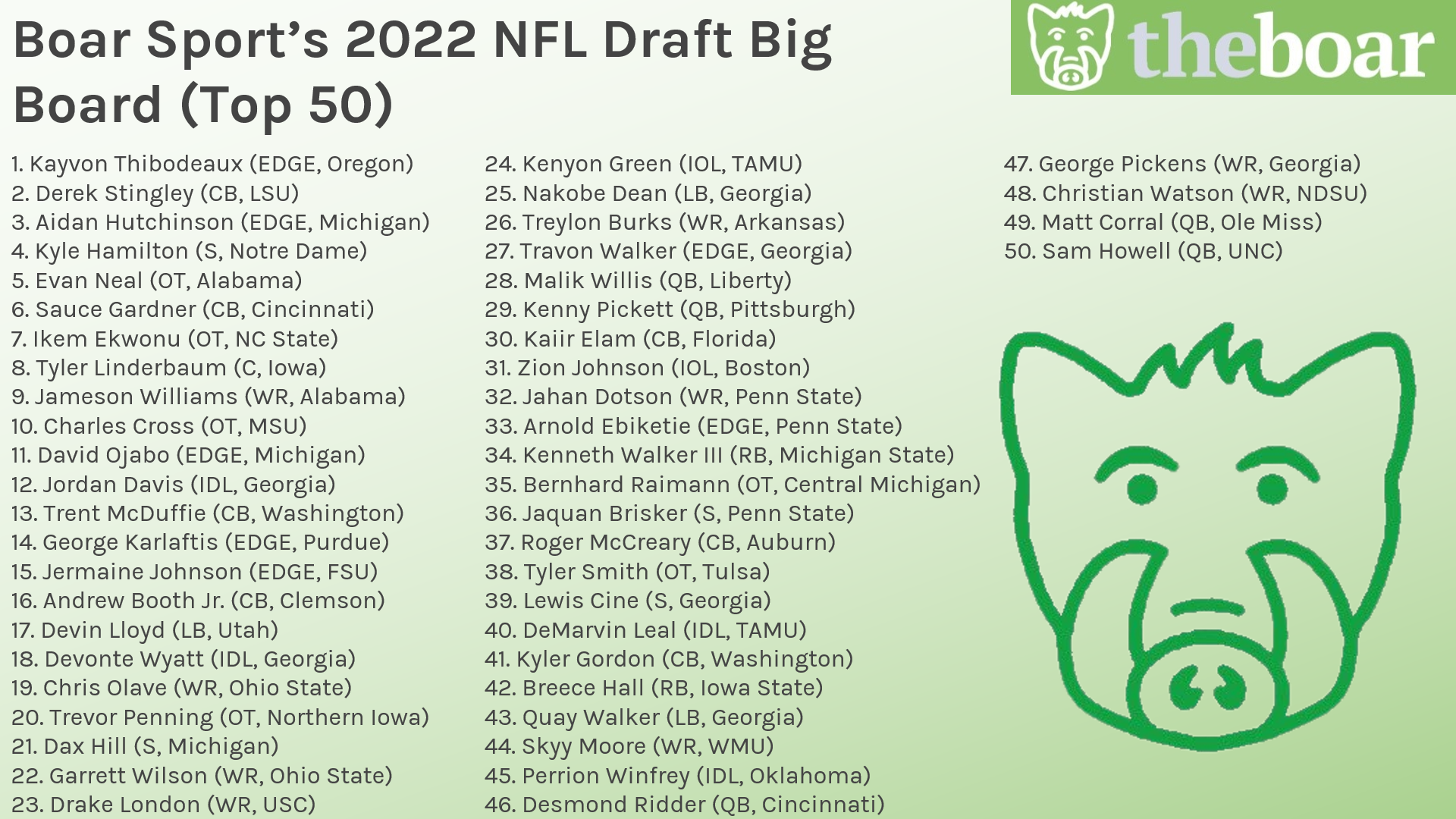 As a general rule of thumb, when two players are similar in floor, I've put much more emphasis on who I think has the highest ceiling.
This is exactly why Kayvon Thibodeaux and Derek Stingley Jr. are the top two prospects for me. Both are starting-calibre players right now and both have insanely high ceilings.
That said, the best player in the Draft right now is Aidan Hutchinson, and I'm not sure there is much disputing it.
Wrapping up the offseason talk and looking ahead to the Draft
Here's a recap of the graphics I put out earlier that highlight some of the key talking points of the 2022 NFL offseason: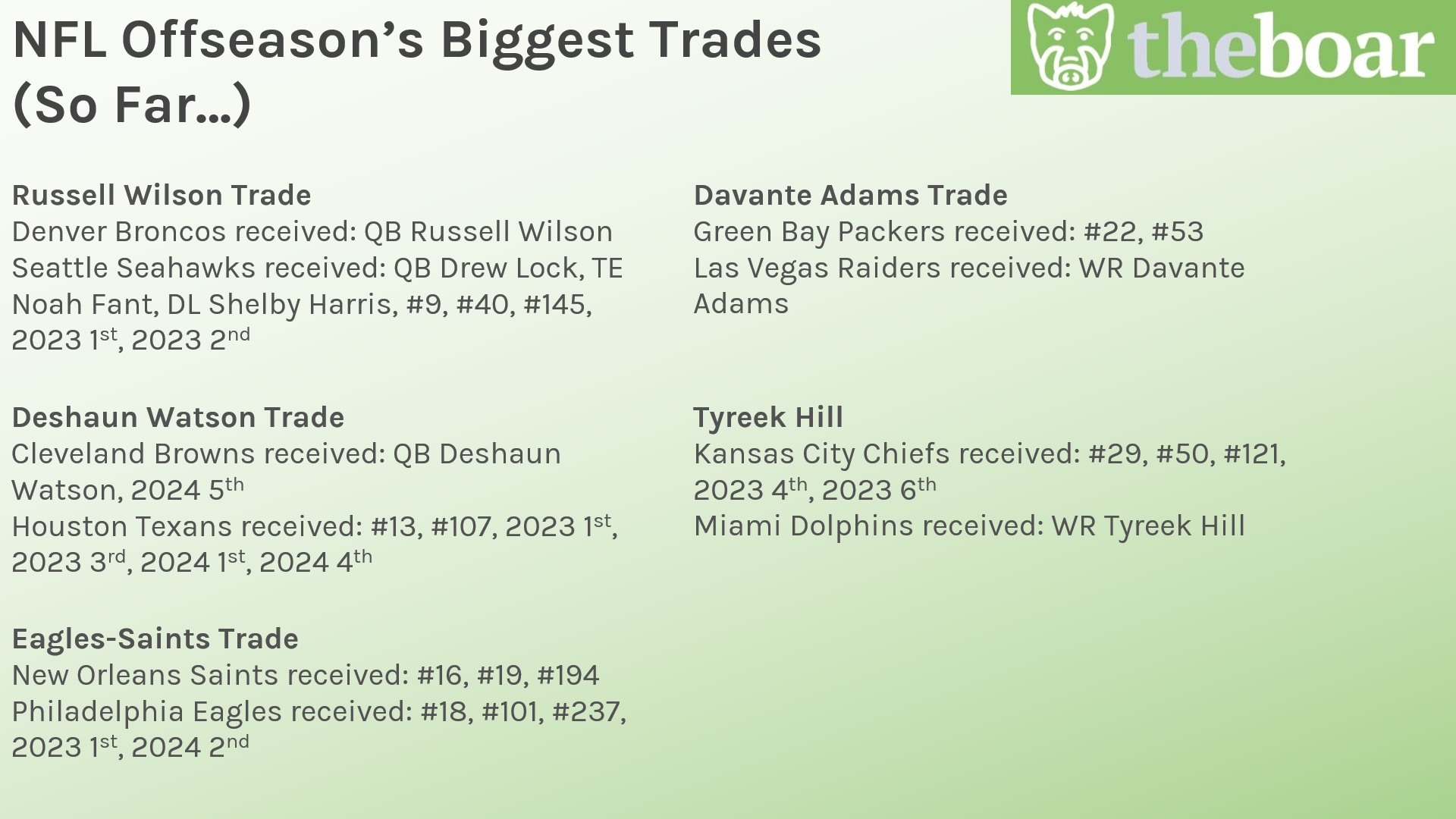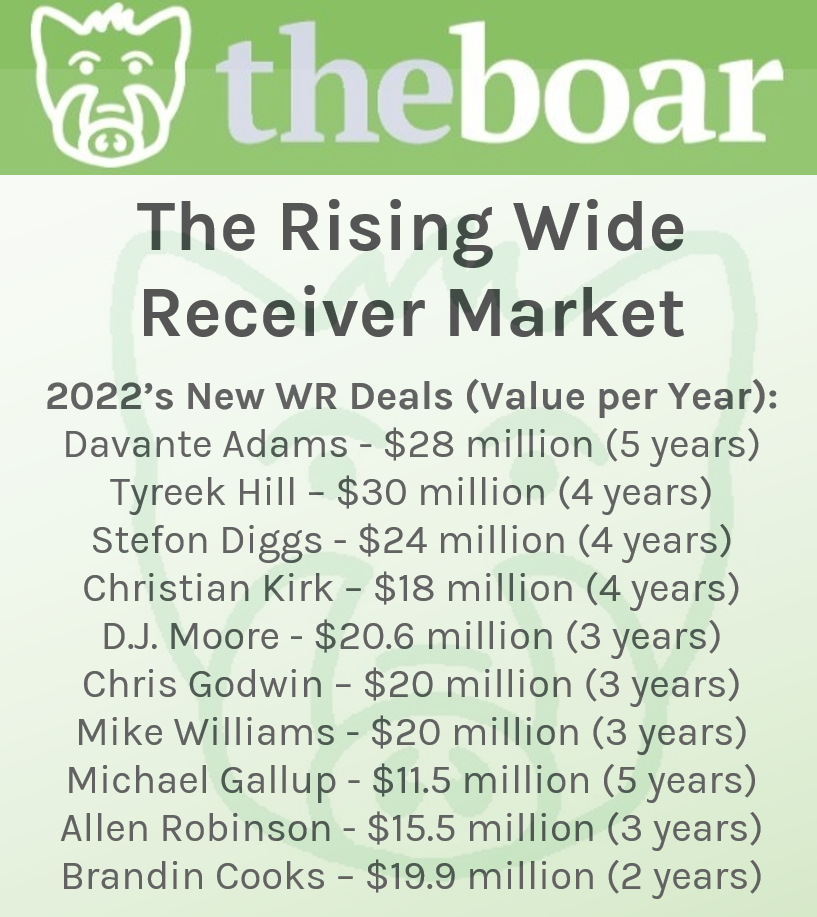 Now to draft talk...
Deebo Samuel rumours
Another player who has an unclear future is 49ers' wideout, Deebo Samuel. The All-Pro receiver has fielded a trade request recently though the team are reluctant to let go of their star player. It is believed that Samuel would like to play closer to home, in Carolina, and that the dispute between him and the franchise is not financial.
If Samuel were to move as well, it would only be adding fuel to a very flaming fire known as the 2022 NFL offseason.
In the wise words of Stefon Diggs:
BREAKING: Giants to NOT accept Daniel Jones' fifth-year option
Well that was good timing...
Surprised? Not really. This is Daniel Jones' make-or-break year now. If he plays well then good for him, the Giants will pay him and newly-appointed Head Coach Brian Daboll's vision can start getting some momentum. If he plays poorly, however, the Giants can pick from a stronger 2023 NFL Draft for quarterbacks.
Money talks
On the topic of massive contracts, Deshaun Watson's new fully-guaranteed contract with the Browns is certainly interesting. It means that the total value of his contract is essentially secured - regardless of underperformance or injury.
So, why don't more players get fully-guaranteed contracts?
The answer is simple - it puts a heavy burden on the owner of the franchise. While for an owner such as Stan Kroenke and his Rams that might be alright, teams with less rich owners might struggle.
The Cardinals' owner Michael Bidwill falls into the latter category, and is expected to pay young quarterback Kyler Murray soon. But how much will the 2020 Offensive Rookie of the Year get? How much money will be guaranteed?
Wide receivers galore
The wide receiver position has seen a huge jump in value over the past year or so. Top wide receivers have gone from replaceable playmakers to indispensable premiums. The trade graphics from before showed two major wide receiver trades (Davante Adams and Tyreek Hill). Both of those trades required a huge ransom and both players were subsequently paid A LOT of money. Here are the newly-paid receivers during the offseason so far: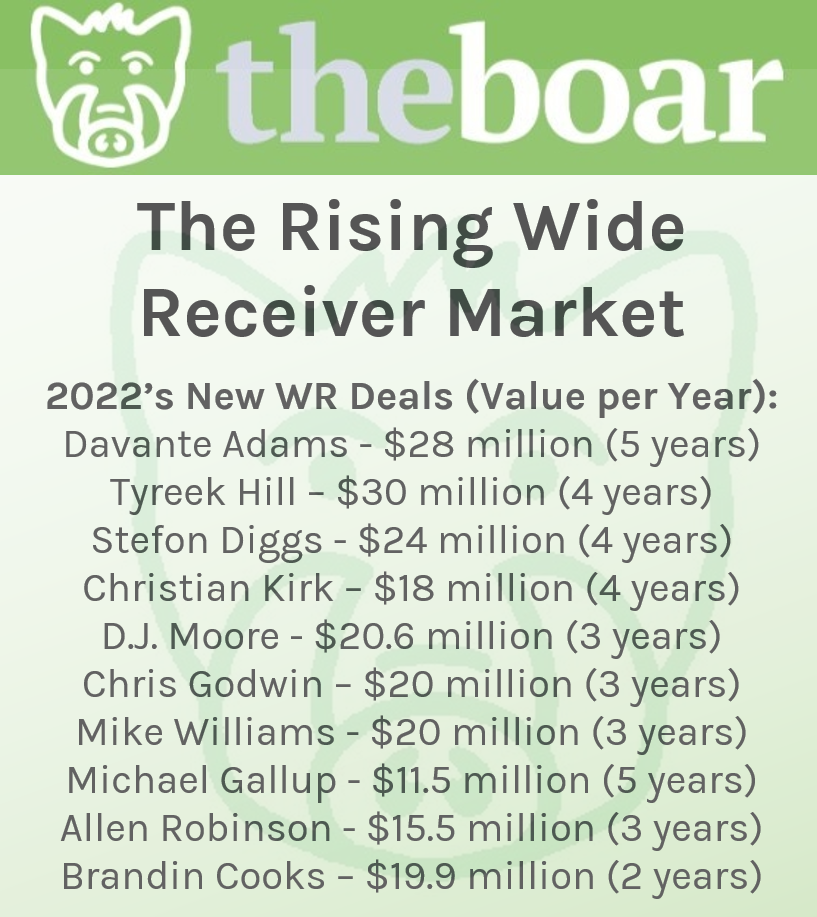 As I said, A LOT of money.
One of the NFL's craziest offseasons ever
Before delving into the Draft, we should take a look at one of the NFL's wildest offseasons of all time. There have been some massive trades in the 2022 NFL offseason that have reshaped the landscape of both the 2022 NFL Draft as well as the NFL as a whole. Here are some of the major ones: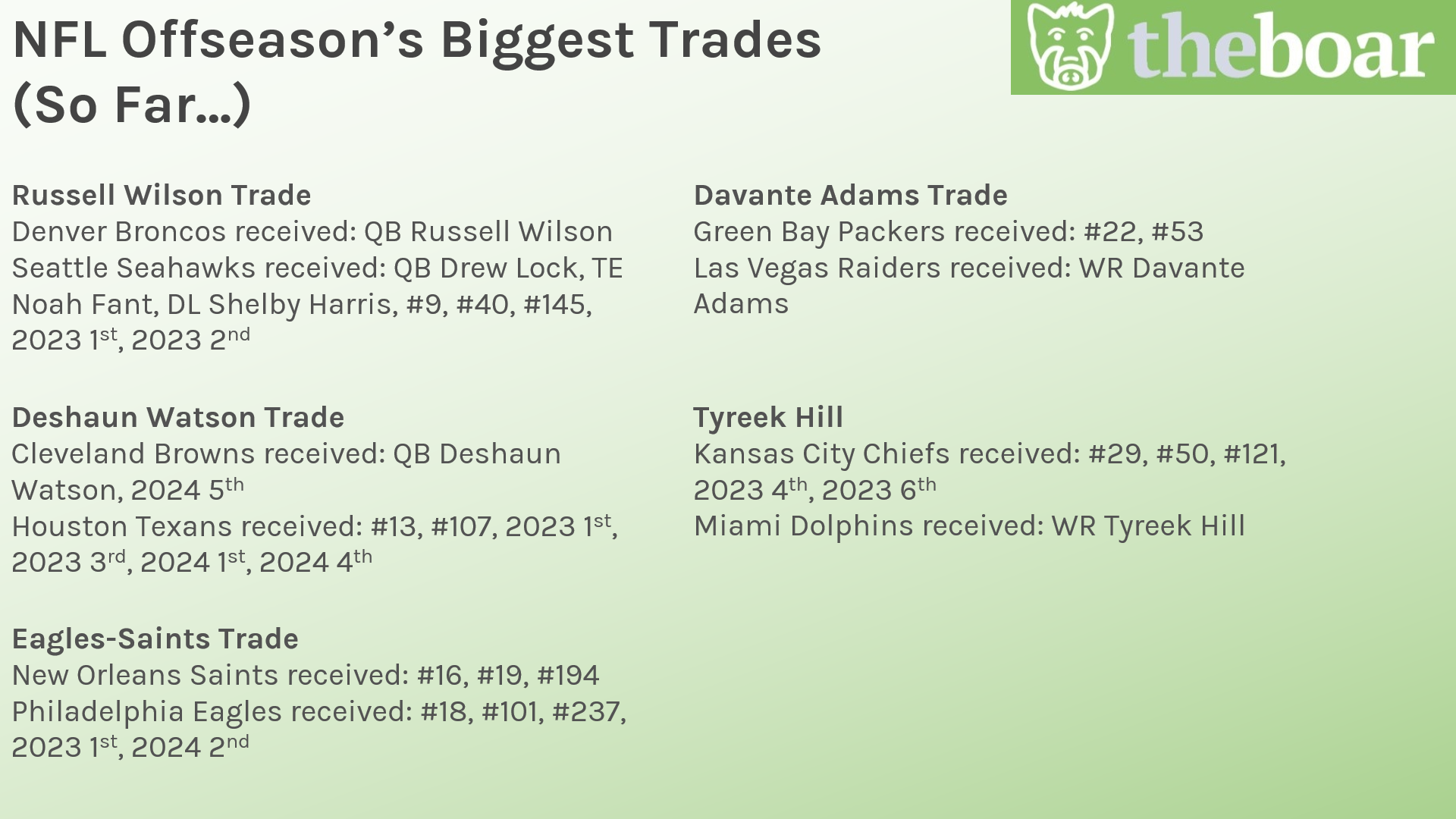 The Russell Wilson and Deshaun Watson trades undoubtedly headline the quarterback news this year. Wilson is supposedly the final piece of the puzzle for the Broncos while Watson is viewed to be a vast upgrade on Baker Mayfield (2018 #1 overall pick), who has been granted permission to seek a trade.
Other quarterbacks that have found new starting jobs include Marcus Mariota (Falcons), Carson Wentz (Commanders), Mitchell Trubisky (Bears), Jameis Winston (Saints), Drew Lock (Seahawks) and Matt Ryan (Colts).
It would be impossible to talk NFL quarterbacks without mentioning the GOAT himself of course. Earlier in the offseason, Tom Brady announced his retirement, leaving the Buccaneers in a tricky situation. However, to the frustration of the Bucs' division rivals, Brady later 'unretired' himself for (at least) another season in Tampa Bay. With most of the key pieces staying, expect the Buccaneers to treat the 2022/23 season as a 'Super Bowl or bust' season...
Nothing like some Draft rumours to start the day
There's been a lot of buzz about Travon Walker to the Jaguars over the last week or so. Do I buy it? Yes. Would I agree with the pick? No.

More on this later.
Some reading to get you through the day
A review of the NFL regular season can be found here while a match report of Super Bowl LVI is here. If you missed the NFL Honours, I've also got you covered. I had the pleasure of discussing the Honours with former Boar Sport editor Sam Matthews Boehmer on this pre-Super Bowl LVI podcast too.

For more NFL Draft reading, my pre-NFL Playoffs mock draft contains an explanation of how the Draft works. My most recent mock draft came a while ago, but can be accessed here.

Throughout today I'll release more material, however, so there's plenty to come, including:
- A final mock draft (with trades)
- My top 50 big board
- Coverage of some of the offseason's biggest headlines so far
It's my favourite event of the NFL Calendar...

It's the NFL Draft! Whether you're new to the sport or an avid NFL fan, stay tuned to this live blog for updates and analysis of the first-round of the 2022 NFL Draft throughout today and the early hours of tomorrow.
If you want your opinions discussed or questions answered, comment to @BoarSport or @CurtisLeung6
The Draft starts at 01:00 BST on Friday the 29th.