Matchday Live:
Italy v England, EURO 2020 Final
With kick-off set for 20:00, join The Boar Sport as we build-up to the EURO 2020 final.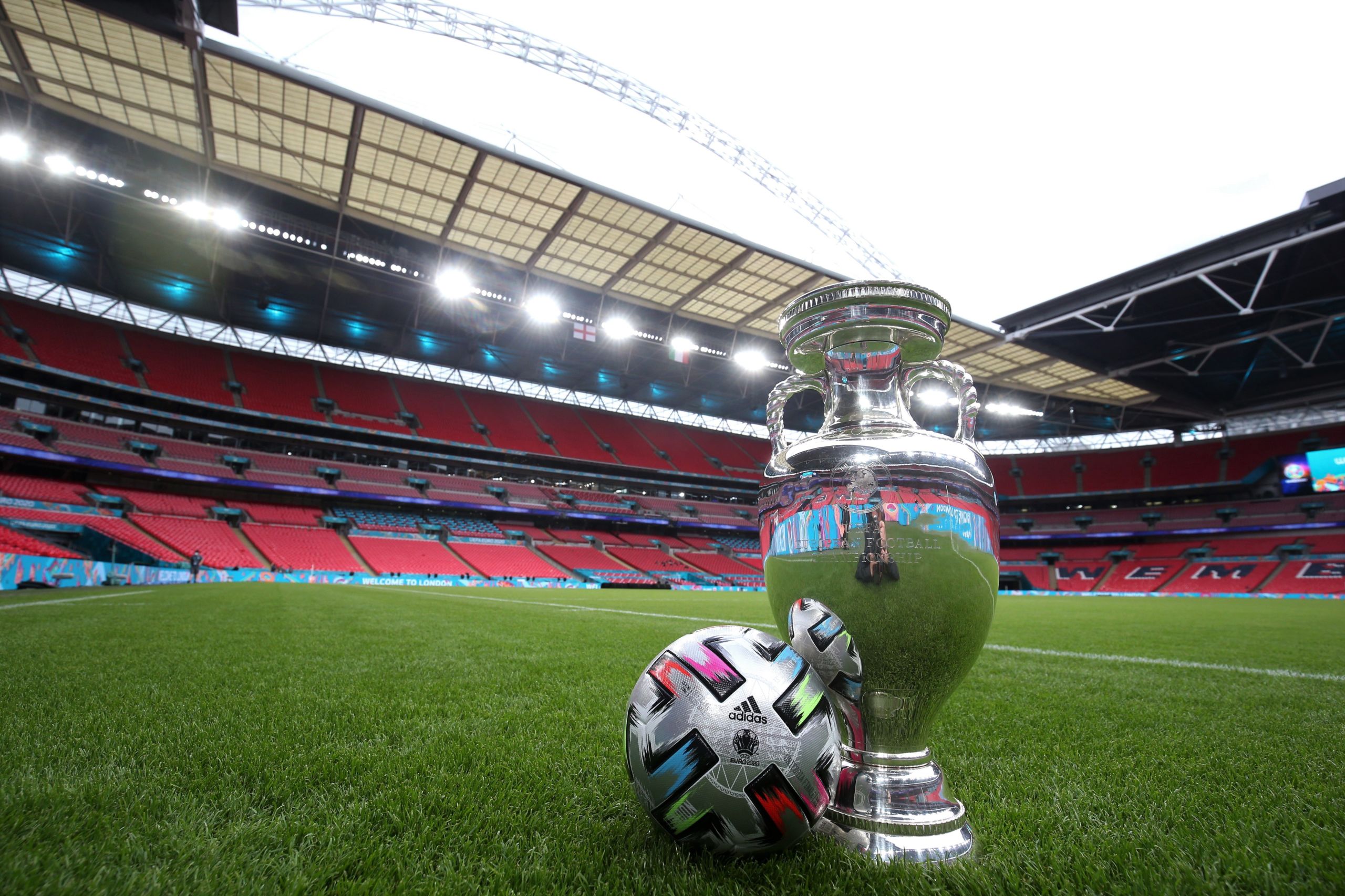 Image: Wikimedia Commons / Jbmg40
Image: Wikimedia Commons / Jbmg40
EURO 2020 Final: Italy v England, 20:00, Wembley Stadium, live on BBC One and ITV.
Matchday Live: Join Luke James as he builds-up to this evening's European Championship final, with analysis, quotes and team news updated throughout the day.
Refresh your browser to update the blog.
Want to interact with Matchday Live? Tweet @BoarSport with your thoughts ahead of kick-off.
19:30 - History awaits Italy or England
England are trophy-less since 1966.
Italy last won the European Championship in 1968 - although the Azzurri have won a fair few World Cups since.
Whatever the outcome at Wembley Stadium tonight, history will be made.
If England are to win, Gareth Southgate's side must remain stubborn in defence because Italy are likely to dominate the ball. Thus, Harry Maguire, Kyle Walker, and John Stones must stand strong. Harry Kane and Raheem Sterling must be clinical - chances will be few and far between.
If the Italians are to prevail, Roberto Mancini's side must limit England's effectiveness in the transition. Lorenzo Insigne will be key in the final third, although it is in midfield where Italy will hope to dominate. Having won the Champions League earlier this summer, will Jorginho add another trophy to his CV tonight?
Narrowly, Italy are favourites - but this is Southgate's England and there is always a chance that his squad can pull through.
See you on the other side, enjoy the game.
Luke James, @LukeJames_32
---
18:50 - The line-ups are in!
As reported earlier today, Kieran Trippier returns to Gareth Southgate's starting line-up; Bukayo Saka drops to the bench.
The Italians, meanwhile, are unchanged.
---
18:45 - Predictions.
I asked, you (and I) answered.
---
18:36 - Alan Shearer is excited... aren't we all!?
Speaking live on BBC One, Alan Shearer has said that tonight could be 'life-changing' for Gareth Southgate's squad.
"I can't wait," Shearer said.
"There are 330 England caps between us in the studio tonight, 110 goals. The best defender of his generation, best midfielder of his generation.
"We never won a thing. We came close. All ifs, buts and whys. This England team tonight have got the chance to be the England team that wins a major tournament. It's life-changing, career-changing for these guys tonight. I am so excited."
18:32 - It's time for predictions...
I'm going to wrap-up our pre-game coverage once the team sheets are released, which means that it's time for us to make our predictions.
Over to you, is it coming Home or Rome?
---
18:20 - Tactical analysis with Curtis
We've spoken a lot about how England lining-up in a 3-4-3 would allow Italy to dominate the ball. However, Curtis Leung doesn't seem too worried about that.
It's a valid point - although my concern about the 3-4-3 is that it requires Mason Mount to play out of position (who is a huge defensive asset when deployed as a #10 due to the quality of his pressing).
---
17:15 - Del Piero vows to cheer for Chiellini
Speaking to BBC Radio 5 Live, Italian World Cup winner Alessandro Del Piero has praised former Juventus teammate Giorgio Chiellini for his long-term impact on the Azzurri.
"Giorgio Chiellini shows a lot of joy. He's a really great guy and you love to have him in your team," Del Piero said.
"I loved the time that we spent together. He's incredible and is probably the best defender that we have in Italy - man versus man.
"In terms of experience – he's really unbelievable. The joy that he shows is because he knows that it's the last dance for him so he deserves to do win something with the team and of course I would cheer for him even more."
---
17:10 - Hi, Curtis 👋
---
17:05 - Back to Josh's tactics board
We've spoken about xG; we've discussed England's double-pivot. Clearly, it's time to return to Josh Sim and his tactical analysis.
For the record, I agree: it's certainly possible that England's system looks more like a 3-5-2 than a 3-4-3 this evening.
Against Denmark, Raheem Sterling's average position was closer to the penalty spot than the left flank. Moreover, Mason Mount has rarely featured on the right for England - the Chelsea man is often Southgate's choice at #10.
Perhaps Southgate is springing a surprise? We'll soon find out.
---
16:55 - Is it Federico Chiesa's time to shine?
---
16:33 - Expected Goals? Maybe not
Expected goals (xG) is an advanced analytic that helps to quantify the quality of goal-scoring chances. When someone says 'they should've scored that', they are talking about xG (albeit without the numbers).
Helpfully, FBref has tracked xG data throughout EURO 2020 - and it makes for interesting reading.
England: xG 7.6 - 3.4 xGA (expected goals against)
Italy: xG 8.8 - 5.5 xGA
There is another important xG factoid to consider. Italy have been out-xG'ed twice at EURO 2020 (v Belgium and Spain), whereas England are yet to be out chance-created.
What does this tell us?
England will be happier to play a low-event final than Italy.
Italy will be concerned about the quality of England's defence.
There will be chances for England, at some point.
Both teams have outshot their xG so far... food for thought.
---
16:25 - Possession is not king for Southgate
Josh Sim, RAW's former Head of Sport, raises a good point.
With England allowing Italy to uphold a numerical advantage in central midfield, it is likely that the Azzurri will control possession in a way they couldn't against Spain.
If - as Josh predicts - Italy dominate the ball, England's path to victory is by transitioning from defence to attack quickly. Once again, Raheem Sterling's movement could be vital.
---
16:05 - Reaction as England XI is leaked
As expected, Gareth Southgate's decision to switch to a 3-4-3 for this evening's fixture against Italy has divided opinion. In fact, I was hoping that Southgate would stick with his back-four.
However, this isn't a decision that we should find particularly shocking - it is well-known that the England head coach is of the view that the Three Lions cannot control matches by retaining possession.
If he plays a back four, it means he is more confident in England taking the game to the opposition, and feels they are superior. If he plays a back three, it indicates caution.
Once again, Southgate is staking his reputation on his attack being clinical and his defence being stingy.
A low-event game beckons, it could be a long night.
---
15:56 - BREAKING: Trippier expected to start
Some breaking news via Sky Sports... Kieran Trippier is expected to start, with Gareth Southgate reverting to the 3-4-4 that saw England defeat Germany in the round of sixteen.
Thoughts?
---
15:45 - England's road back to Wembley
Looking for an incredibly brief summary of how England advanced to their first major final since 1966? Look no further.
#1: Sterling goal sinks Croatia.
#2: Pickford shines brightest as suffer versus Scotland.
#3: Kane's baron run continues as England reach the last 16.
#4: The One when England beat Germany.
#5: Stress-free England dismantle tired Ukraine.
#6: Sterling's value soars after penalty area crash
---
15:15 - Is pace a problem for Italy?
In the build-up to today's clash, lots has been said of Italy's squad. With Leonardo Spinazzola unavailable through injury, the Azzurri will arrive at Wembley without one of their biggest threats.
However, this is a side on a 33-game unbeaten run. Moreover, Roberto Mancini has changed the mood surrounding the national team back home in Italy.
Gone are the days of catenaccio; welcome to a new era of Italian football.
On this note, Curtis Leung makes an interesting point:
Italy come into the final as the stronger of the two teams. As a team, they have very few deficiencies. However, it will be up to England manager Gareth Southgate to find a way to exploit Italy's limited shortcomings.
The above poses two questions:
Where are the Italians' weaknesses?
How can England exploit them?
I would argue that Italy's main weakness is their lack of pace in defence. Unlike England (who can rely on Kyle Walker to make covering runs), the Italians could struggle if Raheem Sterling is able to use his movement to unsettle Giorgio Chiellini and Leonardo Bonucci.
Against Spain, Italy countered this problem by defending narrowly - which prevented Dani Olmo from causing too much trouble between the lines in the semi-finals.
More on that from me, here:
---
13:34 - England narrow favourites for final
Simon Gleave, head of sports analysis, Gracenote says:
"A final between Italy and England was the second most likely final according to Gracenote's Euro 2020 forecast before the tournament started. As we have said throughout, England's home advantage boosted their chances of going a long way in this tournament and so it has proved. Gracenote's world number six have been boosted to around three in the world by playing at home.
"Italy are ranked third in the world by Gracenote's world football ranking and would be the favourites if this match was being played on neutral ground. However, data tells us that finals do not have the same level of home advantage as other matches in the tournament so England's edge will be lessened on Sunday.
"Even so, England are still favourites on Sunday evening with around 53.5% chance of becoming European Champions for the first time. Italy therefore have 46.5% chance of winning the European Championship for the first time since 1968."
---
12:40 - Will Mancini end Italy's 15 years of hurt?
Unbeaten in 33 games heading into the EURO 2020 final, the Azzurri will snap a 15-year trophy drought with a win over England tonight.
"This is possibly one of the highlights of my career," said Italy head coach Roberto Mancini.
"I had the opportunity to play for the Under-21 side, the senior side, yet we weren't able to win the under-21 Euros or the 1990 World Cup.
"It's a very important moment for me because I represent Italy so I really hope I can enjoy the experience that I didn't enjoy during my playing career."
---
12:15 - Who should start for England?
With kick-off (slowly) approaching, I would love to know who you would start for the Three Lions tonight.
Would you select a four- or three-player defence? Should Bukayo Saka retain his place in the XI? Does Mason Mount keep his place over Jack Grealish?
Hit the button below and tweet @BoarSport to join the conversation.
---
11:16 - Gareth Southgate: Wembley support is 'so important'
If the Three Lions win today, they will claim their first major title since 1966. England have never won a European Championship.
With a place in history on the line, Gareth Southgate has urged England supporters to play their part this evening.
"When we started, three or four years ago we had people throwing paper aeroplanes, they weren't behind the team and there was an apathy," he said.
"Now the energy in the stadium is fantastic. That is so important."
Wembley awaits.
---
11:10 - #PodcastRecommendation
The latest episode of The Boar Sport Podcast (featuring Sam MB, Jack McRae, Mitchell Ryan, Ben Northcott, and Curtis Leung) is available to stream on all platforms.
Just thought I should let you know...
---
11:04 - In other news...
In the early hours of this morning, Argentina ended their 28-year trophy drought by beating Brazil 1-0 in the final of the Copa America.
Although it was Angel di Maria who scored Argentina's winning goal, Lionel Messi will dominate the headlines after scooping the Player of the Tournament award.
Does Argentina's win change your view on the Messi v Cristiano Ronaldo debate? Let me know...
---
10:50 - In the words of Joey from Friends, 'how you doing?'
For lots of us, today is unchartered territory.
Since I was born (1999), I have watched my club (West Ham) win a couple of big games:
The play-off final in 2012,
The final game at Upton Park in 2016.
Beyond that, there has been a lot of heartbreak and despair (FA Cup final, 2006; Carling Cup semi-final, 2011; relegation, 2010/11).
And, in fairness, England haven't been much better either.
That Paul Robinson backpass. That Rob Green fumble. That Frank Lampard robbery.
I've obviously watched lots of cup finals - but it's been a long time since I felt emotionally invested in the outcome.
Today, clearly, is different. So, I want to know how you're feeling. Nervous? Excited? Praying for an Italian win? Whatever it is, let me know by replying to the tweet below:
---
10:40 - It's all about the content
Sam Matthews Boehmer, our sport editor, is tremendously excited for today. Just not for the reason you assume.
Sam is a huge fan of the Netherlands, who - sadly - let him down when they lost to the Czech Republic in the round of sixteen.
For him, today is about the content. And we've got loads of it.
Allow me to share some recommended reading with you as I prepare my next update:
---
10:30 - Team News
England's only injury concern ahead of the final relates to Phil Foden, who could miss out due to a foot injury.
The 21-year-old Manchester City star missed the team's final training session at St. George's Park - but could yet recover in time to feature against Italy.
"He's got a fairly minor foot injury," said manager Gareth Southgate.
"But it's just whether it's going to be one that clears up in time for him to be able to take part in the game, so we'll have to assess that again later."
Italy, meanwhile, have no fresh injury worries following their penalty shootout win over Spain.
Leonardo Spinazzola remains out of the side, with Chelsea wing-back Emerson likely to retain his place in Roberto Mancini's starting XI.
---
10:00 - Good morning, Warwick!
Finally, the day has arrived.
In eight hours, England and Italy will take to the field at Wembley Stadium. Gareth Southgate will lead the Three Lions; Roberto Mancini will steward the Azzurri. The European Championship is on the line.
Throughout the day (although not during the game itself), The Boar Sport will be providing live coverage in the build-up to the EURO 2020 final.
Make sure you're following @BoarSport on Twitter - we'll be posting polls and questions so that you can join in with the final Matchday Live of the season.
While you're here, maybe follow @LukeJames_32, too!