NFL Draft Round 1 Picks and Analysis
Bears, Chargers and Ravens amongst the biggest winners in a draft that threw up many surprises.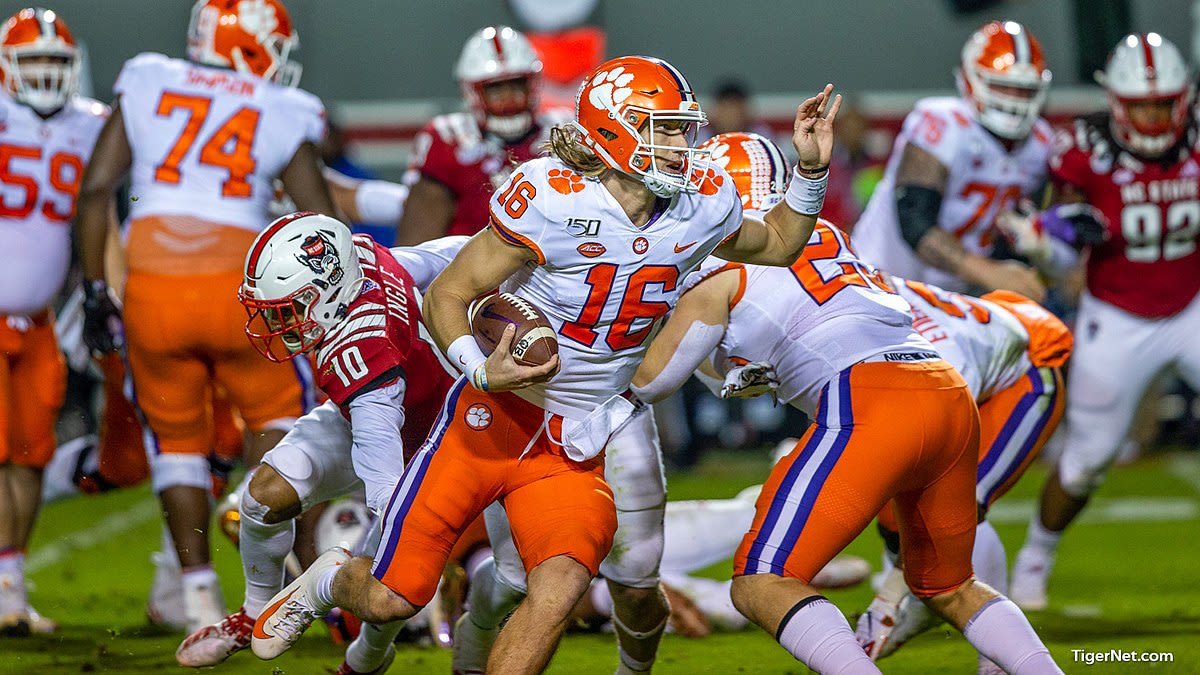 Image: Wikimedia Commons / TigerNet.com
Image: Wikimedia Commons / TigerNet.com
The first round of the 2021 NFL Draft concluded on Thursday evening with mixed reactions to selections, but a unanimous joy and hype around having live events again.
Here are my thoughts on all of the top 32 draft picks…
1. Jacksonville Jaguars
Trevor Lawrence, Quarterback, Clemson
"The assumed is really happening" was the famous quote from the commentators during the 2019 NFL Draft when the Arizona Cardinals selected quarterback Kyler Murray, to no one's surprise. It happened again this year – this was the only acceptable move the Jaguars could make. They get their franchise quarterback, who will hopefully bring a new era of success to Jacksonville. Lawrence is a generational talent who was by far the best quarterback in this class.
2. New York Jets
Zach Wilson, Quarterback, BYU
Again, this pick was no surprise to anyone. After trading former starting quarterback Sam Darnold to the Carolina Panthers, it seemed evident that the Jets were taking Wilson at number 2. With some smart additions in the past offseason, the Jets have a solid foundation for their new face of the franchise.
3. San Francisco 49ers
Trey Lance, Quarterback, NDSU
Wow… After all the speculation about this pick, the 49ers choose to go for the "wildcard" option. Lance is just 20 and will be able to sit behind Jimmy Garoppolo for at least some of his rookie year. As the rawest quarterback prospect of the class, it will be interesting to see how the 49ers choose to use him. Lance is a perfect scheme fit for Kyle Shanahan's offence and so this is a great place for him to land – especially seeing as the 49ers are just two years removed from the Super Bowl. This was the pick that I made in my previous mock draft that you can find here – and we talked about this with our friends at RAW Sport too if you want a longer breakdown.
4. Atlanta Falcons
Kyle Pitts, Tight End, Florida
Pitts was probably one of the most intriguing prospects in this class. At 4, he now holds the title for "highest drafted" tight end of all time. With legend Julio Jones rumoured to be leaving Atlanta over the next two seasons, versatile weapon Pitts was the ideal pick and will be able to flourish in a high-powered offence that includes former NFL MVP and starting quarterback Matt Ryan at the helm. After dazzling seasons from George Kittle and Travis Kelce, pencil Pitts into that elite tight end class.
5. Cincinnati Bengals
Ja'Marr Chase, Wide Receiver, LSU
After Joe Burrow's horrifying injury, the Bengals need to protect their franchise quarterback to avoid picking in the top five again. However, it appears that Burrow's strong campaign for former teammate Chase was successful. Reunited again, expect the Burrow-Chase tandem to deliver fireworks yet again.
6. Miami Dolphins
Jaylen Waddle, Wide Receiver, Alabama
I expected the Dolphins to select wide receiver DeVonta Smith here but, instead, they opt to go for a different Alabama receiver in Waddle. An excellent deep threat with explosive playmaking ability with the ball in his hands, the Dolphins get an NFL-ready receiver who can contribute to the Dolphins offence straight away. Just when you thought Burrow-Chase was the match made in heaven, Miami reunites Waddle with franchise quarterback and former Alabama teammate Tua Tagovailoa.
7. Detroit Lions
Penei Sewell, Offensive Tackle, Oregon
This is the definition of a "best player available" pick. Sewell is a smart selection for a Lions team that has holes all over the field. At least with Sewell, they have the foundation for solid protection for newly acquired Jared Goff. Once dubbed a generational talent like Lawrence, Sewell's hype dropped off this past year, but he is still an excellent offensive lineman – one of the best prospects in recent years.
8. Carolina Panthers
Jaycee Horn, Cornerback, South Carolina
Perhaps this was one of the bigger surprises of the first round – the Panthers made Horn the first defensive player off the board in this class. With the more highly rated cornerback Patrick Surtain II still on the board, this pick is somewhat puzzling. The Panthers still get a shutdown corner who will excel in their "pressman" system, filling a huge need for them. Expect Horn to be the starting outside cornerback for the Panthers this season.
9. Denver Broncos
Patrick Surtain II, Cornerback, Alabama
Back-to-back cornerbacks in the draft is rare. Back-to-back cornerbacks in the first ten picks of the Draft is even rarer. Broncos elected to go for the sure product in Surtain, who is considered the most NFL-ready defensive prospect in this class. Though some would argue this was not a need, Surtain is a safe selection, and the Broncos get themselves a great defensive playmaker.
10. Philadelphia Eagles [Traded]
DeVonta Smith, Wide Receiver, Alabama
Another wow moment… It is a forbidden rule in the NFL to trade with rivals but here we are – the Cowboys, who originally had pick number 10, traded back to 12, enabling division rivals Eagles to leapfrog the Giants (who are also division rivals) to come up and select Smith. Smith will fit in nicely with the offensive project in Philadelphia and is now also reunited with former Alabama quarterback Jalen Hurts. Winning the Heisman Trophy this past year, Smith is an excellent selection.
11. Chicago Bears [Traded]
Justin Fields, Quarterback, Ohio State
…and perhaps the biggest wow moment of the draft. It is criminal that Fields made it this far without a team snapping him up, but the Bears will certainly not be complaining. Trading up from 20 to 11 to select Fields is great value and there is no doubt that Bears fans will be more reassured, after many feared that Andy Dalton would be leading their offence next season. The last time the Bears traded up for a quarterback, they got Mitchell Trubisky. There is no doubt that this will turn out better.
12. Dallas Cowboys [Traded]
Micah Parsons, Linebacker, Penn State
There is no doubt in my mind that the Cowboys were expecting to take Surtain at 10 all along, until their plans were foiled by the Broncos. While trading back with division rivals is pure sacrilege, this trade turned out ok for both parties as the Cowboys still manage to get one of the elite defensive playmakers in this year's draft. Parsons will play with stars Jaylon Smith and Leighton Vander Esch – there are certainly worse places to be.
13. Los Angeles Chargers
Rashawn Slater, Offensive Tackle, Northwestern
The Chargers needed to protect Justin Herbert, the Offensive Rookie of the Year, who played behind a terrible offensive line last year. Slater is an excellent choice, and this may just be my favourite pick of the 2021 NFL Draft. How Slater fell to 13 is a complete mystery but this selection is just awesome. No doubt that Herbert is a happy man.
14. New York Jets [Traded]
Alijah Vera-Tucker, Offensive Guard, USC
The Jets are playing aggressive as they traded up with the Vikings from pick 23. After selecting their franchise quarterback in Wilson, they get him some extra protection in Vera-Tucker. One of the most versatile linemen in this year's draft, Vera-Tucker will be able to start in the interior of the Jets offensive line from day one. After drafting superhuman athlete Mekhi Becton last year to play left tackle, the Jets are slowly building a great offence for Wilson to operate in – something they failed to do for former quarterback Sam Darnold.
15. New England Patriots
Mac Jones, Quarterack, Alabama
This is a steal, and no one will be happier about this than Mac Jones himself. After rumours that the Patriots were looking to trade up, they stay put and still manage to get their quarterback of the future. Jones will be able to sit behind Cam Newton and learn the playbook with a stacked New England offence. The last time New England drafted a quarterback with three letters in his first name and five letters in his last? Tom Brady.
16. Arizona Cardinals
Zaven Collins, Linebacker, Tulsa
The Cardinals' love for Collins may have been the worst kept secret in the history of mankind. Much like their selection of Isaiah Simmons last year, Collins is a versatile hybrid linebacker who is touted to start as the Cardinals middle linebacker next season. A safe pick that experts seem to love, and the fans seem to hate.
17. Las Vegas Raiders
Alex Leatherwood, Offensive Tackle, Alabama
The Raiders are truly the hardest team to predict in the NFL Draft – they must have a different board to everyone else. This pick certainly seems a reach, with Leatherwood projected as a second-round pick. Always expect the unexpected with the Raiders.
18. Miami Dolphins
Jaelan Phillips, Edge, Miami (FL)
So the first edge rusher comes off the board. With concerns about his health (mostly fears of concussions), this pick is high risk but high reward. Phillips is a great player, but can he stay on the field? Miami is a great landing spot for him under defensive genius Brian Flores. 
19. Washington Football Team
Jamin Davis, Linebacker, Kentucky
Name me a player who has seen his draft stock rise more than Kentucky's Davis. Originally projected as a fourth to fifth round pick, Davis has soared up draft boards and now finds himself on one of the NFL's most potent defences. While some may view this as a reach, Davis is a day one starter and can have an instant impact for Washington.
20. New York Giants [Traded]
Kadarius Toney, Wide Receiver, Florida
Giants general manager Dave Gettleman loves his offensive weapons, and he gets another one here. It seemed that the Giants were preparing to take DeVonta Smith at 11 until they were leapfrogged by division rivals Philadelphia Eagles. Thus, trading down was a good decision. Toney here makes a lot of sense and he will be able to start as their slot receiver straight away after their recent landmark signing of Kenny Golladay.
21. Indianapolis Colts
Kwity Paye, Edge, Michigan
This is a good value pick that fills a need. After a phenomenal season from DeForest Buckner, the Colts aid their defensive line with Paye. A perfect scheme fit, Paye is good value at 21 and will be ready to play straight away.
22. Tennessee Titans
Caleb Farley, Cornerback, Virginia Tech
Farley may just be the unluckiest player from this class. After being named as the top cornerback prospect by analyst Chris Simms, not only has Farley undergone two back surgeries but he also tested positive for COVID just before the draft. Without his injury concerns, Farley is a top 10 player in the class.
23. Minnesota Vikings [Traded]
Christian Darrisaw, Offensive Tackle, Virginia Tech
Darrisaw at 23 is a huge steal. After trading down from 14 to 23, the Vikings still get the player they were probably looking to take. With a wilting offensive line in Minnesota, Darrisaw will be a welcome addition and can be a viable starter at right tackle as a rookie.
24. Pittsburgh Steelers
Najee Harris, Running Back, Alabama
The Steelers have issues all over their offensive line so I disagree with this pick greatly. However, Harris may be able to bring some magic to Pittsburgh. I ranked Derrick Henry as the second most valuable player to their team in 2020/21. With Henry as his pro comparison, Steelers fans will be hoping Harris can bring some of that dominance.
25. Jacksonville Jaguars
Travis Etienne, Running Back, Clemson
Forget pairing quarterbacks with receivers (Burrow-Chase, Tagovailoa-Waddle, Hurts-Smith), the Jaguars decided to reunite their first overall pick with his college running back. Lawrence and Etienne have great chemistry and it will be special watching them playing together as Jaguars. Etienne is a shifty receiving back with excellent top end speed.
26. Cleveland Browns
Greg Newsome II, Cornerback, Northwestern
Newsome joins a stacked secondary in Cleveland that includes Denzel Ward, Greedy Williams and Troy Hill. He is a boundary corner and will look to compete for a starting job. This pick was good value, though the Browns have other needs they could have addressed.
27. Baltimore Ravens
Rashod Bateman, Wide Receiver, Minnesota
Lamar Jackson must be a happy man. He finally gets a primary boundary weapon in Bateman, who is an excellent prospect and was superb value at this pick. It was an area that needed to be addressed all season and the Ravens have finally got their guy. Now it's down to Jackson to perform.
28. New Orleans Saints
Payton Turner, Edge, Houston
The Saints made an interesting pick here… For most this seems a reach – Turner was expected to go in the second or third round of the draft and so it is confusing as to why the Saints have gone for him here. They did need defensive line but there were better players on the board still. Puzzling but perhaps the Saints saw something nobody else did.
29. Green Bay Packers
Eric Stokes, Cornerback, Georgia
Crazily enough, I had this exact pick in my mock draft. Cornerback was certainly a need for the Packers, and they get a fantastic boundary corner here to play opposite Jaire Alexander.
30. Buffalo Bills
Gregory Rousseau, Edge, Miami
Someone had to pull the trigger on Rousseau eventually. He was once projected to be the top defensive player in this class but, over time, his value dropped. Though he is a raw, physical freak, there are serious questions about his technique, or lack thereof, and so it will be interesting to see how the Bills decide to utilise him.
31. Baltimore Ravens
Jayson Oweh, Edge, Penn State
Another interesting pick for the Ravens here. Oweh has the physical tools to succeed in the NFL but his college production was incredibly lacklustre. So the question remains – can Oweh transform athleticism to production?
32. Tampa Bay Buccaneers
Joe Tryon, EDGE, Washington
With the final pick of the first round, the Buccaneers opted to improve what they did best – rush the passer. At the Super Bowl, the Bucs pass rush was stellar. Tryon is a reach here, but he will have a more rotational role in Todd Bowles' system to guide him through the early stages of his career.
---
Well that was certainly one of the more controversial Drafts in recent years, but it also means that anticipation ahead of the September start to the season is growing and growing.
The Boar Sport will endeavour to keep you up to date with all trades, injuries ahead of what will be almost certainly be another eventful NFL season.